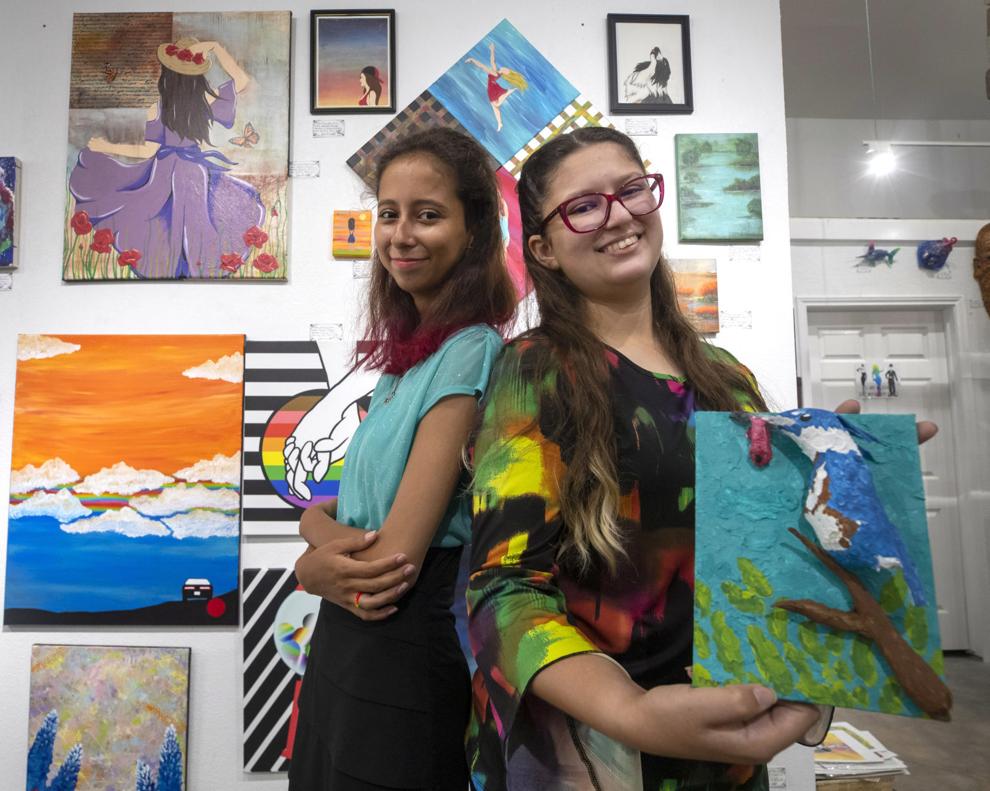 Morgan and Mackenzie Fisher are sisters and business partners. Their artistic creativity, although very different, is among the things that bind them together.
Their company, MFisher Art, is the clearinghouse for their paintings, sculptures, clothing, cards and other creations. The young women see art as their future careers and plan to keep generating original pieces, they said.
"I have been doing this for most of my life," said Morgan, 21, who was inspired early by teachers in elementary school, middle school and at the High School for the Visual and Performing Arts in Houston.
In school, Morgan was introduced to the tools of the trade and spent half of each day producing paintings, sculptures and mixed media originals. It was a good foundation that allowed her the opportunity to expand and explore things that interested her, she said.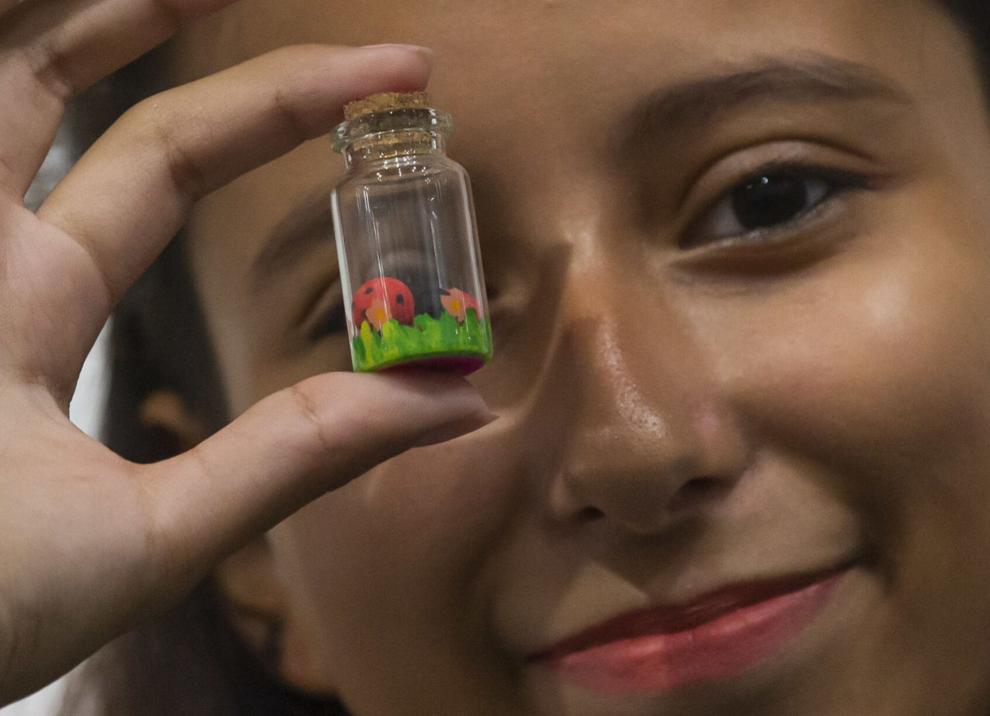 Galveston birds became Morgan's first artistic focus, she said. She researched them, drew them, painted them and sculpted them in polymer clay and later papier-mâché. Enamored with the birds, she entered a contest in high school to create sculptures using recycled materials and placed second.
"That was real inspiration," she said.
She visits Moody Gardens Rainforest Pyramid in Galveston to get additional inspiration for her drawings and sculptures of plants and animals.
She has been displaying her artwork at From the HeART Gallery in Galveston's downtown for three years. Perhaps her favorite art form is sculpting little birds. Morgan has made more than 300 of them, each unique, hand-painted and whimsical. But she has branched out to glow-in-the-dark creatures, such as octopi and sea turtles, too.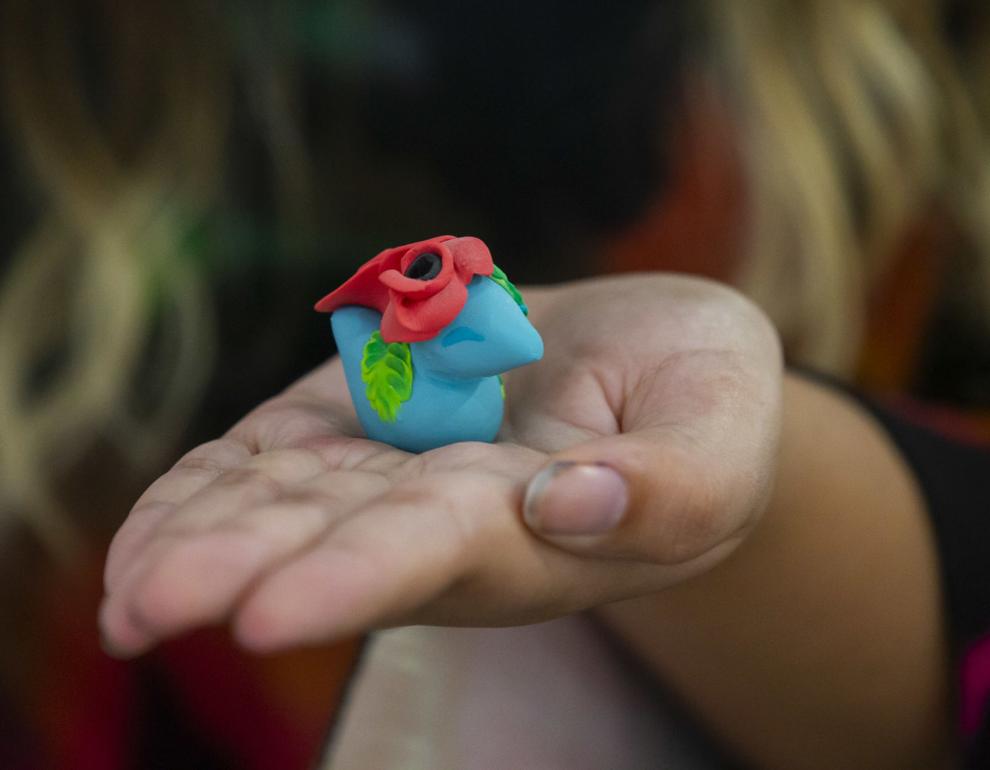 To support herself, she's a face painter at the Galveston Island Historic Pleasure Pier, but she hopes to expand her portfolio so she can be a full-time artist, she said.
Sister Mackenzie, 19, graduated this year from Woodlands High School but also displays her artwork at the Galveston gallery. Mackenzie is a bit more serious, focusing her painting on messages of social justice. Her series of girls with no faces allowed her to explore humanity through her paintings, she said. She likes to take digital images and put pieces together like a puzzle or a collage to display her messages.
"I was influenced by Morgan to get into art, but we do different things," she said. "Art is a fun pastime for me and I am inspired by things I read and images I see." She began college this fall at Sam Houston State University, where she will major in entrepreneurship, which will help her develop MFisher Art into a viable company, she said.
The sisters like working together but have each drawn lines so there's no overlapping of content.
"Sometimes we get territorial," Morgan said.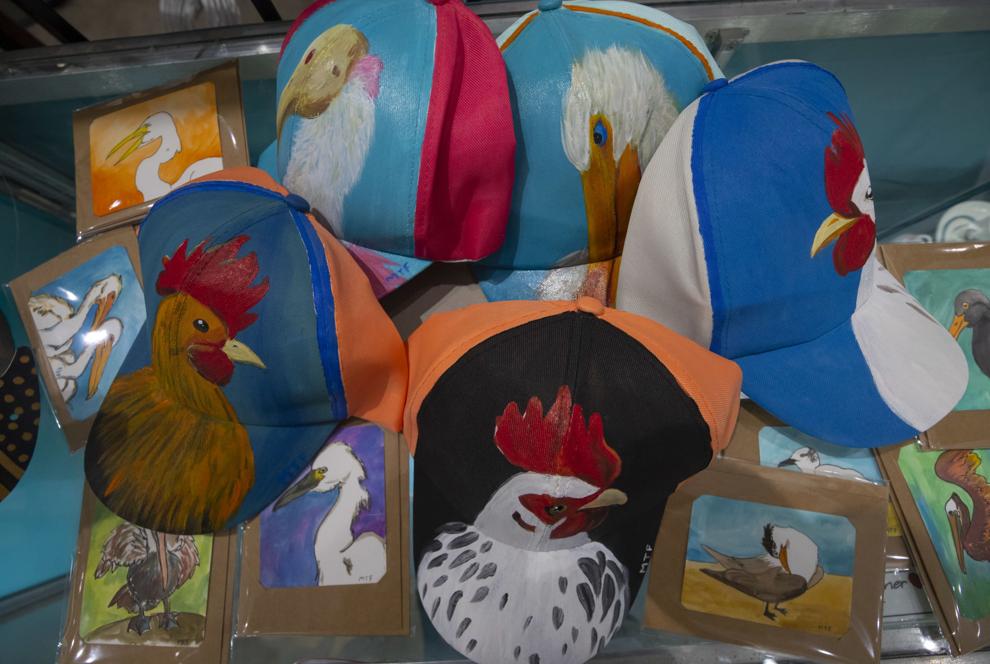 "Birds are off limits to me," Mackenzie said. "I stick to social justice and humans."
Morgan also has branched out into wearable art: hats, scarfs and totes with images of birds and sea life, as well as other animals. Some of her items are displayed at the Moody Mansion gift shop on the island.
And the sisters collaborated last year to paint a trash bin for Artist Boat, a Galveston organization that promotes conservation and restoration of the island's natural resources. Their beach bucket was a colorful rainbow with crawling sea creatures along the bottom.