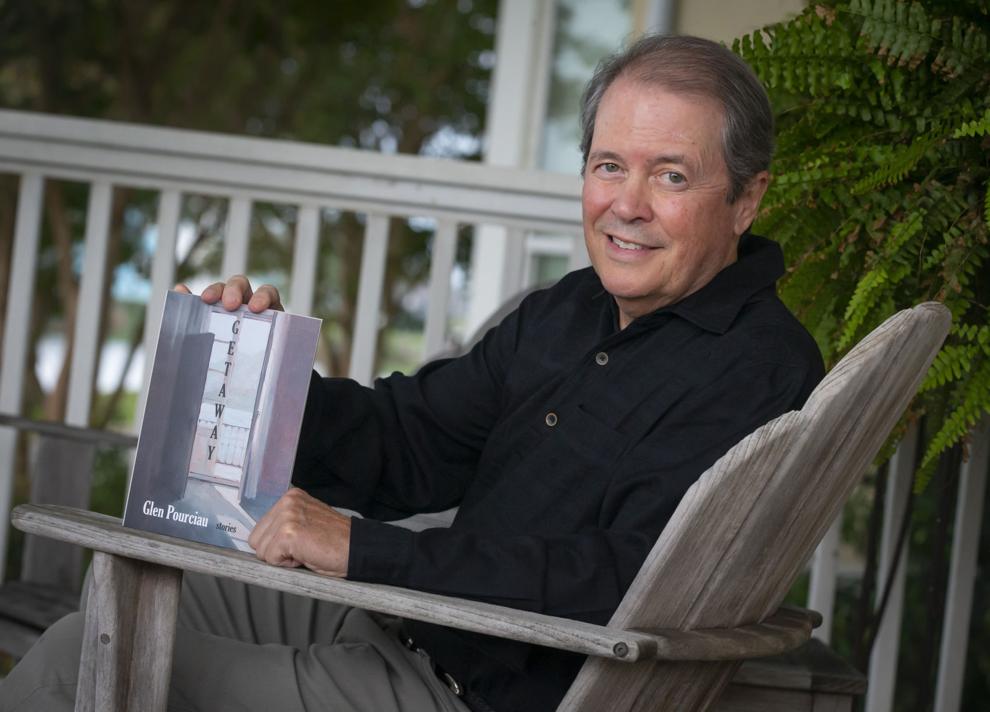 The first line of "Getaway," the title story of Galveston author Glen Pourciau's new collection, goes a long way toward explaining where his characters' heads are: "Van had planned a getaway to a place where he knew no one and could be left in peace, the only drawback being that his mind would travel with him," he writes.
Pourciau takes people's nagging inner voices and cranks the volume to uncomfortable levels. In a way, many of the 19 stories in "Getaway" — published, as was his 2017 collection "View," by New York-based nonprofit press Four Way Books — feel like vignettes from the darker corners of the "Seinfeld" universe. Out to dinner, a wife cringes at her extroverted husband's interactions with random strangers. A man grows obsessed with the large family that has moved in next door, convinced they're building a tunnel to connect the two houses. A guest's near-total silence drives a dinner-party host to distraction.
Pourciau, however, cautions that his narrators aren't always trustworthy.
"I would put some responsibility for the point of view — a lot of responsibility for the point of view — in the narrators, and not so much in the nature of the people they're talking about," he said.
Pourciau's stories usually begin to take shape when he starts hearing the narrator's voice, even if it's not actually talking out loud.
"It can be a monologue in the person's mind, so when I start getting that feeling, I start writing things down, and then my imagination kicks in and I start imagining situations and things," he said.
Other stories come from friends' prompts, or even a random bit of conversation. He might overhear a phrase that makes a perfect opening line. Once, at a party, Pourciau heard someone say, "My neighbor from across the street called me when I was on vacation and said she was looking at my house through binoculars," and that was enough to start the wheels spinning.
"I didn't really hear anything more about that," he said. "I didn't hear why this neighbor was calling this guy and saying she was looking at his house through binoculars, but that was a situation that stimulated my imagination. I thought, 'Well, why is she looking? What is going on with that?' and the characters developed out of that situation."
Whatever their origins, Pourciau enjoys seeding his stories with a hint of ambiguity, he said.
"As I see it, every reader is a unique reader, and sees a different story," he said. "One of the things that surprises me is how many different reactions I get when people talk about the stories to me."
It was reading Franz Kafka's "The Trial" that hooked Pourciau on writing in his junior year of college, he said. He worked for years at the Dallas Public Library before getting his library sciences degree at the University of North Texas at age 41, then spent nearly 20 years working in the Plano Public Library system before retiring in about 2012. He wrote for five years before his first short story was published; it was another four before another one saw daylight.
Although the short-story market is notoriously difficult — online outlets aren't lucrative, and novels are "not my thing" — this year Pourciau has had 15 published.
"A very good year for me," he said.
Pourciau moved to Galveston in March 2019. His wife, Linda Guyette Pourciau, is fifth-generation BOI, which means born on the island. He volunteers weekly in the Rosenberg Library's donations room, pricing religion and philosophy titles and putting them on Amazon, and recently joined the library's Friends Board.
"I believe the island has a strong sense of community, and I enjoy the closeness of nature, especially seeing the varieties of bird life," Pourciau said. "The presence of the Gulf and our vigilance toward weather systems heightens our awareness that we are part of a vast and powerful universe."