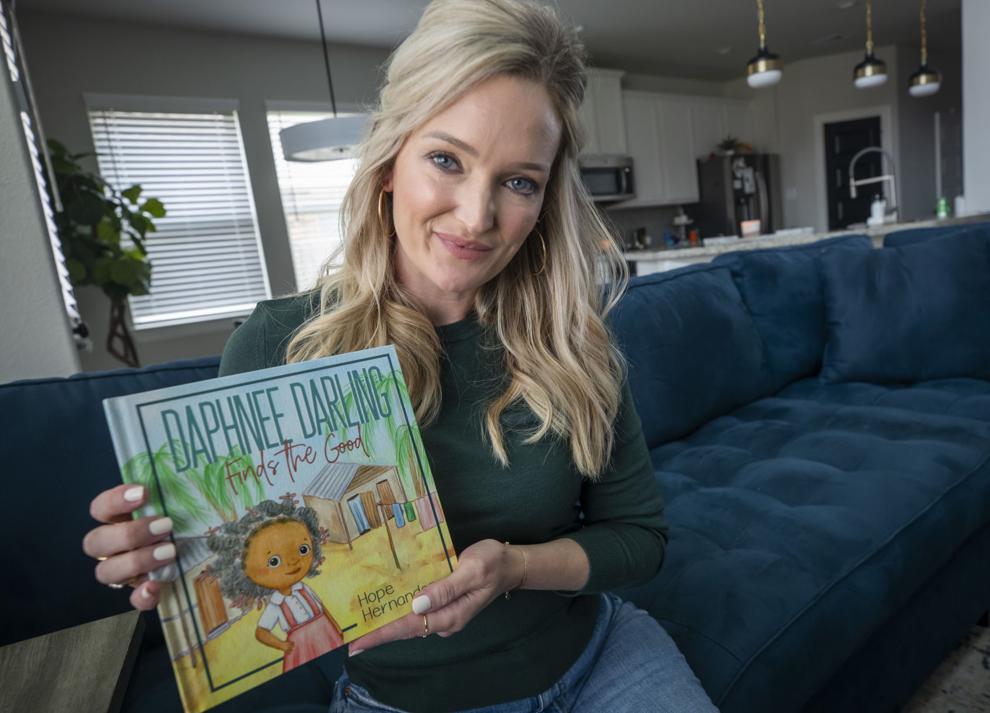 The lesson of gratitude is something Hope Hernandez learned when she moved to Haiti in 2011 to work in an orphanage.
And now that's a lesson she wants to teach young children through her book "Daphnee Darling Finds the Good."
"I wanted to write a fun and lighthearted story for a topic that can be kind of heavy for kids," Hernandez, a League City resident, said.
The book, sold online through her own website, Amazon and in some boutique bookstores, focuses on a day in the life of Daphnee, a young girl living at an orphanage in Haiti, as she learns to be grateful in different situations. The protagonist, Daphnee, is a compilation of the children Hernandez met while she lived in Haiti.
"They always amazed me," Hernandez said of the children she worked with. "For kids that didn't have internet or video games or anything like that, they just had the most outlandish things they would come up with."
When she lived in Haiti, Hernandez knew she wanted to write a book based on her experience and the people she met, she said. When she returned to the United States and had a child of her own, she wanted to teach her son to be grateful for everything he had, she said.
"When I got home and had a kid of my own, I was thinking, 'Oh my gosh, how am I going to instill these principles in him?'" she said.
"Daphnee Darling," which Hernandez hopes to expand into a series, seeks to do just that. With an interactive devotional and a gratitude magnet, Hernandez hopes to help parents have conversations about gratitude with their children.
"I've gotten really sweet feedback about how it's just sparked conversations in their homes from their little children about what they're grateful for and what that means," Hernandez said.
The book teaches children that gratitude doesn't have to be for something big; it also can be for the small things in life, she said.
All the profits from the book and the additional products for sale on the site, including gratitude stickers, go toward building a Neonatal Intensive Care Unit at Danita's Children in northeast Haiti. Danita's Children is an orphanage that provides families in the area with education, health, food and medical care.
It's the same place Hernandez worked while she lived in Haiti, and the people and mission have stayed with her, even six years after she left in 2014.
"It's a part of me that I don't think will ever leave," she said.
For Hernandez, who has a background in writing, one of the hardest parts of completing the book was narrowing down the stories she had.
"In the beginning, I didn't know what direction I wanted to go because I had so many stories," she said.
Hernandez wrote three different storylines before settling on the one that introduces readers to Haiti and the orphanage. The writing process began in January and was followed by illustrations based on photographs Hernandez had of the organization in Haiti.
She also created focus groups and sent the draft to other mothers.
"I wanted to make sure I wasn't putting a story together that I thought was good but wasn't good," she said.
The final product was released in August, and sales have surpassed her expectations, she said.
"I have really been impressed," she said.
Now, Hernandez is focused on continuing the series and getting her book beyond just her community, she said. 
---