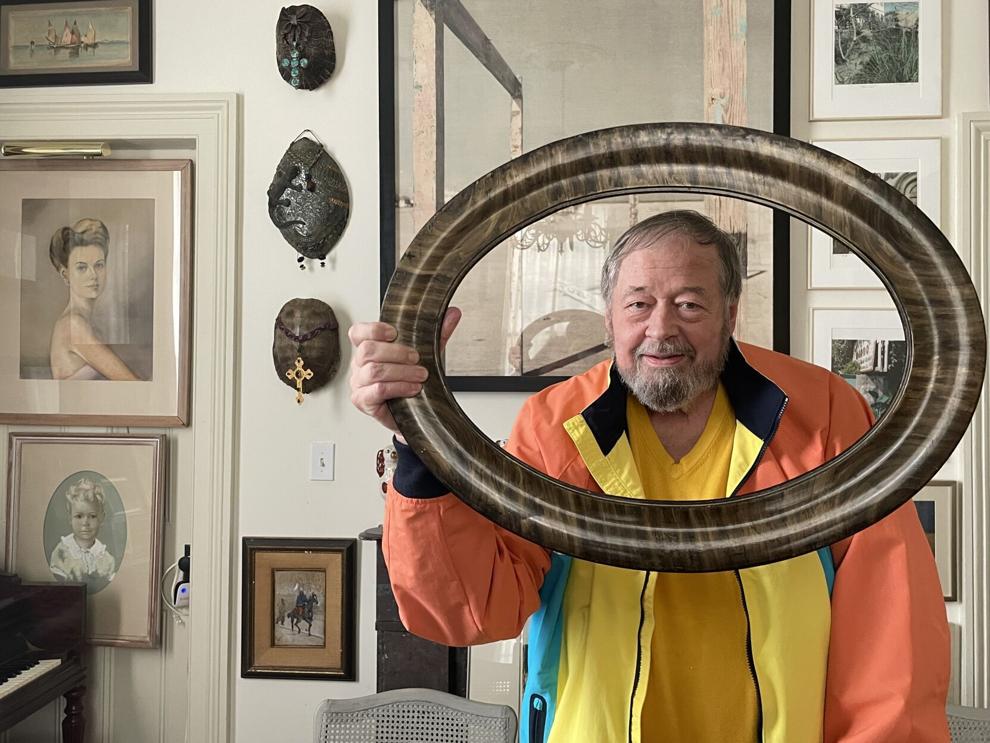 Randall Jones is a collector of collections. The Galveston resident has a knack for pulling together eclectic items, assembling and grouping them for display in his East End cottage. And this 1868 house is filled with unusual items, each with its own story and history.
"I like things that are funky and unique," Jones said. "But when other people start collecting them, I stop. I just don't want to continue."
Jones first became interested in collecting objects several decades ago when he purchased some majolica pottery. But he later gave that collection away and moved on to other items.
Jones has had a Galveston house since 1972. But in 2004, he found the three-bedroom, two-story cottage. The house had almost all the things he wanted, which were high ceilings, several rooms upstairs and downstairs, a bit of history and a layout he could work with. The only thing it lacked was an elevator, which would help him considerably as he ages at home, he said.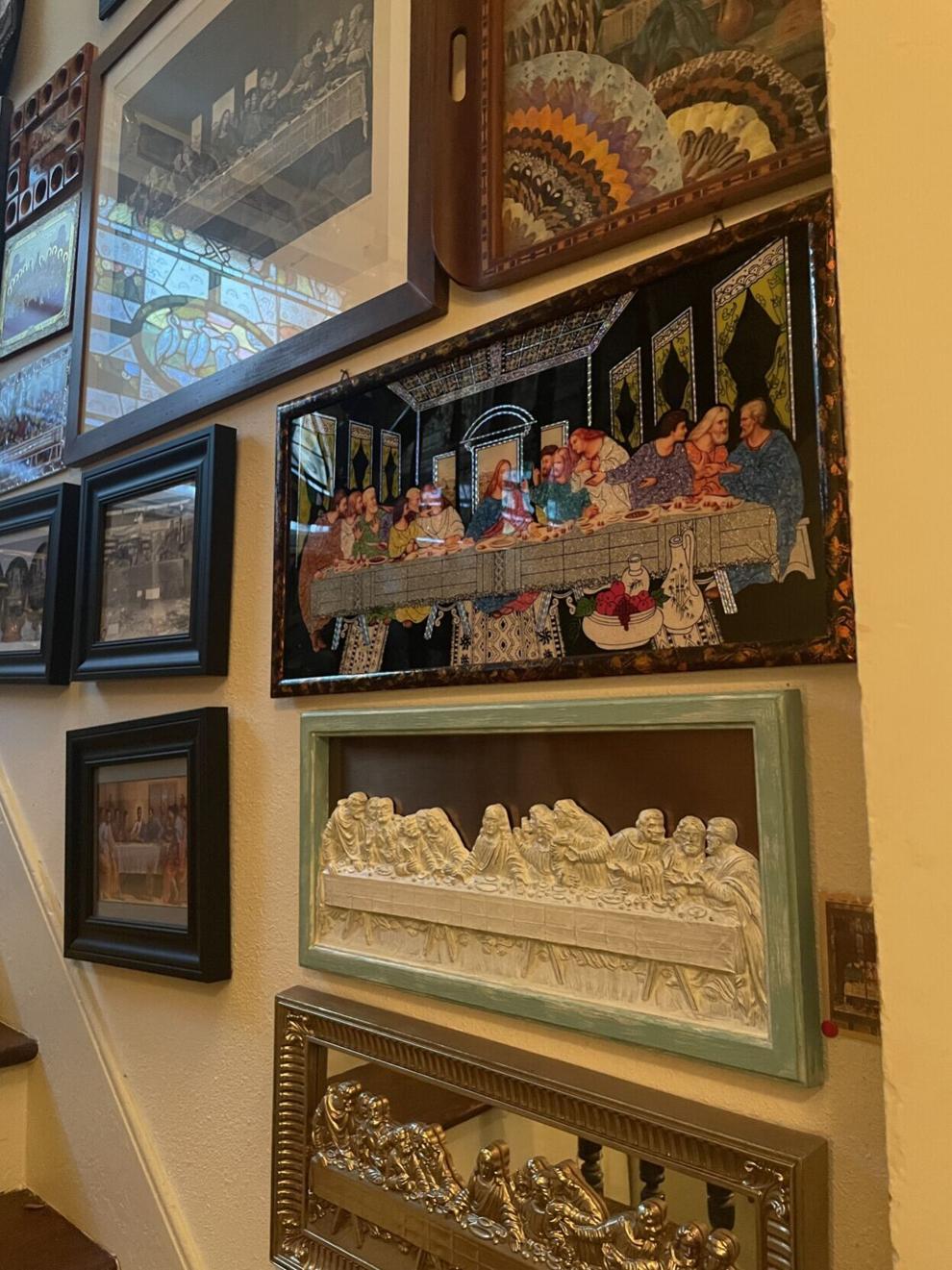 Upon entering the cottage, it's difficult to decide where to direct the eyes. Perhaps the floor, painted in a black-and-white checkerboard pattern by Jones' former award-winning company, Decorative Arts, which he co-owned with Bee Morrow. Or maybe the walls, which are covered floor to ceiling with photos, prints, drawings, sketches, portraits, old Galveston scenes as well as posters, advertisements and 300 depictions of The Last Supper.
The front living room serves as the black-and-white photo gallery and features a photo of portraits of both President George Washington and Robert E. Lee. Jones attended Washington and Lee University in Lexington, Virginia, and he honors his alma mater with those images. But he also has photos of New York's West Point, where his father attended. And there are lots of historical photos of early Galveston and random photos of scenes he likes.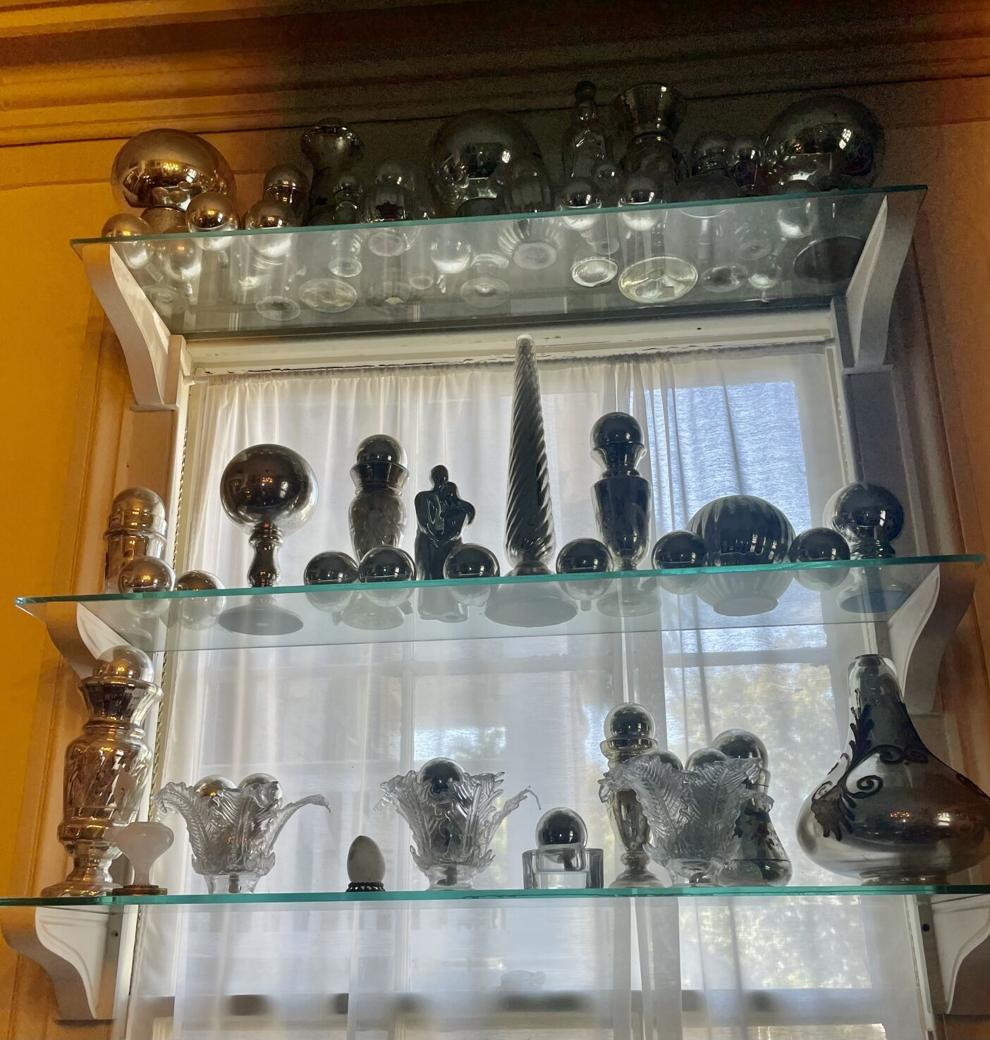 The room is decorated with tables and chairs from the old El Morocco nightclub in New York and the desk is from a Louisiana plantation. His collection of mercury glass sits atop three high glass shelves in a window. The surrounding room features a triple layer of unique and decorative crown molding, which adds a stately air to it.
Across the hall in the front parlor is where he hangs paintings, landscapes, lithographs, drawings and etchings, including two large pastels of Jones as a boy and his mother, Mary Ann. He also showcases his Staffordshire collection of Cavalier King Charles spaniels, paying tribute to his own dog, 14-year-old Rafe. A pair of horseheads from a Paris meat market sits atop one shelf in the room furnished with antiques from France, Korea and Spain, as well as an old Galveston mansion.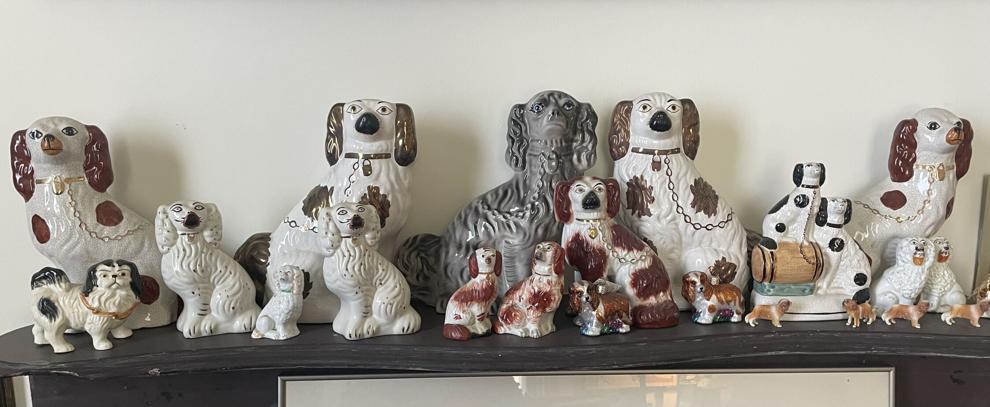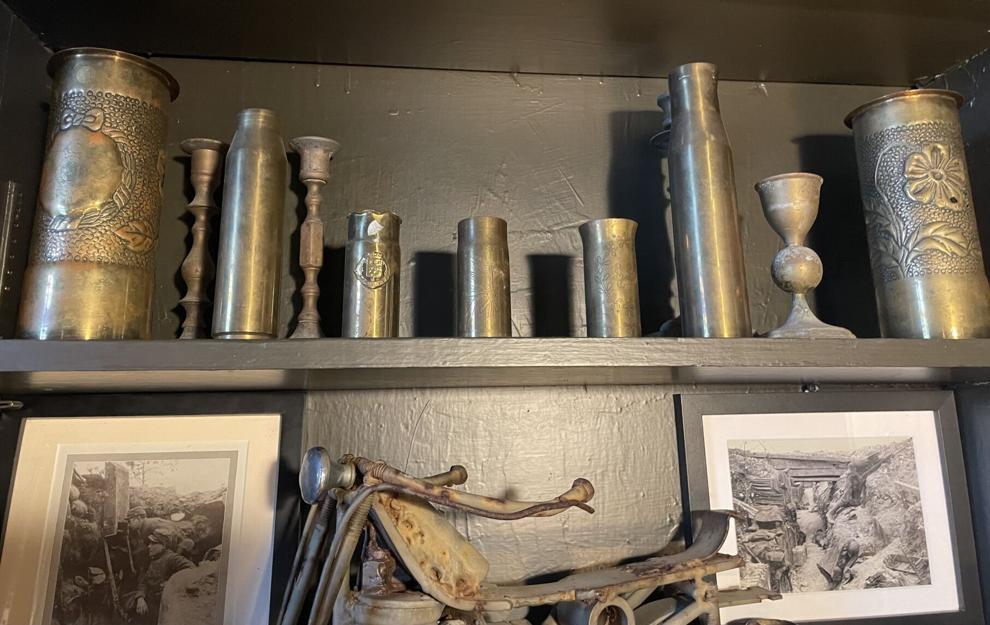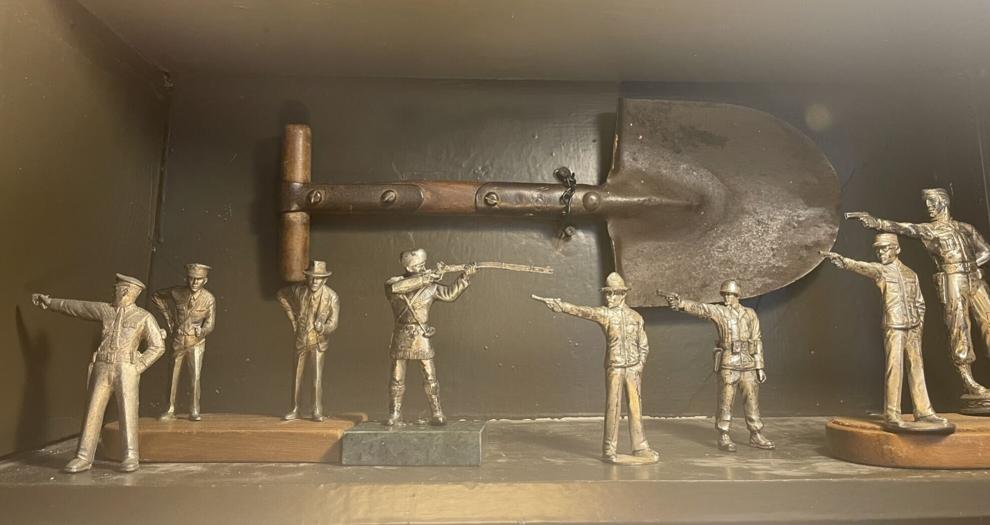 The study, a cozy room lined with bookshelves and packed with Jones' library of his favorite books, also is where he displays a unique collection of "trench art," an array of handmade embossed art pieces crafted by soldiers in bunkers during World War I and made from spent brass artillery shells and other detritus of war.
Jones has collected vases, ashtrays, a ring and urns created by soldiers during the war as personalized mementos for their loved ones back home. He also has a small collection of military statues made from cannon balls. The room is decorated with more than a dozen mounted pairs of deer antlers and a collection of birds, none of which he killed or captured.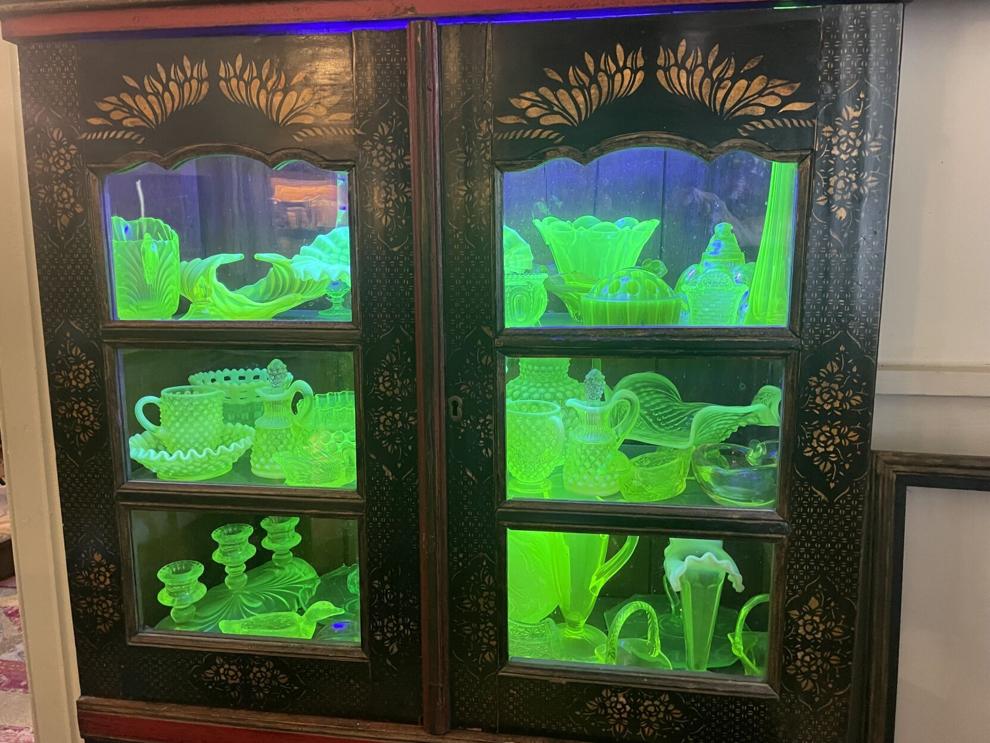 The longleaf pine table in the dining room is large enough to seat 12. But it would be difficult to concentrate on a meal. This room, too, is covered in collections ranging from the large shadowbox display cases filled with centuries-old arrowheads, to two lighted cabinets filled with his collection of glowing uranium or Vaseline glass. He also has old zinc architectural ornaments from Savannah, Georgia, lights from an old theater's lobby, and doors from a house in New Orleans.
In the small bathroom are two collections: hundreds of tiny pitchers and vases and a lineup of antique bottles found in Galveston. And even on the porch, he has made room for collections: metal funnels, large and small, all hanging from hooks and a gift from the late Dr. E. Burke Evans, a longtime physician and faculty member of the University of Texas Medical Branch in Galveston.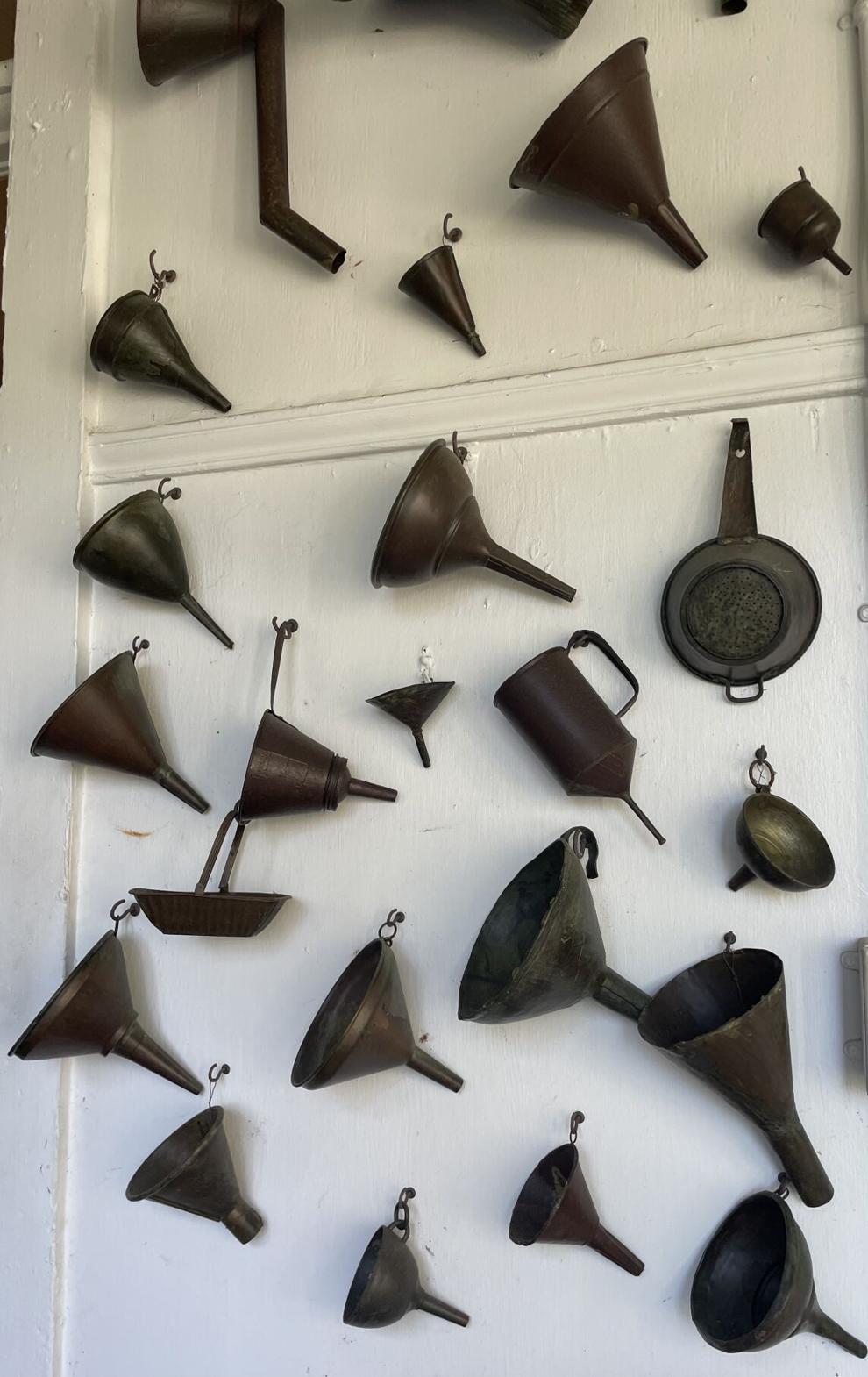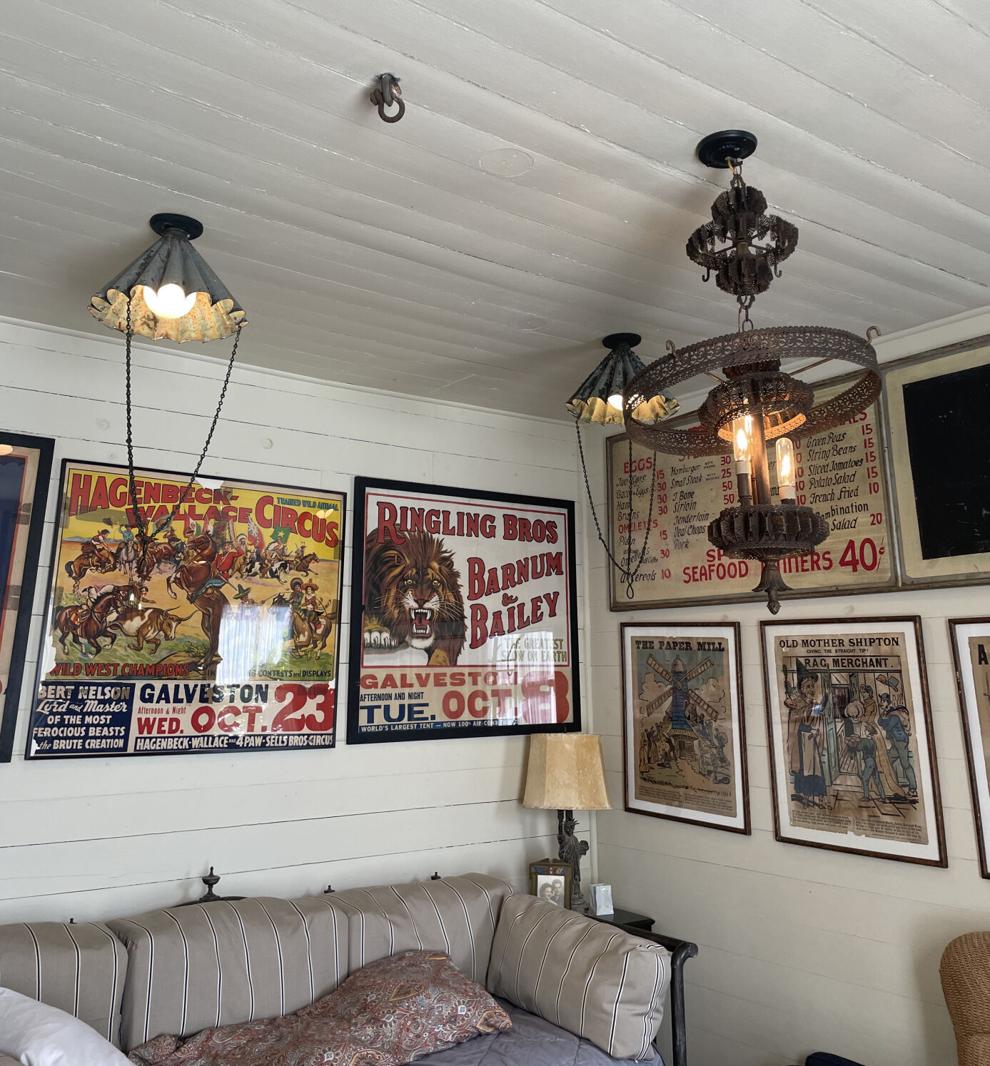 In his kitchen, which he renovated and for which he built extremely high counters and an island to accommodate his tall stature, is a collection of cut glass, another collection of Willow plates and painted plates, as well as hundreds of cookbooks filed away.
Jones' yard is nicely landscaped with a variety of plants, including boxwoods, roses, hibiscus and magnolias. Fountains and statues are placed randomly, including a replica of the Statue of Liberty. And in the far corner of the yard is a small building, which Jones theorizes once was the house's kitchen. It now serves as a guesthouse, with walls covered with circus posters and ads.
"If I see something I like, I will collect them," Jones said. "But I really didn't plan on living among these collections."