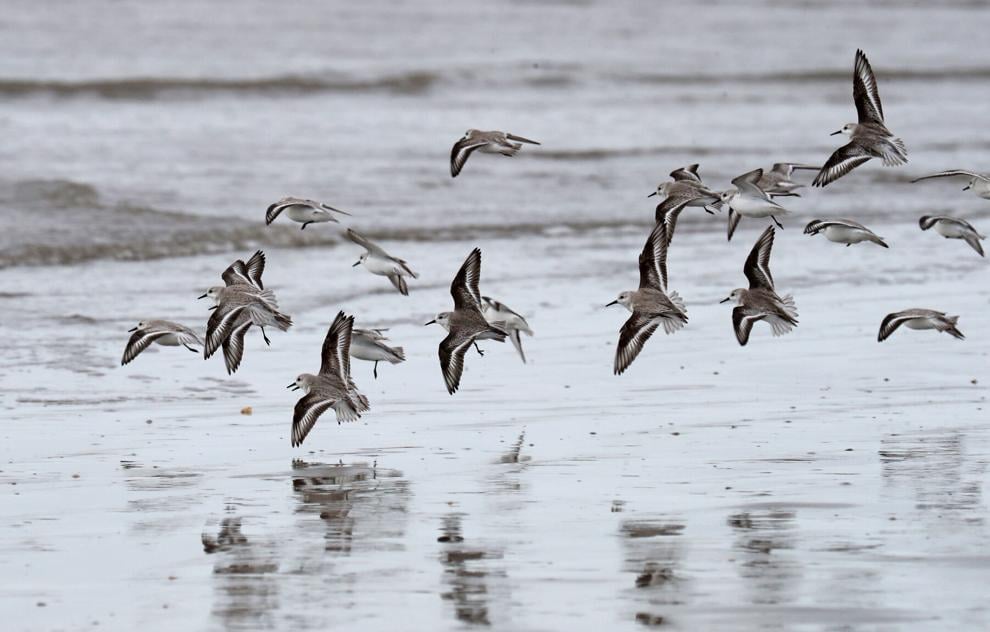 Kristen Vale often can be found on Galveston beaches, protecting the eggs of nesting birds from human visitors and their four-legged companions.
From spring break to Labor Day, many beach birds lay their eggs right on the sand, at the edge of the dunes or in the dunes, and later can be seen herding their chicks to the water's edge to feed on insects and tiny crabs.
"They are so tiny and cute but they often blend into their environment," Vale said. "We have to let people know they're out there."
A loose dog, for example, might enjoy scattering a flock of birds by running right into the middle of a large group, disturbing their feeding and endangering young chicks. Visitors are encouraged to walk around large groups of birds rather than scattering them, to keep their dogs on leashes and to avoid walking along the edge of the dunes where they might unknowingly smash freshly laid eggs or even small offspring, especially during those spring and summer months.
Vale, who works as Texas Coastal Program coordinator for the American Bird Conservancy, has spent a decade on Galveston beaches shepherding conservation efforts and studying the endangered piping plover for her master's degree thesis. As such, she has become an expert on which birds visitors are most likely to observe on Galveston Island and Bolivar Peninsula beaches.
Beyond the ubiquitous laughing gulls, visitors can't help but see, especially if someone is tossing bread chunks up into the air, Galveston's most commonly seen beach birds might appear to be here year-round, but in reality, many of them are nesting or resting before taking off for faraway places.
Here's what visitors need to know to better appreciate and protect five species commonly seen on Galveston Island beaches and nearby.
---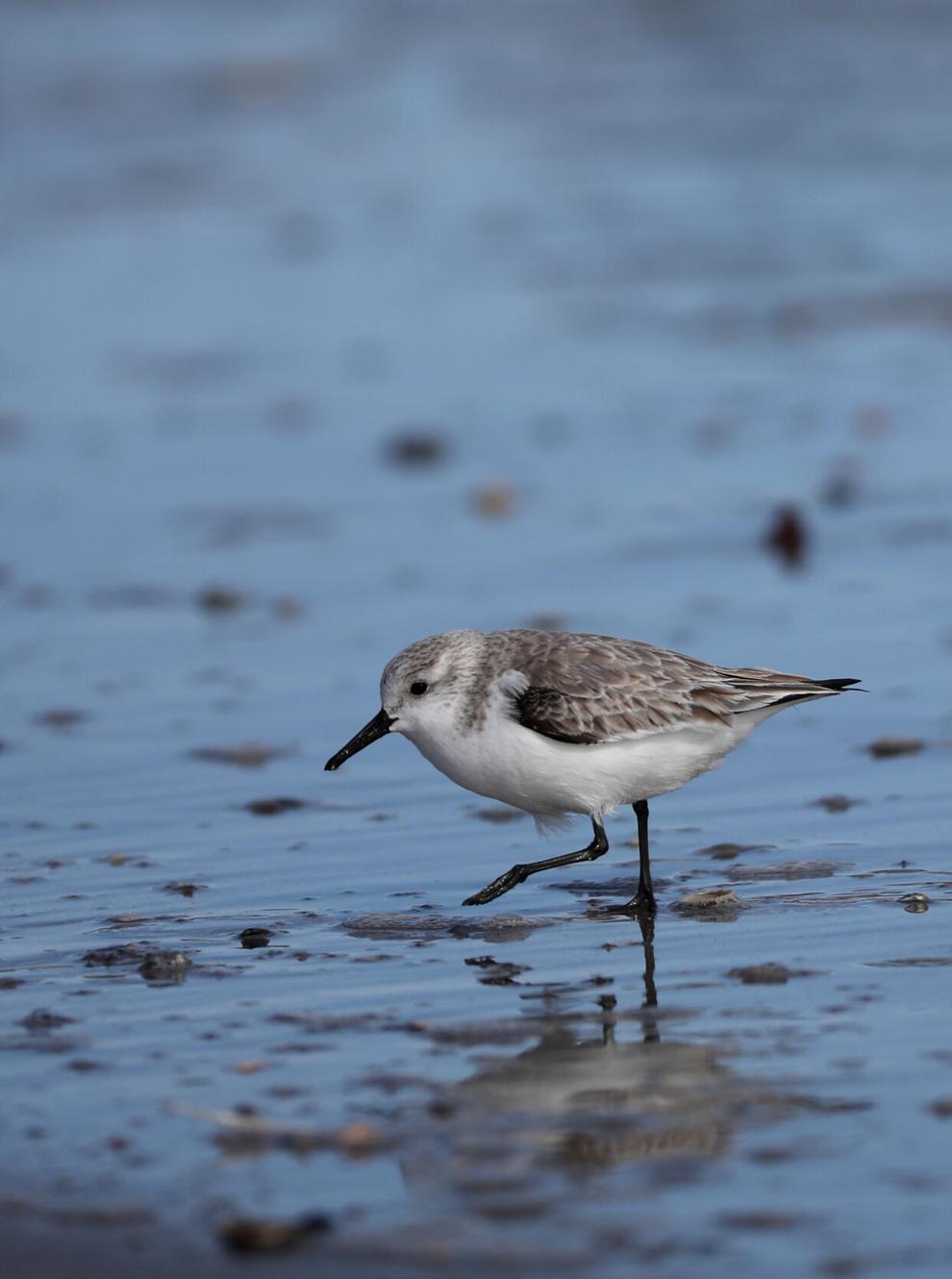 SANDERLING
Besides those gulls, the most common bird on Galveston beaches is the sanderling, generally referred to as a sandpiper. These are the quick, plump little salt-and-pepper colored birds visitors see running fast, chasing waves back and forth. They are gray with specks on top and black legs. The sanderling is one of the most underrated birds and is a world traveler, Vale said.
"They will fly north to nest in a small area in the Arctic circle, 3,000 miles away," Vale said. "They'll spend a very short amount of time there, lay their eggs on the ground, then fly back to Galveston for the winter."
One of the most widespread birds in the world, sanderlings are beginning to show a deep decline in their population because of climate change and the vulnerability of their nesting area.
"Like many young birds, they may wait a couple of years to go up north to nest," Vale said. "You could see some year-round on our beaches, and those we see in summer are not mature."
---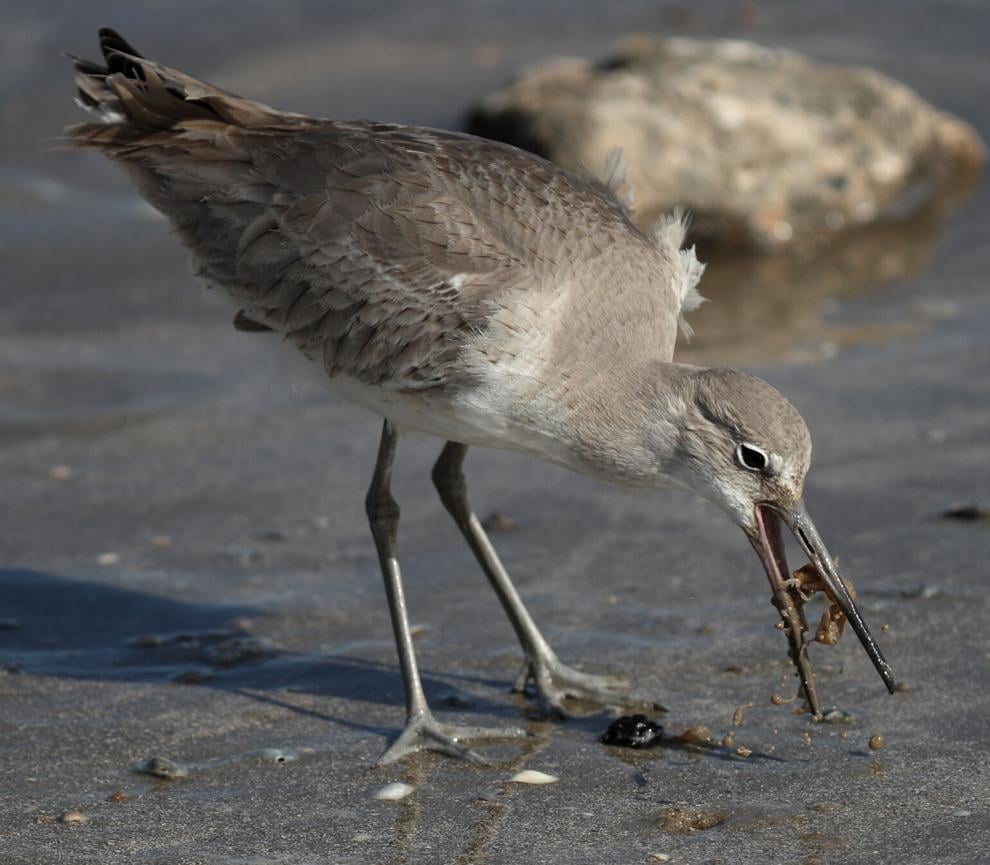 WILLET
Very common on our beaches and one of the largest of our beach birds, the Willet has long legs and a long bill and is colored a drab gray. But when it's in flight, observers can see its striking black-white-black wing pattern, a long stripe. Willets also are distinguished by their piercing and very loud call.
"In the winter, you can see them near sanderlings, using their bills to probe the sand for crabs and crustaceans, and in summer they move to the dunes and marshes where they nest," Vale said.
---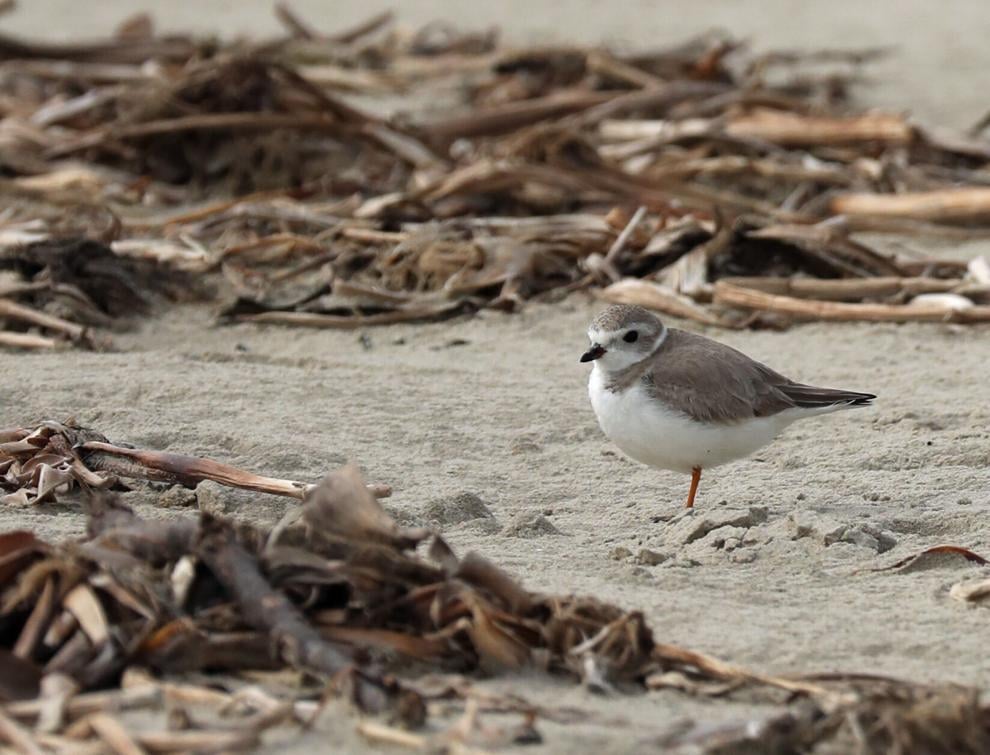 PIPING PLOVER
"It's my absolute favorite bird of all time," Vale said. "It looks like a little marshmallow with legs."
When we see them on Galveston beaches during fall, winter and spring, sanderlings are here to rest, not to nest. They travel north in summer to lakes — some 100 miles away and others as far as 1,000 miles — to nest and lay their eggs.
"They are special to Texas because 50 percent of their population nests in Texas," Vale said. "They need our beaches to survive winter, to fatten up before flying north."
In fact, piping plovers, technically a threatened species in Texas and endangered elsewhere in North America, depend on protection of their habitat because they return to the same stretch of beach every year, flying by sight. They can be seen on Galveston beaches, especially near Galveston Island State Park, running with the sanderlings, distinguishable by their size and bright orange legs.
---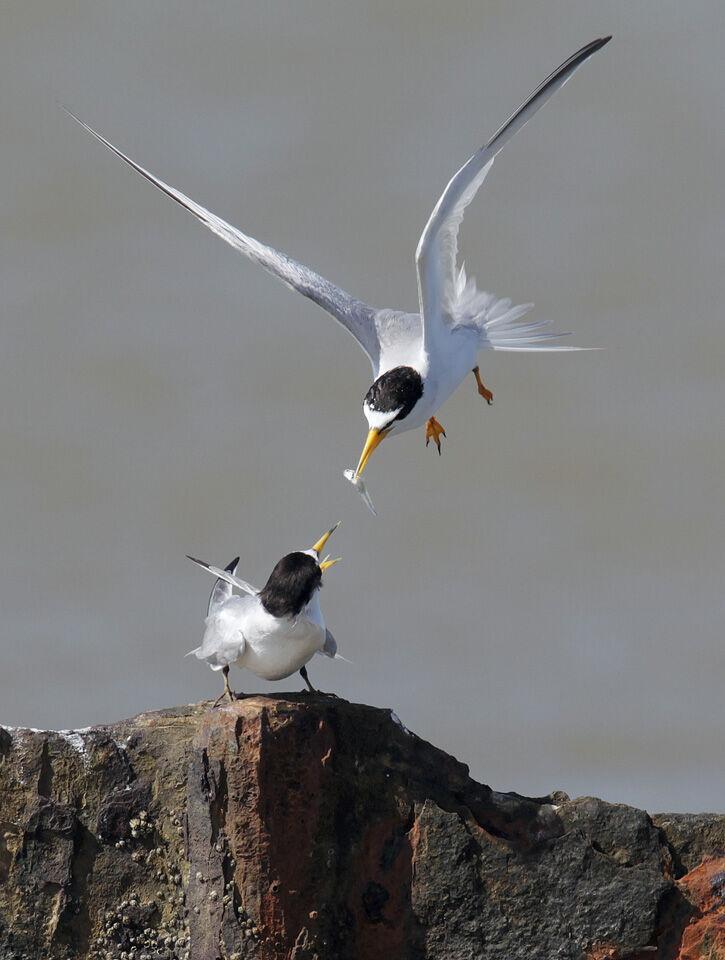 LEAST TERN
The world's smallest tern — it weighs in at about the same size as a mockingbird — nests on Galveston beaches, arriving here in March and April and leaving for South America or the Caribbean by Labor Day. They can be identified by their sharp, pointed, bright yellow bills; thin, pointed wings; forked tail and black caps. They feed on fish, diving in the water.
"You'll see them feeding in the waves, picking up little fish, then bringing them back to their mate and chicks," Vale said.
Least terns nest in front of the dunes, sometimes even on the high tide line and are vulnerable to water level fluctuations and shoreline development.
"We also have Caspian terns here, the largest tern in the world, on Galveston beaches," Vale said.
---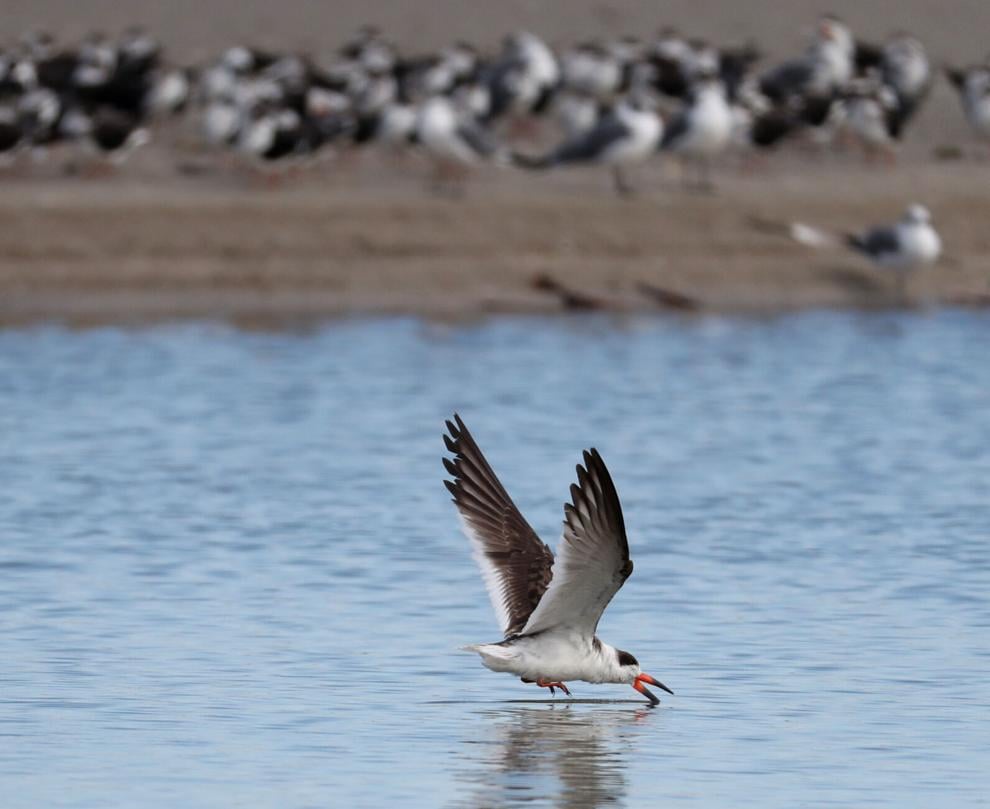 BLACK SKIMMER
Less common but worth seeking out, the black skimmer is an elegant bird — slender, black and white with an orange bill and black markings — that flies across the surface of waves with its bill dropping down to skim the water and snag a fish.
"You can see them feeding early in the morning or at evening tide," Vale said. "We see them resting together in wintertime in larger numbers."
Black skimmers are here year-round, nesting on Galveston beaches some of the time, but preferring to nest on islands in the bay. When extreme high tide events wash away their eggs and chicks, they might move to Galveston beaches to nest. A section of East Beach has been fenced off as a protected area for nesting.