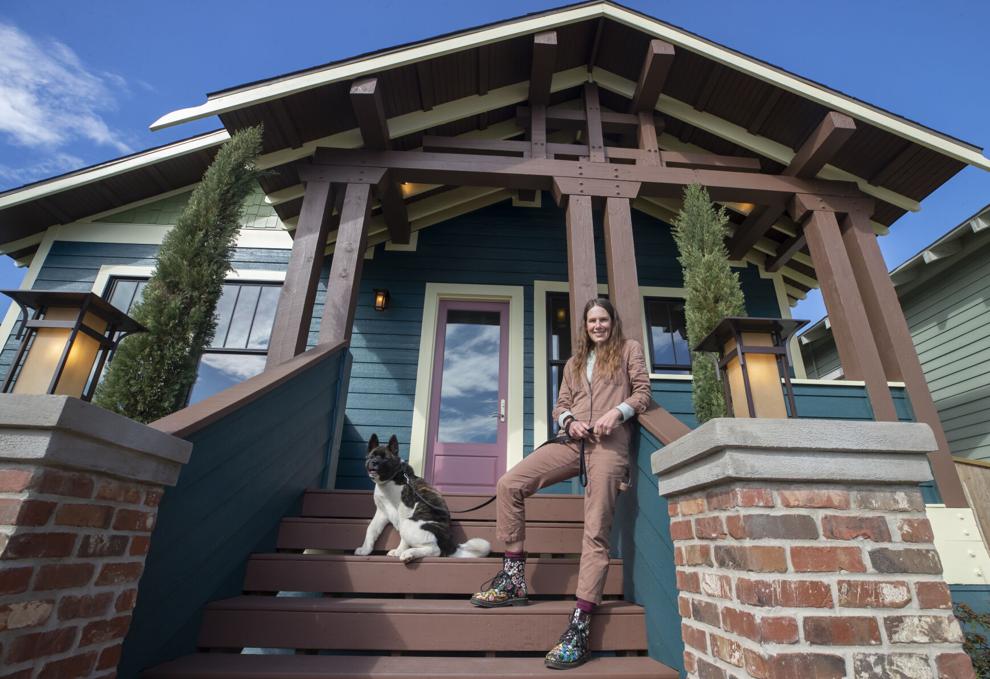 Christine Plum, a single mother working in what long has been a male-dominated industry, understands an efficiently designed home can have a big effect. As a builder, Plum has been attracting positive attention for her creative homes built on Galveston Island with sustainability in mind.
An added attraction at this year's Galveston Home Tour centered on Plum House, on Ursuline Street, which sold immediately at full price. She has built a second home at 4010 Ursuline St., and is midway through a 12-home development, Delaney Heights on avenues L and M at 32nd Street. The homes are priced from $370,000 to $420,000 and feature balconies, Murano glass accent pieces and soothing seascape colors from ocean blue to seafoam green.
"My homes are livable art," Plum said. "You won't find a spec home anywhere like what I'm doing."
Plum began building homes six years ago. Her houses fit the neighborhoods she has selected — in scale and design, she said.
"I wanted to show I could be thoughtful in my approach, integrating exquisite, one-of-a-kind materials in a more efficient, well-designed footprint," she said. "I want the world to know that there is something really special happening on a small island in Texas."
Plum Construction uses craftsmanship from days past, she said.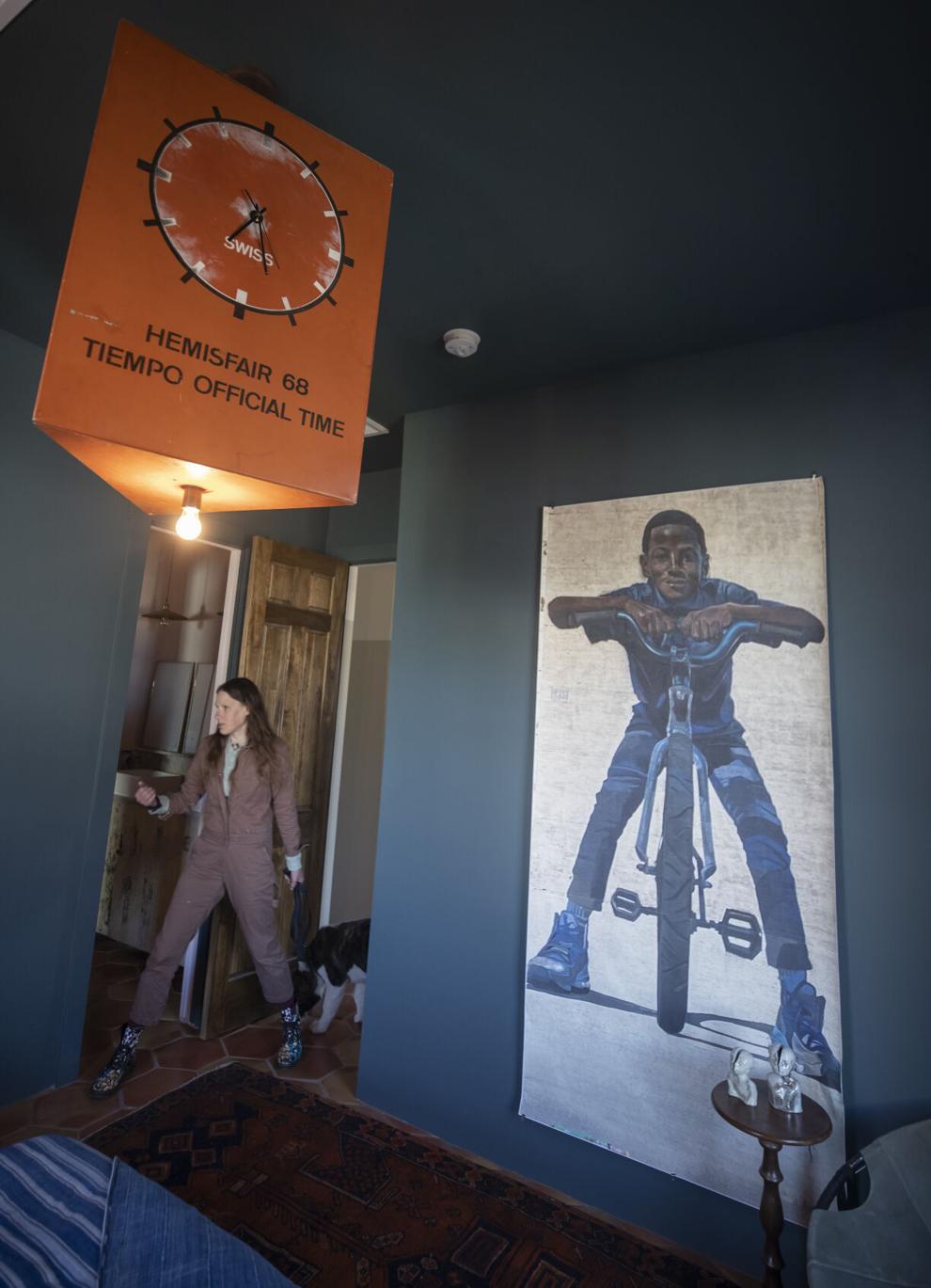 "I want people to see that a single mom is a builder, working to turn new construction on its head," she said. "I'm not building anything ordinary or for the masses."
Plum uses vintages items when she can — for doors, trim, flooring and lighting, to name a few.
Using vintage items, most locally sourced, reduces the carbon footprint of her houses, she said.
"During construction, I save all usable lumber and other construction materials for the next project, rather than throwing everything in the dumpster. It does take some storage space, but it's totally worth it."
She also uses finishes made of natural materials such as stone and wood, she said.
"I use finishes that are not only timeless so they'll stand the test of time and not need to be ripped out when the trends change, but also high quality so they'll last and only get better with time," she said.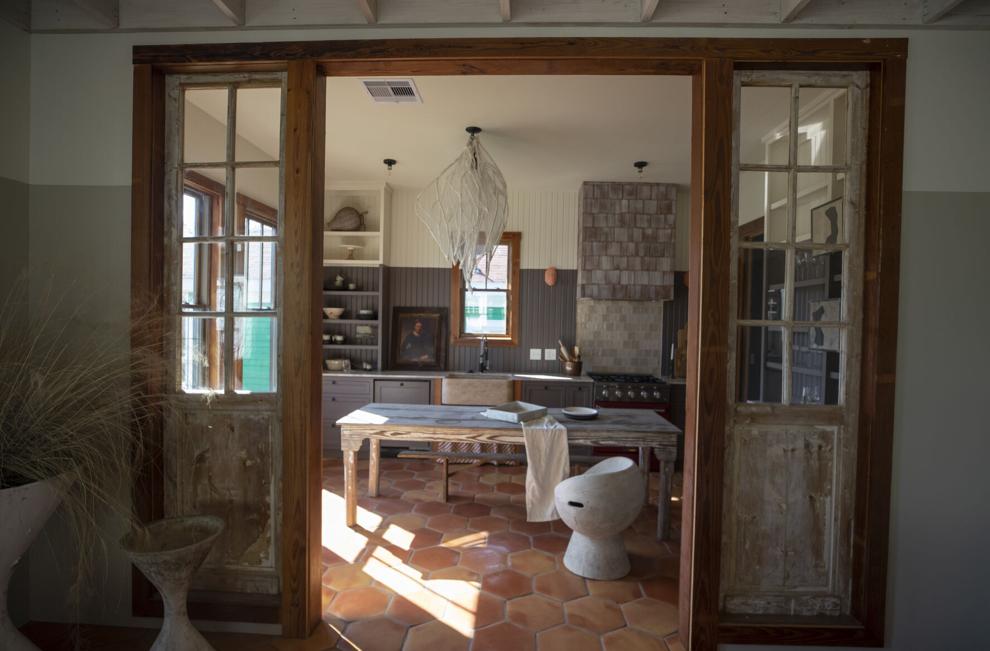 In her latest home, she reused the tops of the pilings for a patio behind the house, keeping the large timber out of landfill.
She also stages and styles her homes after construction with mostly vintage items, she said.
"Vintage is good for the environment because it's already led a life and is so well made that it can continue in another life in a modern home for years to come," she said.
Plum most often can be found in a Wildfang jumpsuit and her floral Doc Martens. On site, she wears a pink hard hat with a pink tool belt.
"Pink is my favorite color," she said.
Plum was born on a U.S. Air Force base in Bitburg, Germany, into a family of builders.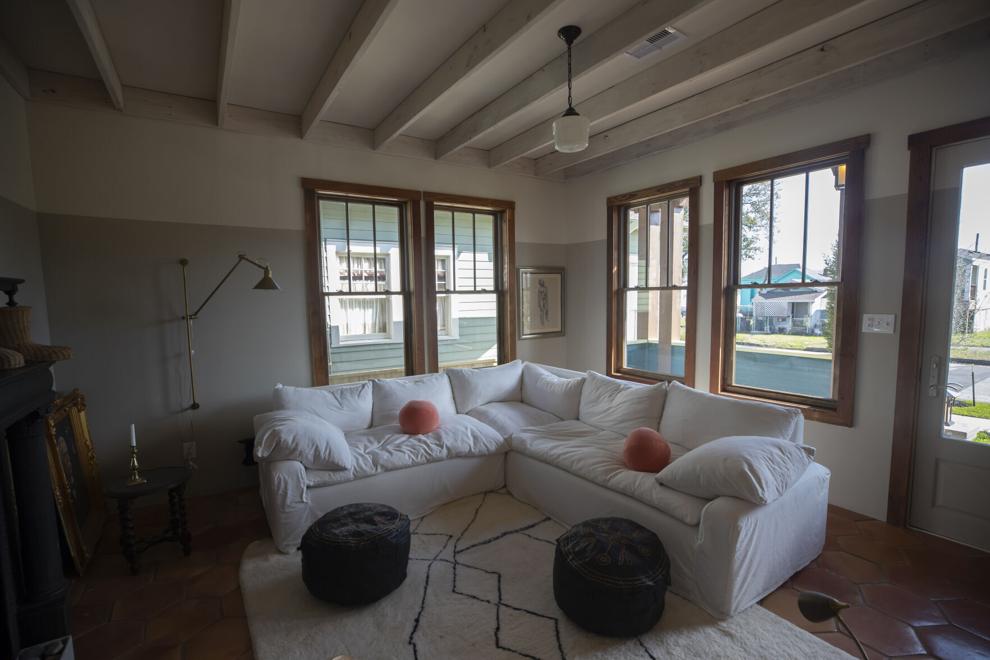 "I grew up in a family of builders and contractors, playing on job sites and entranced by the puzzle of putting together a remarkable living space," she said. "My grandfather, dad and uncle were all builders in Grass Valley, California. When I was married, I was always the handy one."
Plum was a stay-at-home mom for 17 years until a divorce forced her to recreate herself, she said.
"When my oldest and middle sons left for college, I sold the large family home and, using the equity, bought a small cottage in Galveston, which I turned into a vacation rental. It was extremely successful."
Soon, she saved enough for a second cottage.
"It was my first mortgage as a single mom," she said. "I was so proud, so I turned that house into a vacation rental as well."
Six months later, she began building her first home under the name of Plum Construction and Design. In her earlier homes, she tiled the bathrooms and finished the whole project by herself. Now, she has a project manager and team of carpenters, engineers and masonry workers who share her commitment to authenticity.
Plum's latest masterpiece, the House of Salt and Honey, 4010 Ursuline St. in Galveston, reflects the culmination of the best in all she's learned about what her audience desires, she said.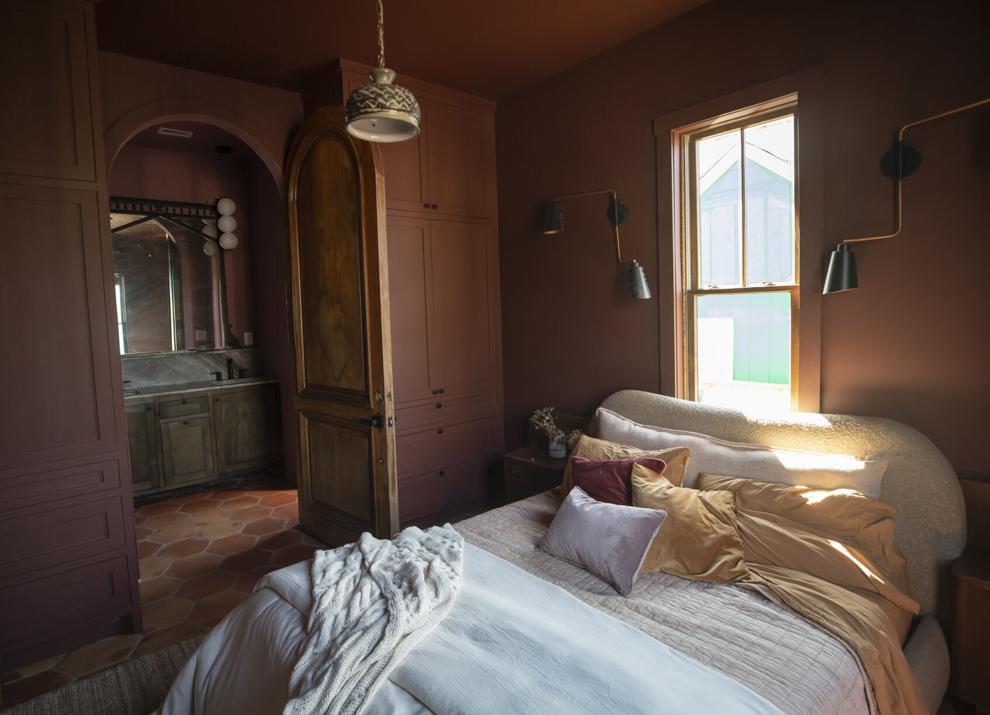 The 1,300-square-foot home aligns with the goals of a generation focused on professional achievement rather than accumulating possessions, she said. Some homeowners are couples who prefer the freedom of a minimalist lifestyle, she said.
Ten-foot ceilings throughout Plum's design provide a sense of spacious expanse.
Down the hall, an antique vanity graces the Jack-and-Jill bathroom off the secondary bedroom. All cabinets and lighting fixtures are custom, including a ceramic light from Belgium and a chandelier made from the original clock from the 1968 HemisFair in San Antonio.
Open rafter tails, hand-thrown ceramic vessels in the bathrooms, Art Deco light fixtures — often in a shade of pink or a paint color she concocts to mirror a color in a painting or a doorway in France — have become Plum signatures. An antique interior door from Europe decorates a wall between the kitchen and living room.
Her light fixtures also are remarkable, as are the antique mirrors, accenting the rooms that are filled with natural lighting. There's a fixture in one of the bedrooms, which are painted in deep, dark rich colors, made from a drop cloth splattered with a Jackson Pollock pattern. Bathrooms feature leathered marble countertops, offering a more tactile experience. Fully landscaped lots with paver walkways and a unique wood-piling patio also are Plum signatures.
The kitchen is home to a sideboard created from an antique card catalogue, with drawers that are perfect for linens, napkin rings, small utensils or cooking tools. A red ticking stripe fabric widely used for farmhouse kitchens, but done in a fresh, modern way, graces the space under the travertine farmhouse sink. The kitchen showcases custom cabinets and marble surfaces, as well as vintage-inspired appliances.
The House of Salt and Honey is a standout among the Victorian and Craftsman homes, reflecting a creative spirit of fun, whimsy and beauty. The vibe of the home is warm modernism with a Mediterranean flair. Saltillo tile throughout her new, 1,300-square-foot, three-bedroom, two-bath home also is found in the one-bedroom casita with kitchenette and full bath.
"I love showcasing artists in my homes," she said. "Whether it is a ceramic artist who has hand-made tiles and vessel sinks, or a fiber artist who has commissioned a piece specifically for the home, every choice I make for my homes is about curating something so special that you know this home is art in every sense of the word."