Leche frita, which translates to "fried milk,"is a popular dessert and street treat in Spain.
Nuns created the first versions and sold them to help maintain their convents, according to culinary historians. They made the treat by cooking milk with flour and sugar until it thickened to a firm dough or custard, which they then portioned, breaded and fried and served with a dusting of cinnamon sugar. It originated in Palencia, a province in northern Spain. From there, it spread throughout the country. While many variations exist, all recipes call for simmering the milk, flour and sugar with some flavors or aromatics, usually cinnamon and citrus.
Leche frita pairs well with ice cream.
---
LECHE FRITA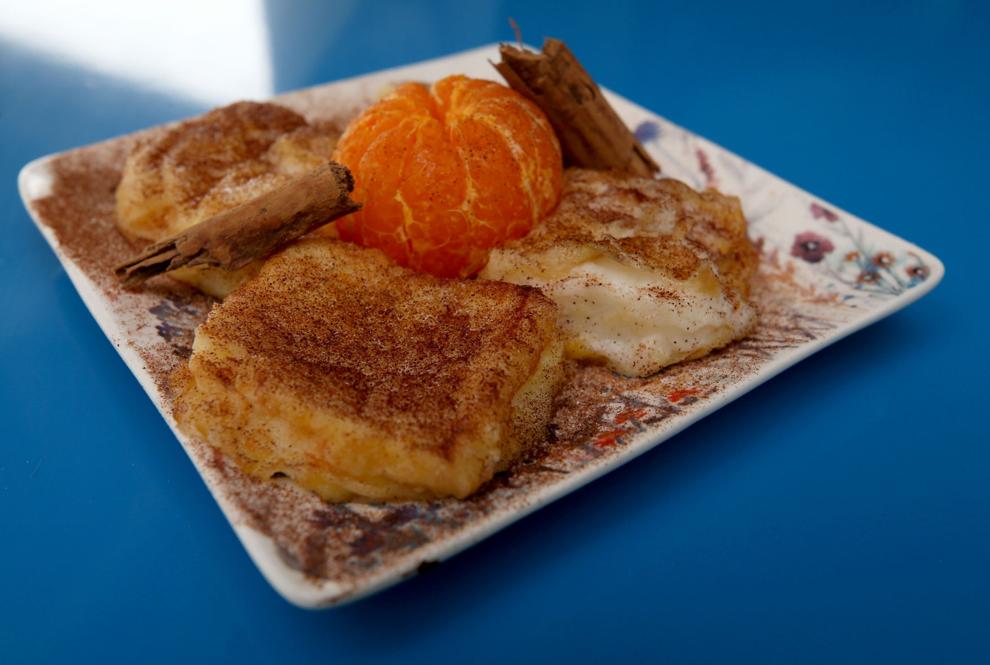 4 cups milk, divided
1 cup cornstarch, divided
¾ cup sugar, divided
1 cinnamon stick
Lemon peel from ½ lemon, white pith removed
2 large eggs, room temperature
½ cup oil for frying
½ teaspoon ground cinnamon for dusting
Heat 3 cups of milk in a sauté pan over medium heat with the cinnamon stick and lemon peels.
Once milk comes to a light boil, turn off the heat and let infuse for 20 minutes.
While the milk is infusing, add the remaining cup of milk into a bowl and slowly add ½ cup of cornstarch, whisking until smooth.
Oil an 8-inch-by-8-inch pan and set aside.
Remove lemon peels and cinnamon stick from cooled milk and begin heating the mixture at medium to medium-low while whisking in cornstarch mixture.
Whisk while adding a ½ cup of sugar and continue whisking for 20-25 minutes, until mixture becomes thick and creamy.
Transfer mixture to the pan and let cool. Cover and refrigerate for at least 3 hours or overnight.
Remove from the refrigerator and place a cutting board over pan and invert. Remove pan and cut custard into 2-inch squares.
Place the remaining cornstarch in a bowl. In a separate bowl, whisk the 2 eggs. Dredge the squares in the cornstarch and then into the egg. Heat a small frying pan over medium heat with ½ cup of oil. When hot, add squares, being sure not to overcrowd the pan. Fry for about 45-60 seconds per side and transfer to a paper towel-lined plate.
Dredge or dust with cinnamon-sugar mixture (¼ cup sugar and ½ teaspoon ground cinnamon) and serve with a scoop of vanilla ice cream, if desired.