Her name is Chelly Rodriguez, aka "The Pie Lady." She bakes and sells pies in the tiny fishing village of Yelapa, a thrilling speedboat ride from Puerto Vallarta. For more than 20 years, Rodriguez has been operating the business created by her mother, who "got too old," according to reports. Barefoot with a Tupperware container full of pies on her head, she trudges up and down the beach selling by the slice, for which she charges about 30 pesos, or $2.50. Rodriguez offers 10 flavors of pies, sweetened by fruit and sweetened condensed milk, all made to be eaten while lounging on the beach. The crust is what makes this extraordinary pie. Sort of a salty shortbread that stays both firm and flaky, yet soft while you eat it with a plastic fork off a paper plate or just out of hand. After one bite, your first thought is, "Yelapa? I would have flown farther for this."
---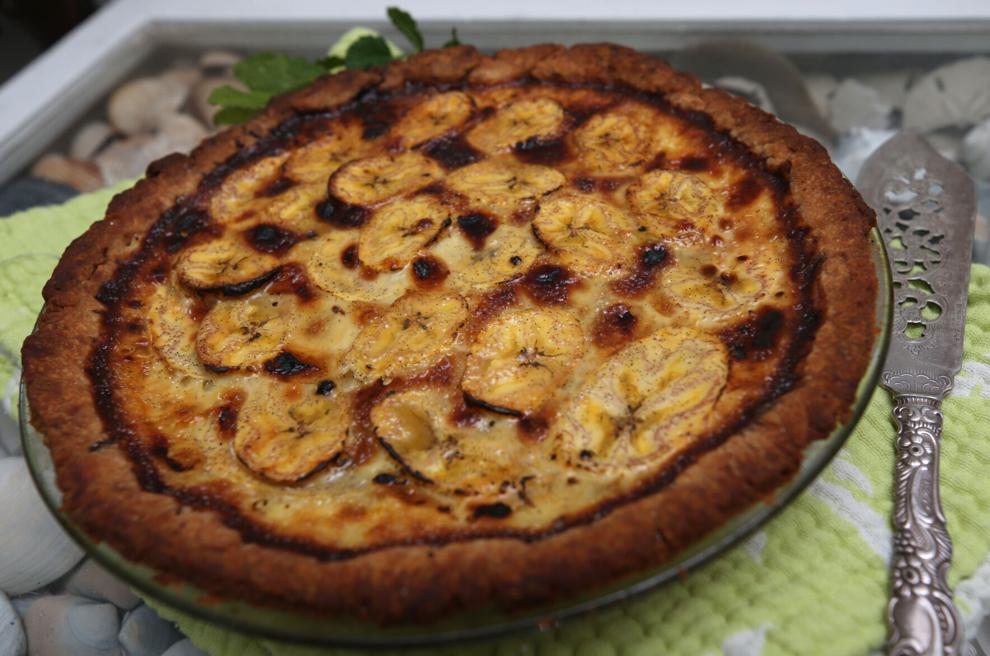 YELAPA PIE
2 cups all-purpose flour
1⁄2 teaspoon salt, divided
1⁄3 cup salted butter, cut into pieces
1⁄3 cup vegetable shortening cut into pieces
1 pound bananas, cut diagonally in 1⁄3-inch thick slices. Use ripe plantains for authenticity.
2 large eggs, room temperature
3⁄4 cup milk
1⁄2 cup sweetened condensed milk
1 vanilla bean split and seeds scraped. Vanilla extract can be substituted.
1⁄3 cup sugar (optional) for a brûlée-style topping
Preheat oven to 375 F. Whisk together flour and 1⁄4 teaspoon salt in a medium bowl. Make a well in the center and set aside.
Combine butter, shortening, 1⁄3 cup of water in a saucepan. Cook over medium/high heat, stirring constantly, just until butter and shortening are melted. Simmer for 1 minute. Pour into well in center of flour. Work quickly, with a rubber spatula, until a shaggy dough forms. Transfer to a clean surface and knead until smooth.
Place dough between two sheets of parchment and roll into a 1⁄4-inch thick circle, 12 inches in diameter. Remove top parchment and invert into a 9-inch deep-dish pie pan. Patch dough if necessary. Line with parchment paper and fill with pie weights.
Bake about 18 minutes. Remove parchment and weights and bake about 15 minutes more, until browned all over. Allow to cool on a rack.
Reduce heat to 325 F. Line crust with banana slices. Whisk eggs in a medium bowl until blended. Whisk in milk, condensed milk, vanilla bean seeds and remaining 1⁄4 teaspoon of salt. Carefully pour over bananas. Bake until edge is set and the center is slightly jiggly. The bananas will rise during baking. Cool on a rack.
Optional: Sprinkle sugar over the top of pie, and with a torch, caramelize the sugar.