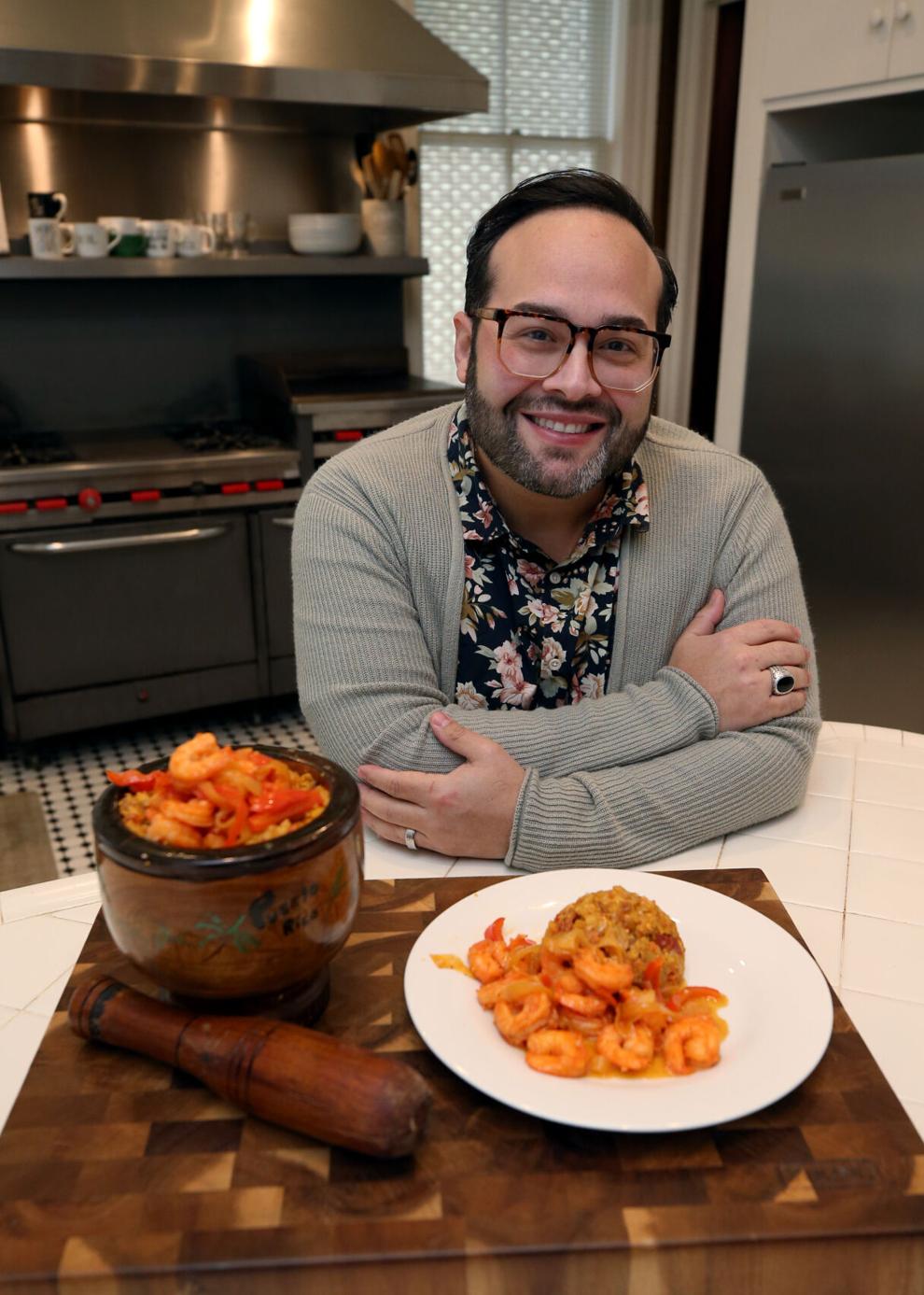 When islander Luis Santiago wants to taste the flavors of his hometown, he grabs a mortar and pestle and makes mofongo.
This decadent comfort food combines fried plantains, garlic, bacon and pork rinds for a sweet and salty side dish that easily could be the main event.
"It is not an everyday meal because it has bacon, pork rinds and the starch of the plantains, but it is so comforting and special," said Santiago, who is from Ponce, Puerto Rico. "It takes me right back home when I make it and reminds me of family and special occasions."
Puerto Rican families share traditional food like mofongo as an expression of love, Santiago said. Parents, grandparents and children often work together to make a meal of many dishes and then share them family-style. He has fond memories of making mofongo and other delicacies, such as rice balls, with his grandmother, he said.
"Gathering to eat together is a cultural thing," he said. "We love to eat. We love cooking and we love to feed people. It is so joyful to see other people enjoying a meal you have created for them."
Mofongo usually is served with a bowl of chicken stock for dipping or with a meat or seafood stew. Shrimp is a favorite for Santiago. He loves Galveston's Gulf Coast shrimp because it reminds him of the fresh seafood he grew up eating in coastal Puerto Rico.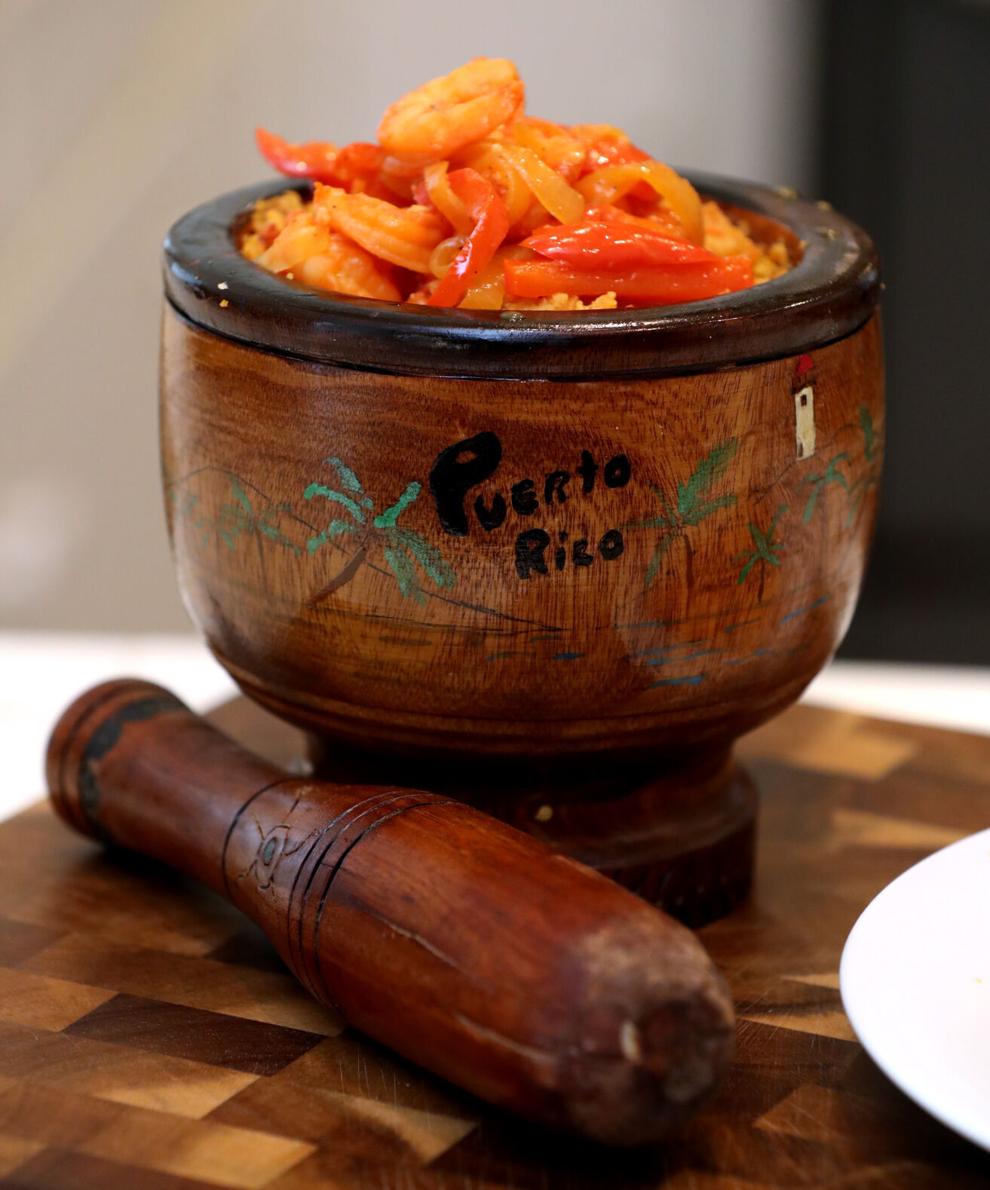 Santiago, who has a degree in chemical engineering, had a very successful career in the petrochemical industry, including many years working in Houston. With his husband, Mitch Bage, he's known to many Galvestonians as the owner and managing director of Maison de Campagne an island-based interior design, staging and real estate firm.
The company began as a side venture for both of them and is now a full-time operation.
Galveston began as a vacation destination for the pair.
"We love the community and diversity of Galveston and when we lived in Clear Lake, we would come down for weekends and holidays," he said.
They moved to the island full-time in 2019 and since have put down roots, buying an 1899 historic house that once was the home of the late Lyda Ann Thomas, a former Galveston mayor.
"Moving to Galveston was the best decision we ever made and we feel so grateful to be the stewards of this beautiful home," he said.
Travel, good coffee and being a good "dog dad" are his other passions. He loves cooking for others and introducing them to traditional Puerto Rican food, he said.
And here's Santiago's final word on why mofongo is so special: "It is the first thing I ever made for Mitch." 
---
Luis Santiago's Mofongo
Serves: 3-4
3-4 green plantains
1 whole onion (color of your choice)
4-5 garlic cloves
5-6 bacon slices, cut into small pieces
1 packet (1.41-ounce) Goya brand sazón with culanto and achiote
Pork rinds (to taste)
Vegetable oil for frying
1 cup chicken stock or 1 stick of melted butter (optional)
Salt (to taste) or adobo seasoning (to taste)
Peel the plantains and slice them into 1-inch-thick slices. Put them in salted water to preserve their color. You also can season the water with adobo instead of salt. Soak for at least 30 minutes.
While the plantains are soaking, cook the bacon, onion and garlic with sazón and set aside.
In a deep cast-iron skillet or deep fryer, heat the vegetable oil at 350 F. Fry the plantains for about 4-6 minutes or until they're golden brown and crunchy on the outside.
While the cooked plantains are hot, mash them with the bacon and onion mixture. You can use a traditional Mexican mortar and pestle or do it in a bowl with a fork or potato masher. Mash to combine but don't overdo it because you want some of the crispy texture.
Don't be shy about using the bacon fat in the mixture. Mix in the pork rinds and salt or adobo seasoning to taste. If it feels dry, add some chicken stock or melted butter to the mix. If you use the bacon fat, this isn't necessary.
To serve: Fill a cup-sized mold with the mixture and serve hot with a bowl of hot chicken stock on the side. You can also serve with a side dish of meat or seafood. It's great with shrimp.
---
Luis Santiago's Camarones al Ajillo (Shrimp in Garlic Sauce)
1 pound raw shrimp, peeled and deveined
½ onion
1 green bell pepper
2-3 tablespoons minced garlic
½ cup white wine or chicken stock, whichever you prefer
½ stick butter
Salt and pepper (to taste)
1 tablespoon olive oil
In a sauté pan, melt the olive oil and butter. Add the onion, pepper and garlic and cook until softened.
Add the shrimp and seasonings to taste as well as the white wine or stock. Cook for a few minutes until everything is combined. Keep in mind shrimp cooks fast. Don't overcook or they'll be tough and chewy.
Serve the shrimp alongside the mofongo or you can even pour the mixture over the mofongo to add another layer of flavor.