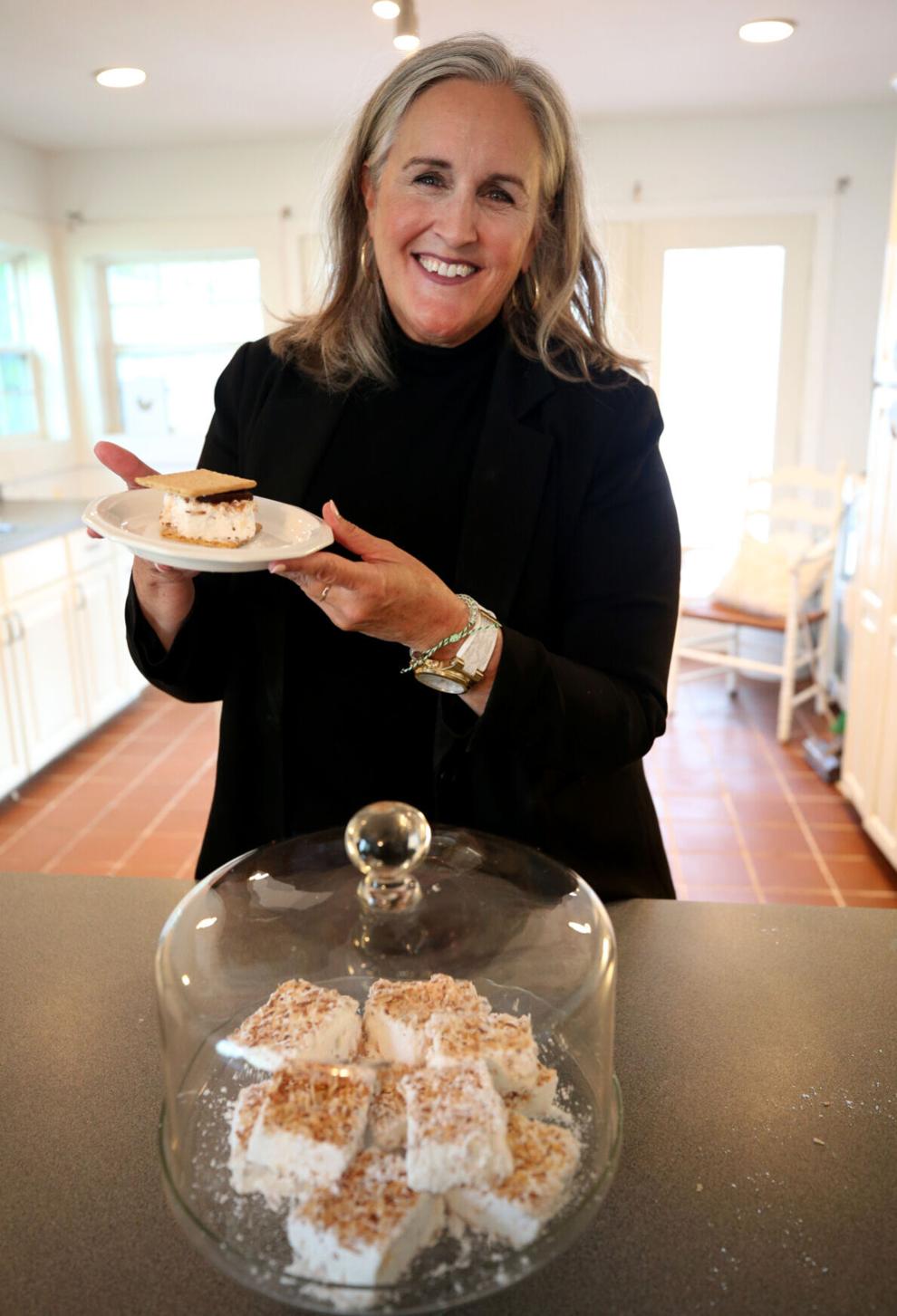 Self-described non-cook Christine Bryant has a perfect treat that's delicious and impressive, but still easy to make.
"My family is going to laugh when they find out I'm being included in a cooking feature as I'm not much of a cook," Bryant said. "I'm more of a baker, although I do make my own marshmallow with toasted coconut. It's my go-to when I'm asked to bring a dish and people love it. It's something I've become known for because it's unusual. Who makes their own marshmallow?"
The scrumptious confection comes from a recipe from celebrity chef Ina Garten and can be used to make s'mores or by itself. Bryant has been known to tailor it to holiday tastes. For example, one year she switched out the toasted coconut for a coating made from crushed peppermint candy canes.
"I just love Ina Garten, and you can't go wrong with any of her recipes as they always turn out," Bryant said.
The recipe uses powered gelatin, sugar, corn syrup, salt and vanilla. The trick is to be patient while it mixes to ensure it whips up nice and thick. She swears by her vintage mixer she inherited from her great-aunt.
Perhaps it isn't surprising Bryant wants to share a recipe that brings people together. She's a professional community builder who moved to Galveston a year ago to be the chief executive officer of Vision Galveston. With more than 20 years' industry experience, she's an expert in economic and community development. Before Galveston, she was the vice president of existing industry and regional development for the Corpus Christi Regional Economic Development Corp.
"It is such an incredible honor to be at Vision Galveston leading the team charged with making the people's strategic vision for Galveston a reality," she said. "We are about two years into a 20-year project, and I just am so impressed with Galveston, I love it here. I've found my forever home."
Vision Galveston is a nonprofit organization that began in 2018 when local leaders and residents followed a comprehensive and inclusive strategic planning process to create a long-term vision for a future in which the city is more resilient, equitable and sustainable. The focus is developing more affordable workforce housing, increasing public green spaces, collecting data to inform city leadership decisions and encouraging innovation and entrepreneurship.
"We have a phrase here at Vision Galveston that we say all the time and it is 'mobilize optimism,'" she said. "It's a great way to remind us why we are here. Incidentally, I have a golf cart that I named Mo inspired by the concept of mobilizing optimism."
---
HOMEMADE TOASTED COCONUT MARSHMALLOWS
7 ounces sweetened shredded coconut
3 packages unflavored gelatin
1½ cups granulated sugar
1 cup light corn syrup
¼ teaspoon kosher salt
1 tablespoon pure vanilla extract
Powdered sugar
Cold water
Place coconut in a large dry sauté pan and cook over low heat for 15 to 20 minutes, tossing frequently, until lightly brown.
Combine gelatin and ½ cup cold water in the bowl of an electric mixer fitted with the whisk attachment and allow to sit while you make the sugar syrup.
In a small saucepan, combine granulated sugar, corn syrup, salt and ½ cup cold water. Cook over medium heat until sugar dissolves. Raise heat to high and cook until syrup reaches 240 F on a candy thermometer. Remove from heat.
With the mixer on low speed, slowly pour sugar syrup into dissolved gelatin. Put mixer on high speed and whip until very thick, about 15 minutes. Add vanilla and mix thoroughly.
Sprinkle half of the toasted coconut in an 8-inch-by-12-inch pan. Pour marshmallow batter and smooth the top of the mixture with damp hands. Sprinkle on remaining toasted coconut. Allow to dry uncovered at room temperature overnight.
Remove marshmallow from pan and cut into squares. Roll sides of each piece in powdered sugar.