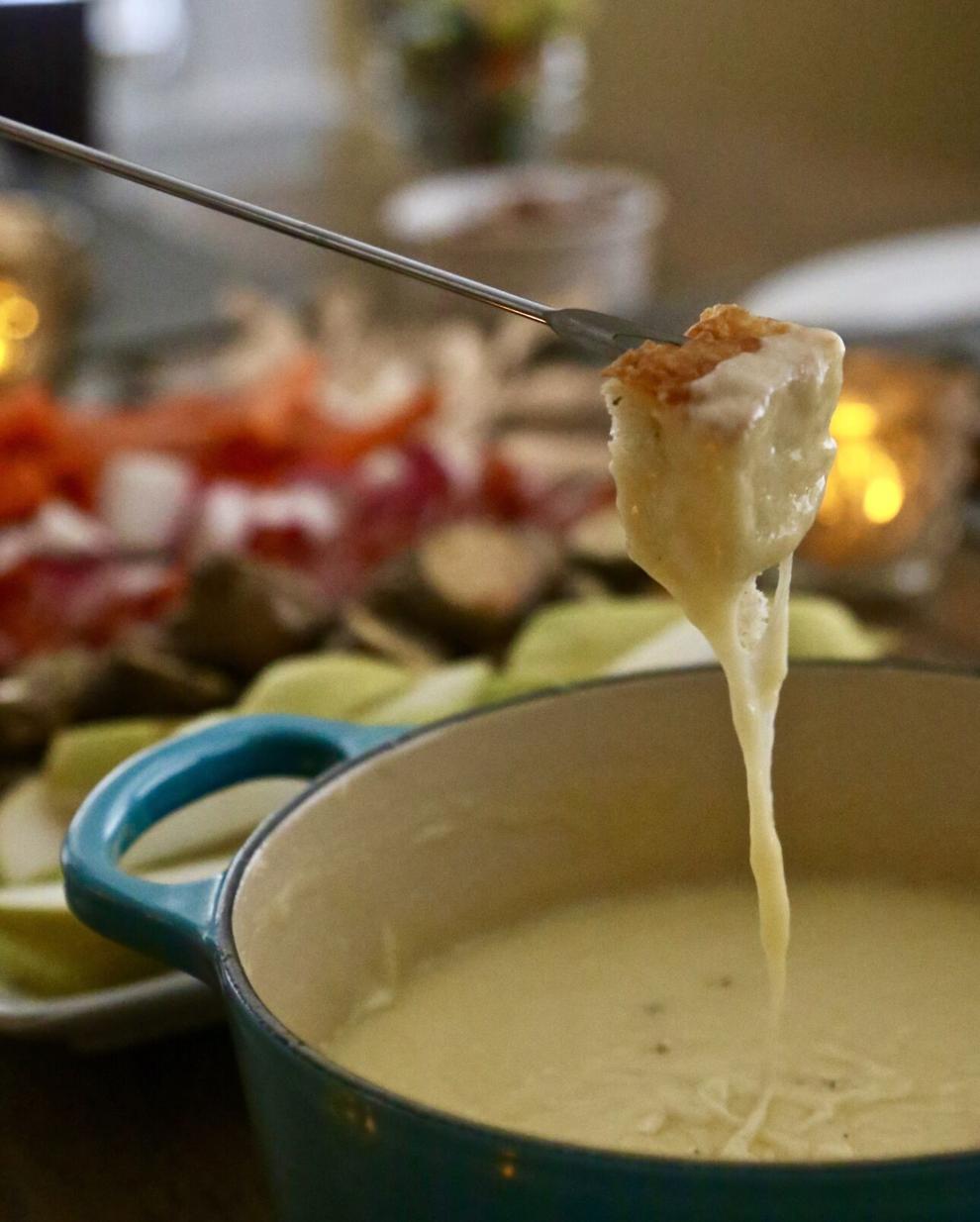 We asked Coast Monthly food correspondent Alicia Cahill to whip up a New Year's Eve celebration that's both easy, elegant and fun. She delivered.
---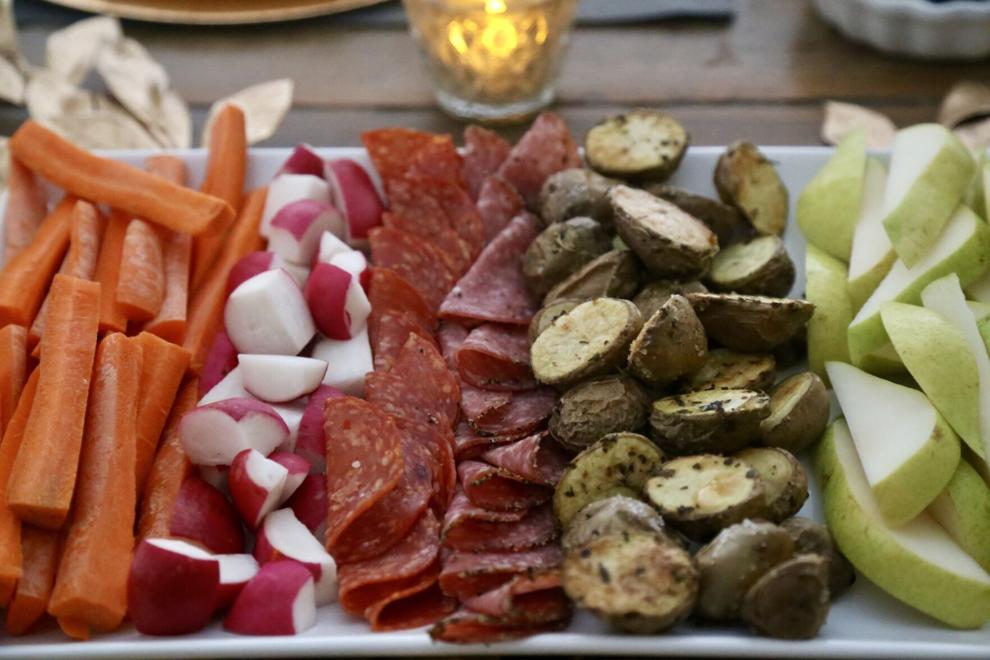 CLASSIC SWISS FONDUE
Servings: 8-10
1 garlic clove, peeled and sliced in half
1 pound Gruyère cheese, grated
½ pound Emmentaler cheese, grated
1 cup dry white wine
1 tablespoon plus 1 teaspoon cornstarch
1 teaspoon fresh lemon juice
Freshly ground pepper
Freshly grated nutmeg
Rub the inside of a medium enameled cast-iron pot with the cut side of the garlic clove. Discard the garlic.
Add wine, cornstarch and lemon juice to the pot and cook over moderate heat, stirring to combine. Add in the grated cheese ½ cup at a time, stirring constantly, allowing it to melt before adding more.
Reduce heat to low. Add a generous pinch each of pepper and nutmeg and cook, stirring gently, until creamy and smooth. Don't overcook the fondue. Serve immediately.
Serving suggestions: roasted potatoes, bread cubes, sliced pears, sliced vegetables, cured meats.
---
ROASTED EGGPLANT DIP
Servings: 8-10
1 medium eggplant, peeled
2 red bell peppers, seeded
1 red onion, peeled
4 garlic cloves, peeled
Extra virgin olive oil
1½ teaspoon kosher salt
1 teaspoon freshly ground black pepper
Pinch red pepper flakes
3 tablespoons tomato paste
Crackers or pita chips, for serving
Preheat the oven to 400 F. Line two baking sheets with parchment paper.
Cut the eggplant, pepper and onion into 1-inch cubes. Spread them in a single layer on the baking sheets. Drizzle with olive oil and season with salt and pepper. Using a spatula, toss the vegetables to coat.
Place both sheet pans in the oven and roast for 40-45 minutes or until the vegetables are lightly browned and soft. Allow to cool slightly.
Transfer the vegetables to the bowl of a food processor. Add tomato paste and red pepper flakes. Pulse to blend. Don't over process; keep it chunky. Taste and add salt and pepper, as desired.
Serve with crackers or pita chips.
---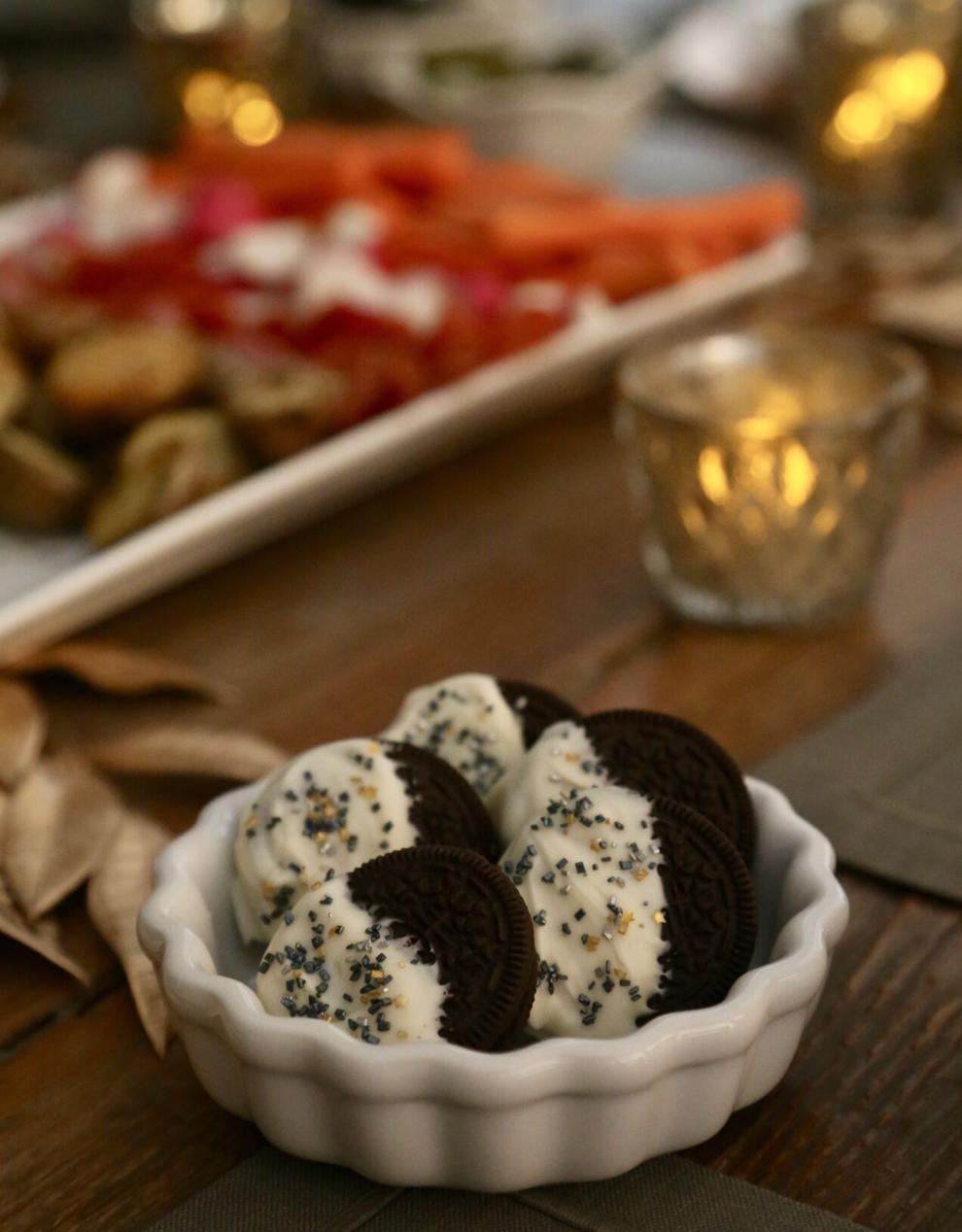 FESTIVE OREOS
Servings: About 12
12 ounces white almond bark
1 package Double Stuf Oreos
Festive sprinkles
Heat a third of the almond bark in a microwave-safe bowl for 45 seconds on medium-high, stirring every 15 seconds. Continue heating and stirring until the bark has melted into a dippable consistency.
Meanwhile, cut a sheet of wax or parchment paper and lay on the countertop.
Dip an Oreo halfway into the melted bark. Allow the excess chocolate to drip back into the bowl and then place the cookie on the paper. Decorate with sprinkles. Repeat with the remaining cookies. Reheat or melt additional almond bark as needed.
Refrigerate the dipped Oreos for 15 to 20 minutes to set the coating completely.