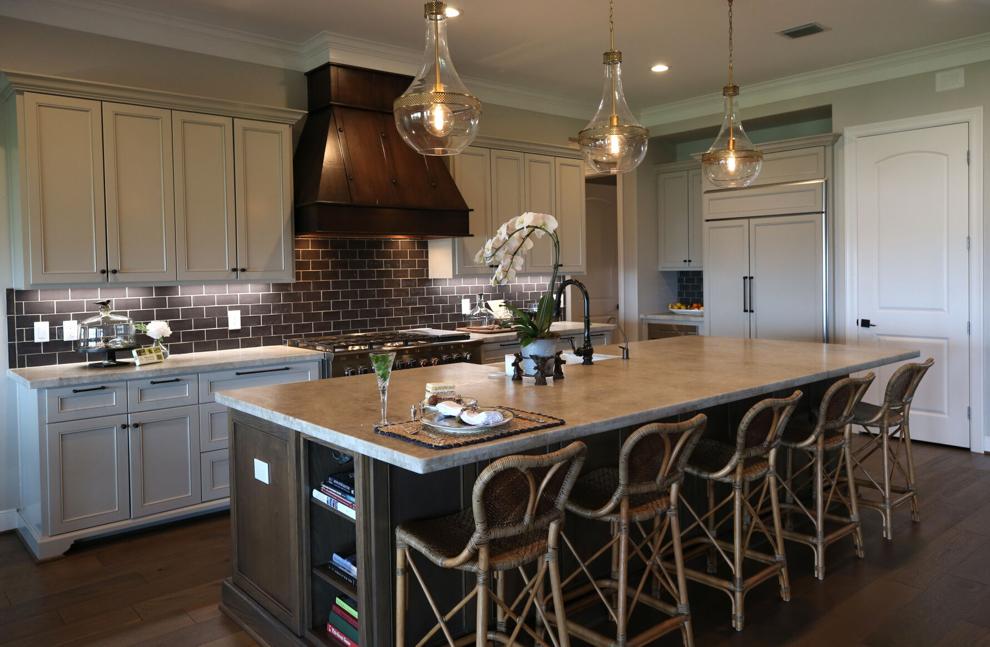 Kathleen Smith knew exactly what kind of kitchen she wanted when she and her husband, Brooks, built their Bacliff home three years ago.
"Open concept, clean lines, pretty and functional where everything flows and you have a water view all day long," Kathleen Smith said.
Calling it "coastal cozy," Smith wanted the kitchen area to be just as eclectic as the living room, cocktail nook and dining-room areas, she said.
"I wanted everything to connect from all vantage points," said Smith, who credits Tori Noel, a Houston designer, for making that happen.
From the time you walk through the front door, your eyes take it all in — a tucked away cocktail bar, bookshelves, cabinets full of collectibles, a living room fireplace and dining room — all open with no dividing walls.
"I knew from past experience and the other homes I'd lived in that everyone congregates toward the kitchen, so I wanted large areas nearby, plus a super large kitchen island," she said.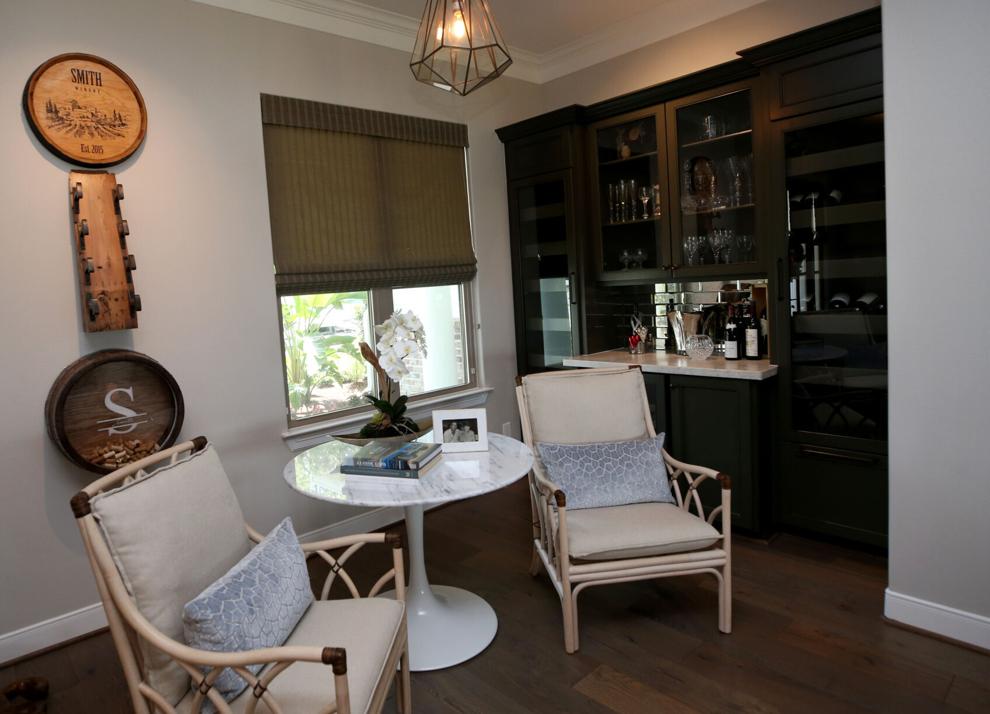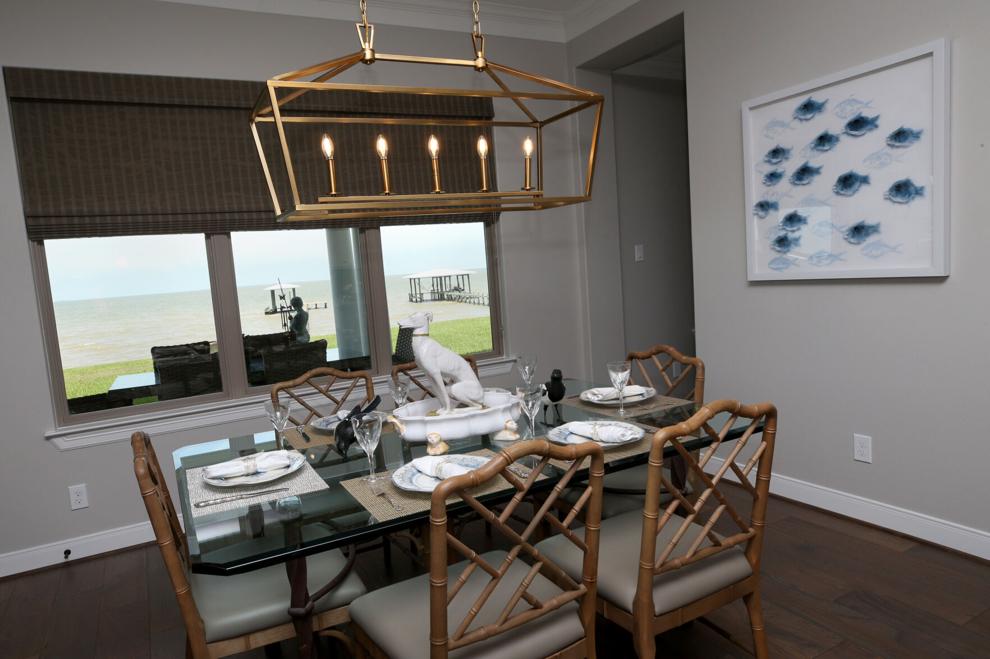 The 15-by-5-foot island is made of quartzite with a leather finish prized for its durability. A trio of glass pendant lights with aged brass bands hang above the island.
Countertops have the same the quartzite with a backsplash of charcoal subway tile.
A custom-built vent hood, painted to resemble copper with straps and rivets, is above a Fisher & Paykel six-burner stove and double oven, offset by cabinets painted Sherwin-Williams Colonnade Gray.
Smith learned a lot about meal planning from her mother, who maintained a garden so there always were vegetables on the table, she said. She also learned from her mother-in-law, who cooked heavier meals, she said.
"Brooks' mother loved watching Ina Garten's cooking show 'Barefoot Contessa' on television," Smith said. "She would watch the show, then go to the grocery store, buy the ingredients and make a dish she'd seen, so I learned from them both, even though they had different methods."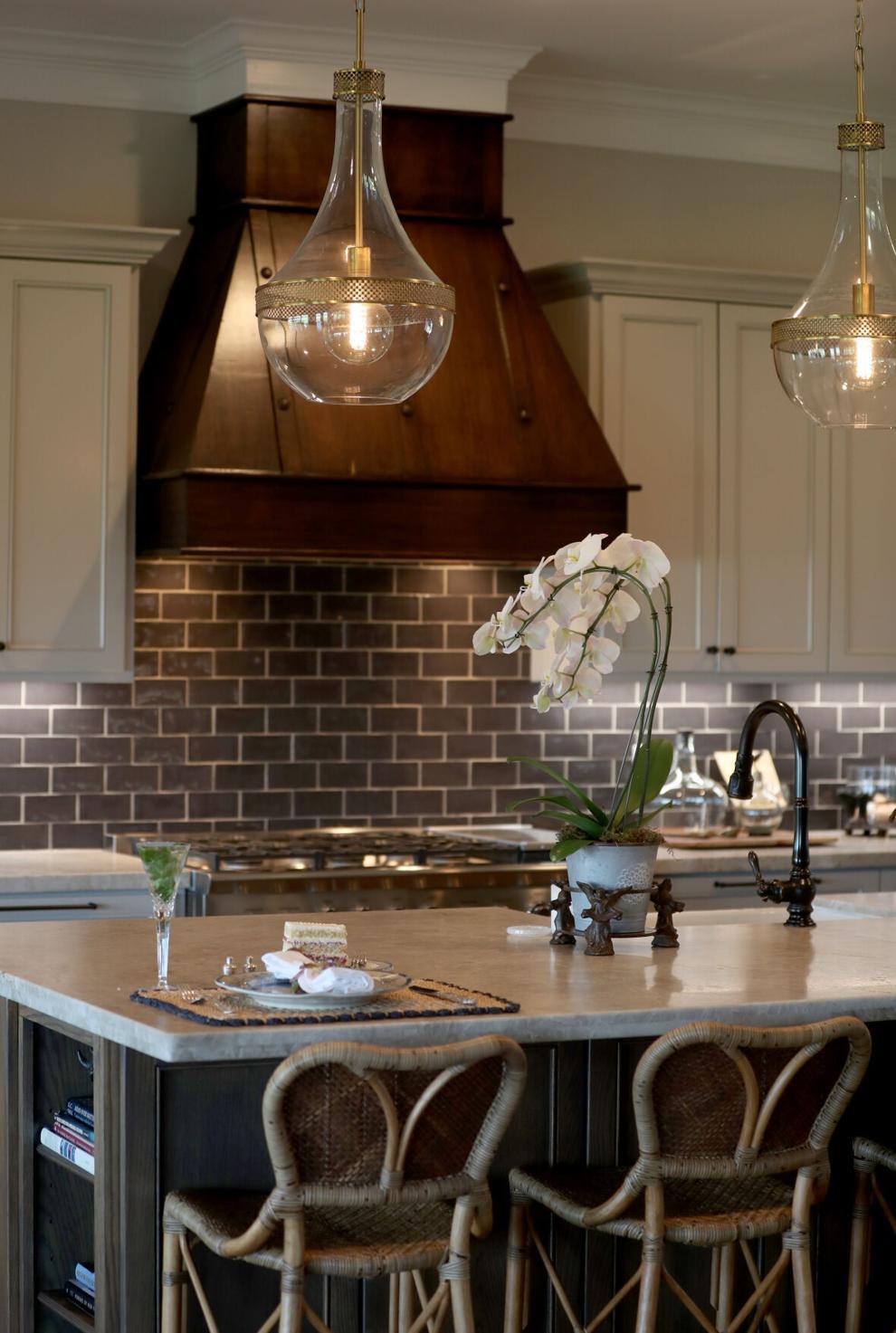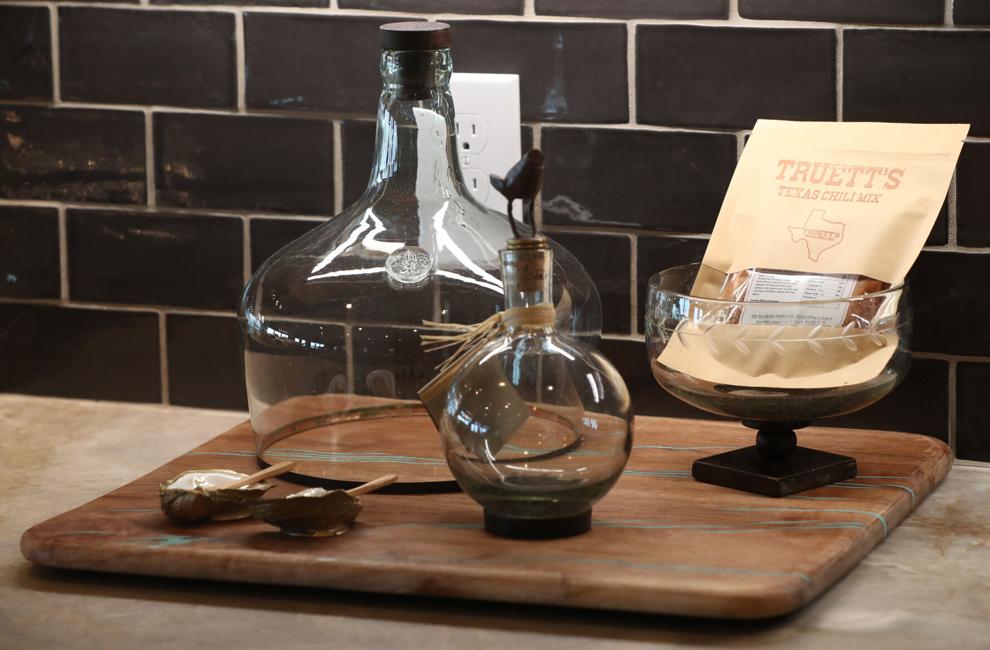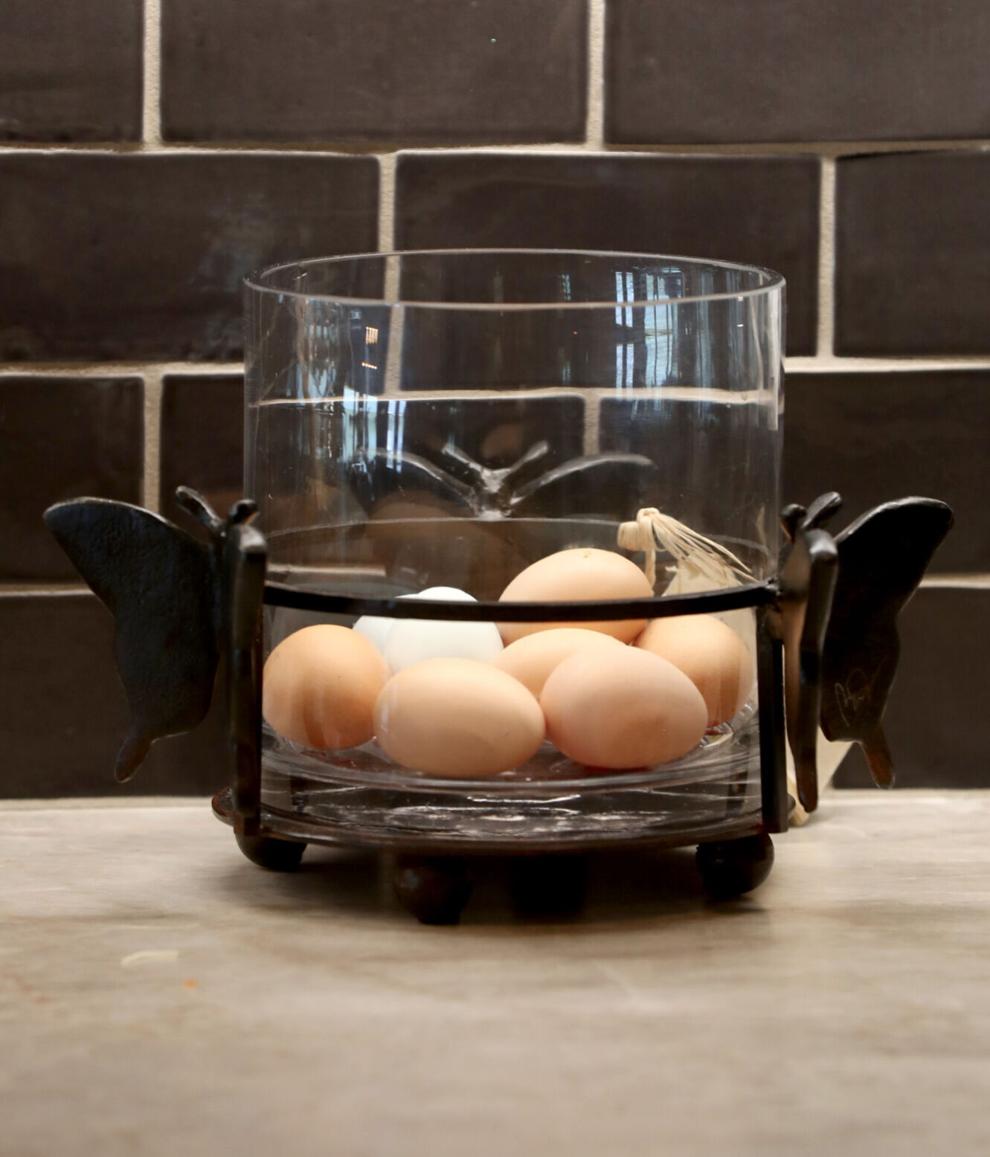 Smith never stops learning when it comes to food, she said.
"I've traveled to the Provence region of France on three separate occasions to learn more about their cuisine, and have memories of frying a squash blossom, making hollandaise sauce and fish with sautéed mushrooms," she said. "I love to travel and experience different types of foods, and then incorporate that into things I fix at home. So, I've learned many new methods, but also revert back to things I grew up eating and sampling, like my dad's barbecue."
Smith has memories of her father's barbecue dishes, but he's best known for his chili.
"My dad, Truett Airhart, is a five-time chili winner at the Chili Appreciation Society International and has been involved with competitive cooking for the last 45 years," Smith said. "His chili spice, Truett's Texas Chili Mix, is a staple in my pantry and, of course, it's the best chili ever. It goes good over angel hair pasta."
Even with all the strong culinary influences Smith has known, she still has managed to form her own style of cooking, incorporating the skills of her relatives and learning from classes.
"I am cooking now in cast iron and finding it quite enjoyable as the flavors are richer, although I still like my All-Clad pots and pans that I've used for years," she said.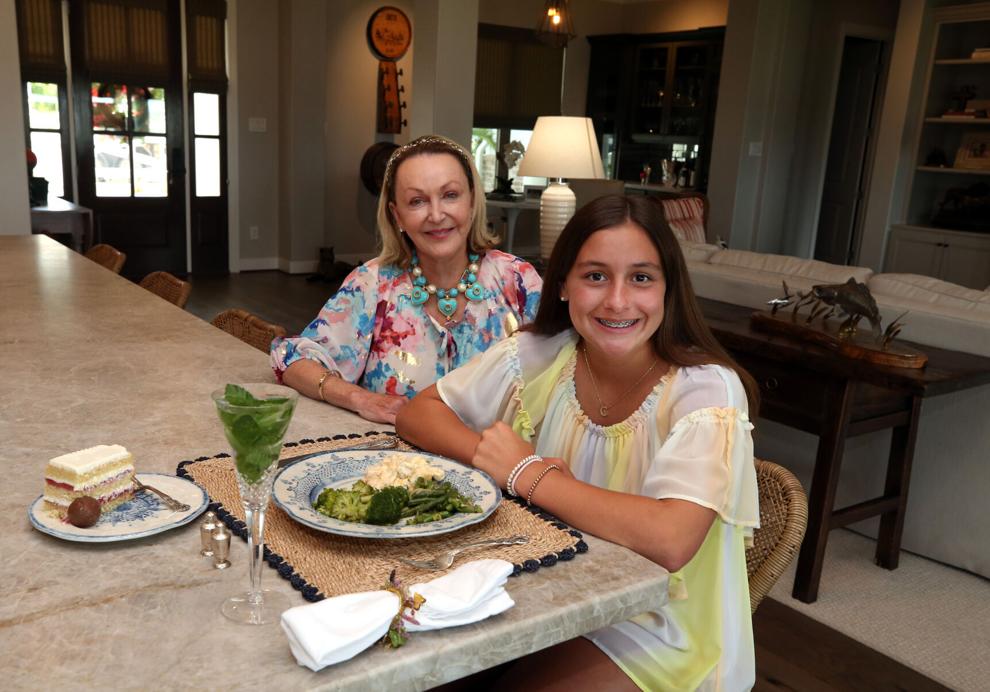 Smith fondly remembers her mother's stew and cornbread, red beans and rice, chicken and rice, vegetable soups and gumbo.
"I try to be a clean eater by doing a lot of pan-searing, eating vegetables and try to stay away from heavy dishes," she said. "I go to the Bay Area Farmers Market in Webster most every Sunday and buy greens, sweet potatoes, beets and a variety of fresh vegetables. Some vendors come from New Orleans, so it reminds me of the chef I learned from in France who would take us to the markets."
Smith grew up in Houston and met Brooks in high school. They attended college together. They have three grown daughters and five grandchildren.
Smith enjoys feeding her family delicious meals, like Hot Chicken or Turkey Salad.
"It's a big hit with everyone, especially, my granddaughter, Charlie Marsico," she said.
---
SMALL BITES
Unique items:
» Hand-carved eucalyptus wood napkin holders with pewter safari animals
» Hand-carved African salad servers
» English silver plate and oak biscuit barrel
» Heirloom tureen: During the 1900 Storm, Brooks' grandmother, known as Mo-Mamma, made gumbo for the workers along Galveston Bay and would serve them gumbo out of this tureen daily.
Treasured Cookbooks:
» "A Treasury of Great Recipes" by Mary and Vincent Price (1965)
» "With Gratitude, Johnny Carrabba, Celebrating 30 Years of Recipes, Stories and Family" (first edition)
» "Bluebird Circle Choice Bits" (early 1900s, Houston)
---
HOT CHICKEN OR TURKEY SALAD
Serves: 4 to 6
2 cups cooked diced chicken or turkey
1 1⁄2 cups diced celery
¼ cup slivered almonds, toasted
1 tablespoon grated onion
1 tablespoon lemon juice
½-1 teaspoon salt
1⁄8 teaspoon black pepper
Few shakes Tabasco
½ cup mayonnaise
½ (5-ounce can) water chestnuts, sliced and drained (optional)
Few chopped jalapeño peppers (optional) for a kick
½ cup grated cheddar cheese
Toss together all ingredients, except cheese, in greased baking dish. Top with cheese. Bake at 375 F for 25 minutes or until cheese bubbles.