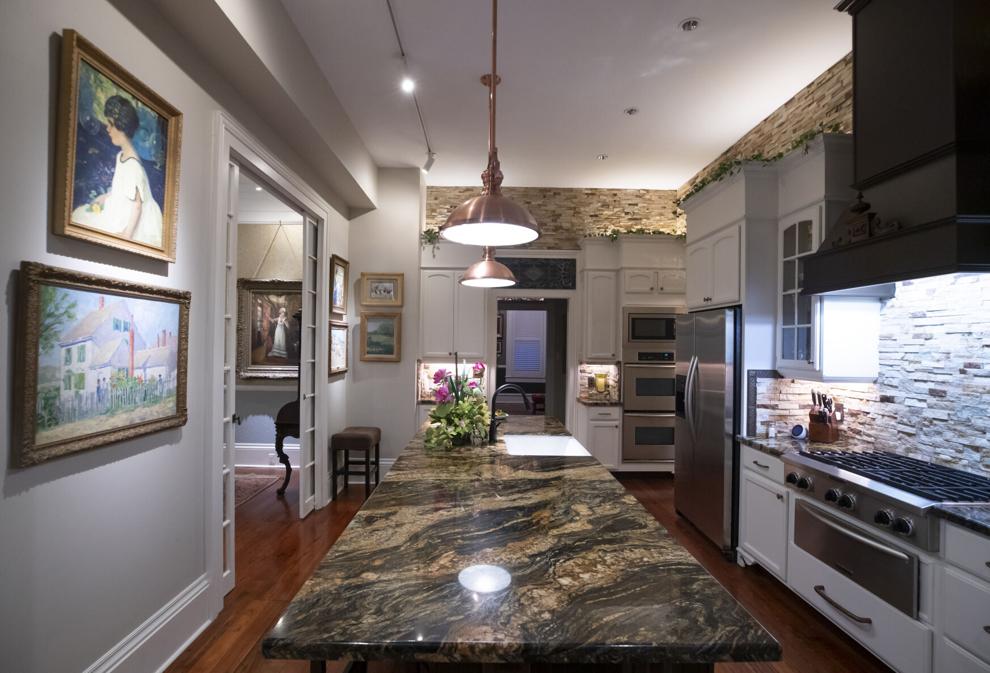 Chip Hosek has taken great pains to restore and decorate his 1859 East End Galveston cottage with furniture and furnishings appropriate for its time. But not in the kitchen.
Hosek has updated, modernized and accessorized the kitchen, butler's pantry and nearby prep area with all the conveniences needed for a first-class meal or entertainment space.
When he and Mary Hill moved into the house in 2018, he felt the kitchen needed a little more elbow room. A sunroom, probably once an open porch for more than 75 years, had four sets of double doors into adjoining rooms. He removed two sets of the eight-pane doors and reassembled them as pocket doors, which now open into a grand dining room.
"I just increased the footprint by a foot, but now you can get around people sitting at the island," he said. "It feels more airy."
The long walnut dining table for eight, dating back to the 1860s, is below an eye-catching elegant Lalique chandelier. The dining room contrasts with the modern kitchen, but the two work well together.
The original dining room is where today's kitchen is, Hosek said. Today's dining room probably was a parlor. The original kitchen was in the back of the house.
The pristine longleaf pine floors throughout the first floor have been refinished and are in perfect condition.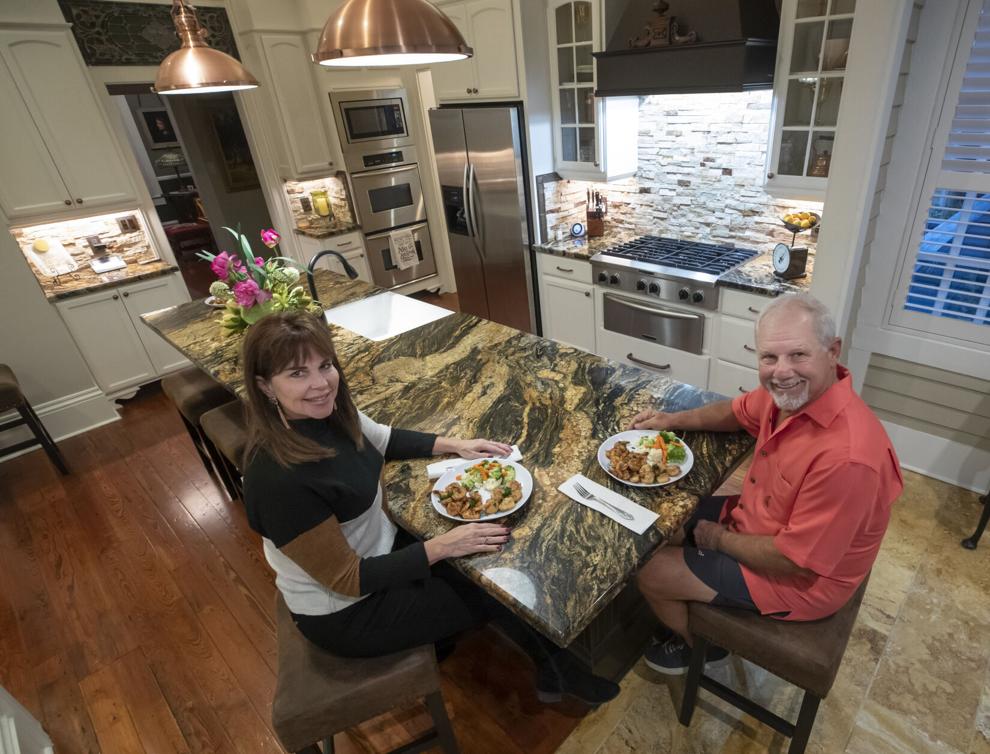 In his kitchen, Hosek created a huge 11-foot-long granite island, which easily seats six. The granite colors — golds and browns — coordinate with the large metal black and gold intricate ceiling tiles he installed in the sunroom. These colors are repeated again in the selection of horizontal stone bricks, which cover two walls and backsplashes in the kitchen.
Hosek, a masonry contractor, chose the rough-looking stone walls to add texture to the room's smooth surfaces.
"We were only going to use it as a backsplash, but we went all the way up," he said.
Hosek and Hill, who will marry in the house this month, entertain frequently, so the large island comes in handy. But even more useful is the adjacent butler's pantry, with its matching countertop for prep space. A glass-fronted display case in the butler's pantry shows off their collection of rare Victorian-era pickle castors, which are glass jars fitted in an elaborately designed silver-plated frame and matching silver-plated lid. The display case also showcases sugar bowls, tea pots and other antique serving pieces.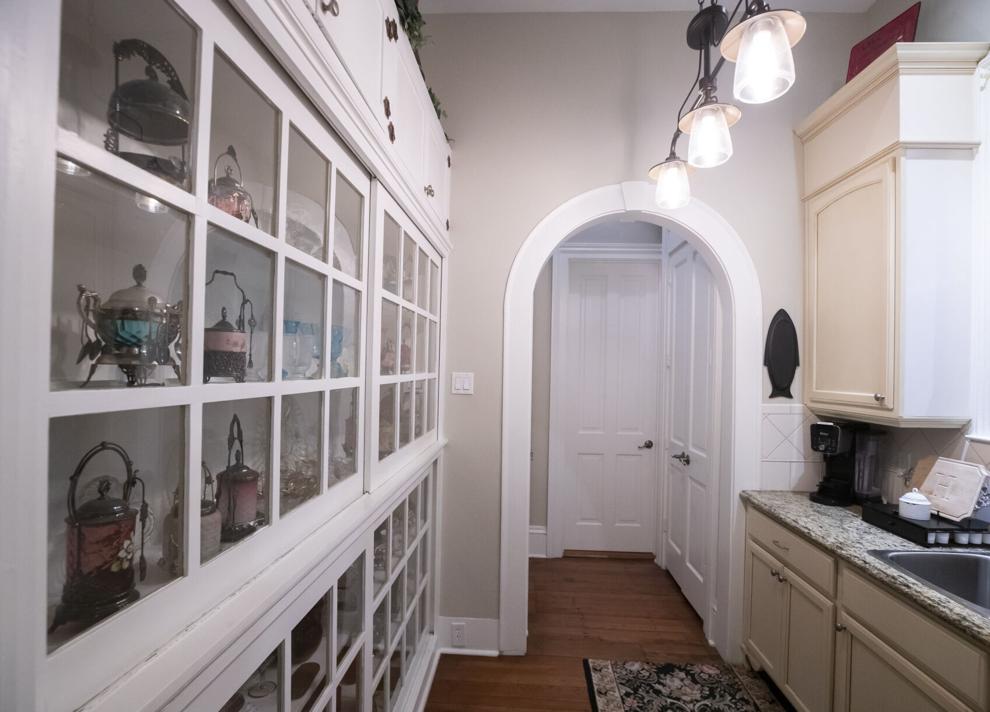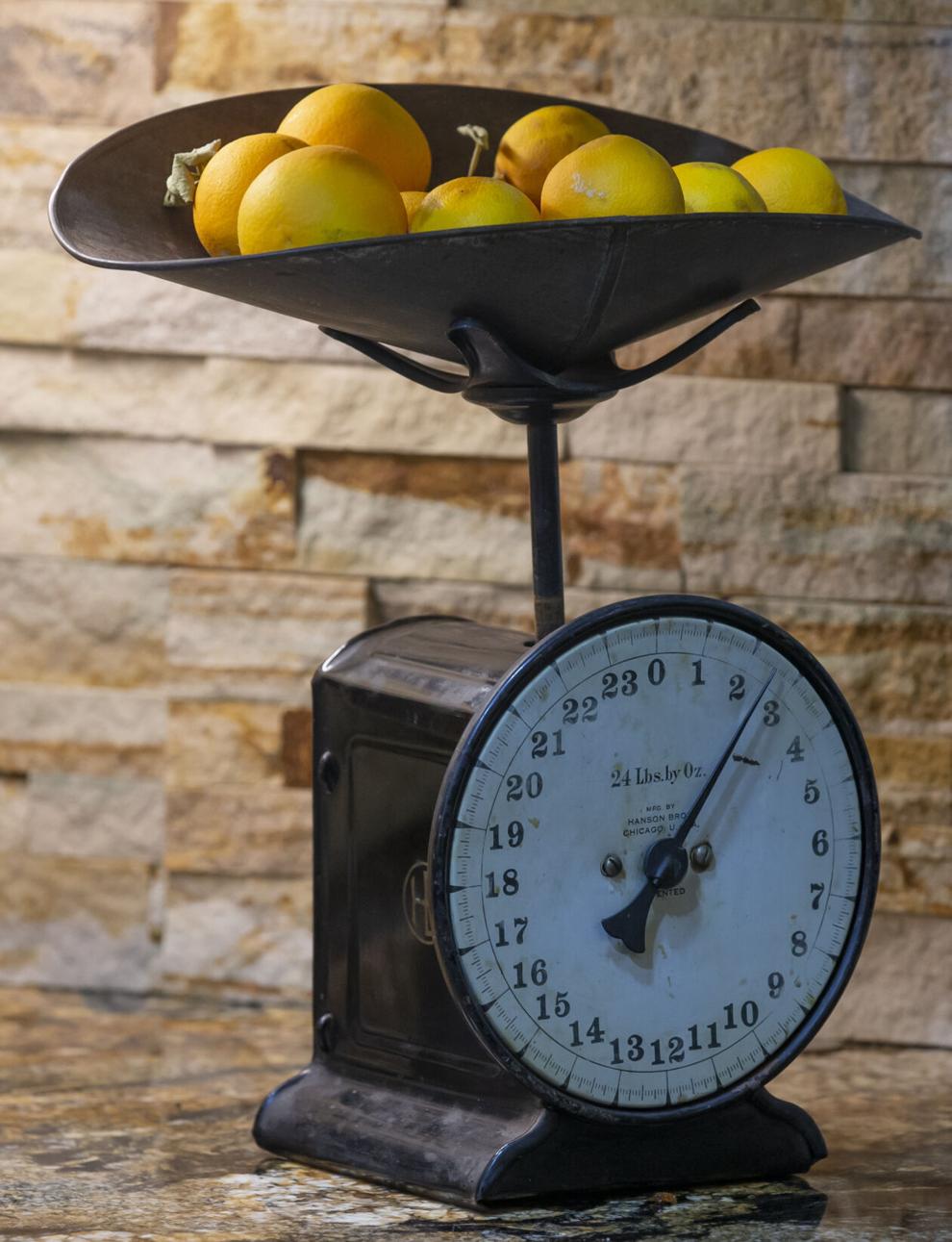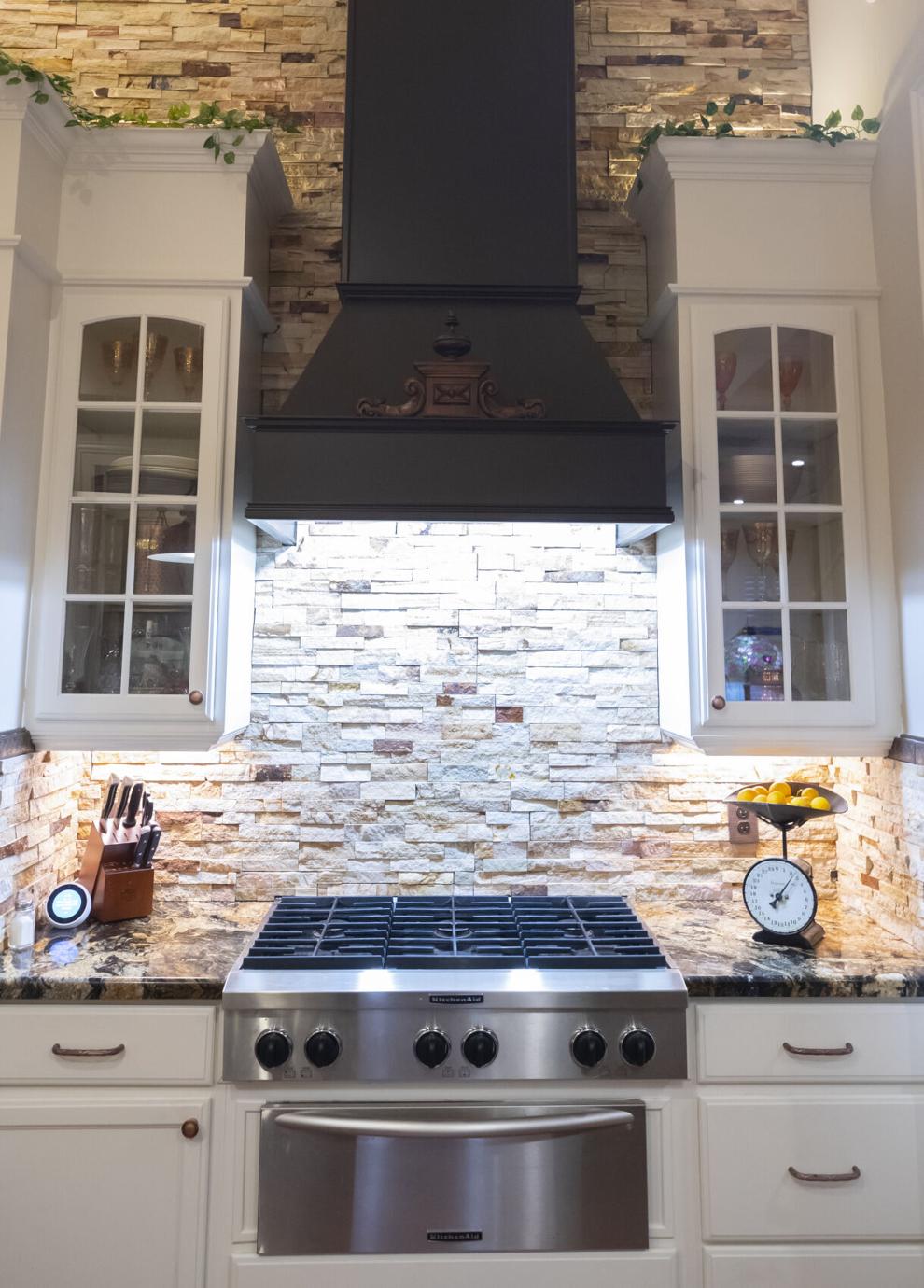 And when it comes time to clean up after a party, the next room — a preparation area/laundry room — is out of the way and a great staging area for dirty dishes. The room likely is where the original kitchen was, Hosek said.
Beautiful matching stained-glass windows were installed in the prep room and butler's pantry, as well as vintage stained glass in virtually every transom over the doors in the three-bedroom house.
"Whenever I get to replace a window with stained glass, I do it," he said. "These glow at night."
The rest of the house is carefully decorated with antiques and large floral arrangements.
"When you walk in, you are in an 1800s home until you come in the kitchen," Hosek said.
---
Chip Hosek, an avid cook, has long enjoyed preparing seafood. He shared this recipe with Coast Monthly:
SHRIMP AND SCALLOPS
30-35 large shrimp, peeled and deveined
12 large scallops
1 teaspoon lemon pepper
½ teaspoon Creole seasoning
½ teaspoon paprika
½ teaspoon Old Bay seasoning
1 stick unsalted butter
¼ teaspoon ground black pepper
2 tablespoons minced garlic
1 tablespoon fresh parsley
4 tablespoons cornstarch
Juice from 1 lemon
Olive oil for cooking
Peel and devein shrimp, leaving the last section of the shell on the tail. Put shrimp in a bowl. Pat the scallops dry and put in a bowl. Put 2⁄3 of the dry seasonings on the shrimp and lightly toss, mixing by hand. Put the other 1⁄3 of the dry seasonings on the scallops and lightly toss.
Add ¼ cup olive oil to skillet set on high heat. Remove shrimp from bowl to a plate and dust both sides with cornstarch. Immediately place shrimp in hot skillet. Cook 1 minute on both sides, remove and place on platter.
Add more olive oil to skillet, if needed. Place scallops in skillet and brown on both sides about 1½ minutes per side. Remove and place on platter.
Add to the skillet juice of 1 lemon, 1 stick of butter and chopped parsley. Once butter melts, add 2 teaspoons of minced garlic.
Add shrimp back to skillet and baste about 1½ minutes. Remove from skillet.
Add scallops to skillet and baste for 1½ minutes. Remove from skillet.
To serve, drizzle garlic butter from skillet over shrimp and scallops with a side of fresh sautéed vegetables.