Kevin and Donna Foley are award-winning chili chefs. They met years ago at a chili cook-off. And they spend a lot of time honing their skills at chili competitions.
But don't ask them to cook chili in their West End Galveston cottage.
"We cook lots of things here and we eat out a lot, but we are not cooking chili at home," Kevin Foley said.
In September, Kevin was awarded first prize for his red chili at the 55th annual International Chili Society's World Championship cook-off in Myrtle Beach, South Carolina. It was the couple's 18th wedding anniversary.
In 2021, he came in second in the International Chili Society Homestyle Chili cook-off. And in 2016, he earned a Grand Master Red Chili Cook Award at the World Chili Cook-off Championship.
In November, Donna came in second as the Reserve Champion for her entry — one of 165 competitors — in the Chili Appreciation Society International's cook-off in Terlingua, Texas.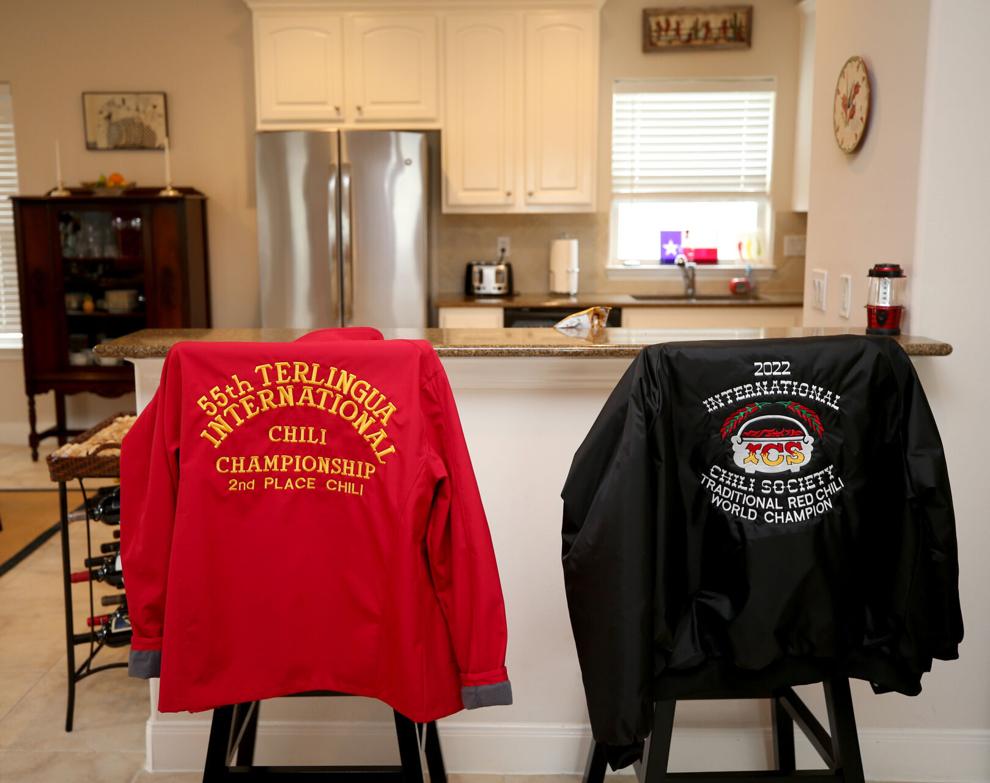 In fact, the couple met 23 years ago at a chili cook-off and forged a friendship almost immediately.
"It was chili that brought us together," Donna said.
Kevin wasn't cooking at the time, but was participating in the themed show part of the cook-off in which participants appear in costumes and compete for prizes for originality and ideas. He did that for a few years and finally decided to get involved in chili competitions.
"I won for the show but then I thought — now I am going to cook," he said. "It takes some serious effort to win these things."
Kevin likes to cook and has been doing it most of his life, he said.
"I've been cooking since I was a little kid," he said. "My parents both worked, so as soon as I was tall enough to reach the stove, I've been cooking. I have honed my skills over the years.
He won his first competition at a local cook-off in 1984, and has won championships in Texas, Arizona, New Mexico and Hawaii, as well as many regional competitions.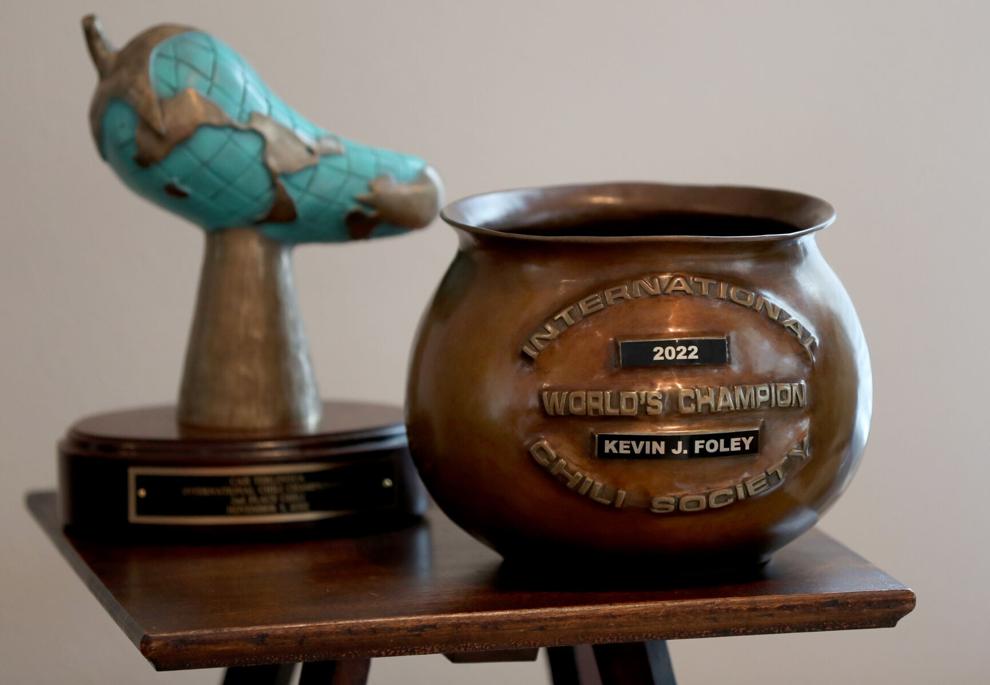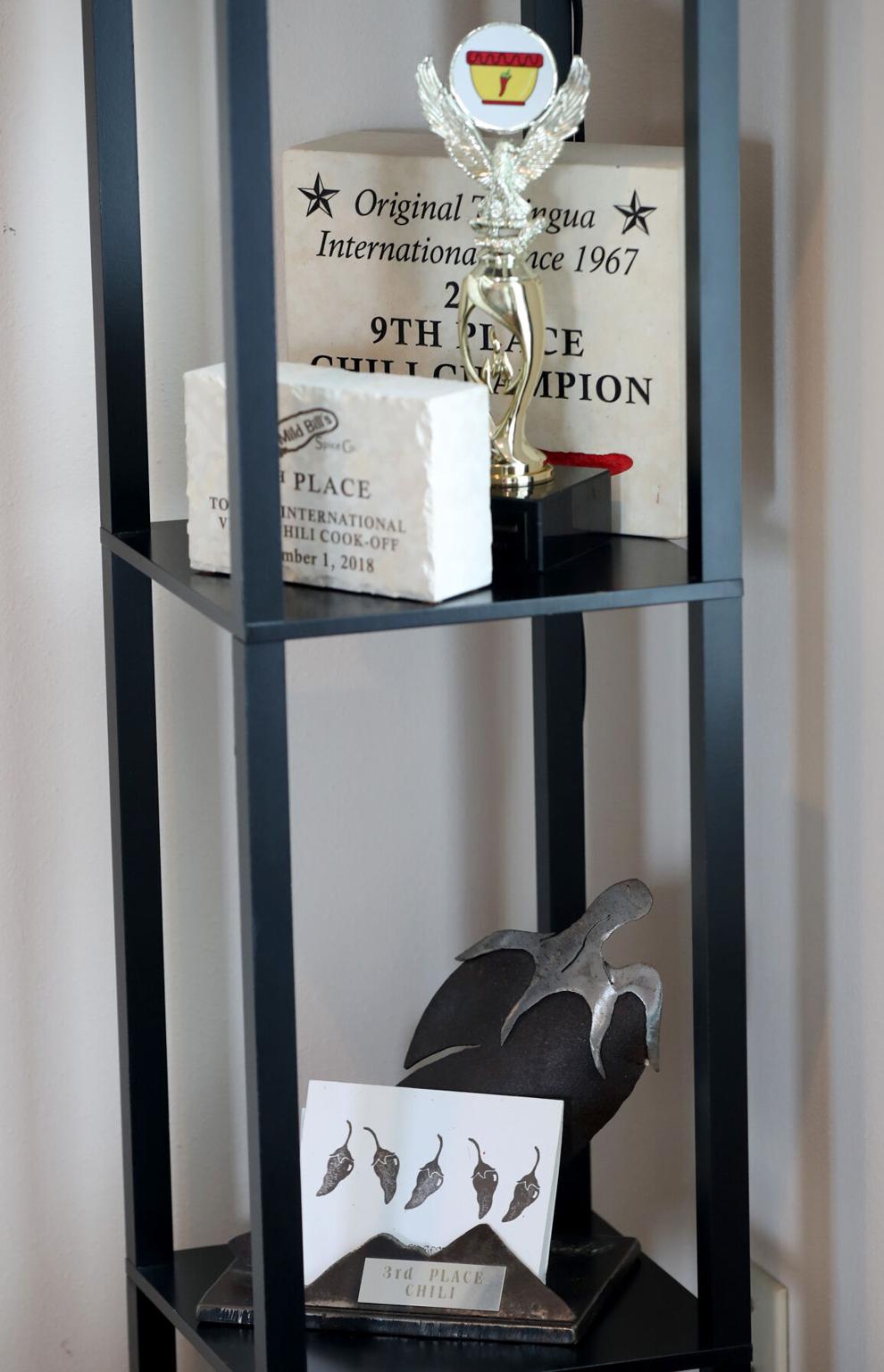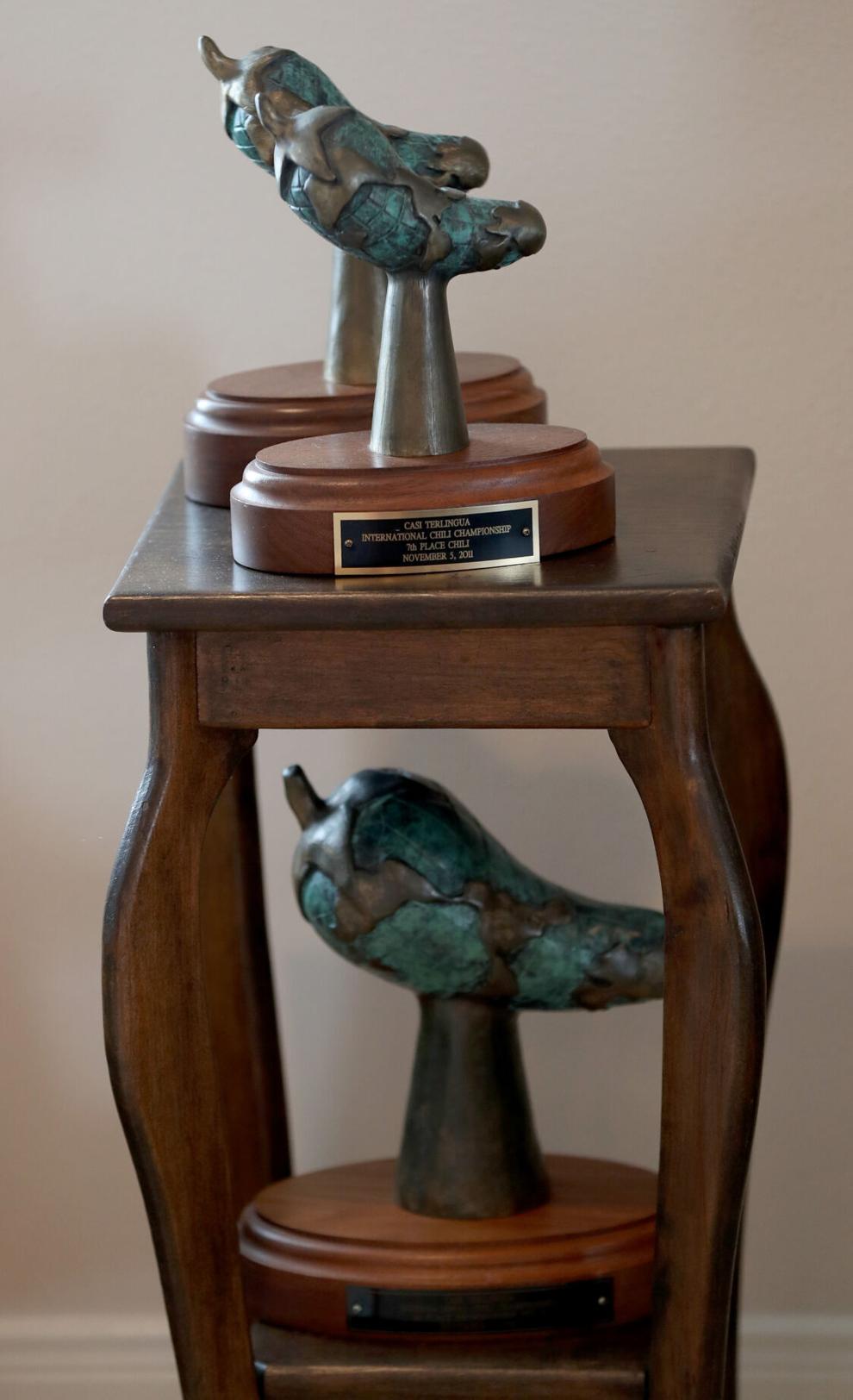 Donna was living in Houston and went to a cook-off in 1998 and got hooked. At the 2002 International Chili Society Texas State championship, she took home first place.
To qualify for the international championship tournaments, chili cookers have to accumulate points through the year at locally sanctioned chili cook-offs. They spend at least 30 weekends a year traveling to different events, hauling their portable kitchen with them in the back of a pickup truck — a stove, tent, canopy, all the fixings and raw meat.
Everything for a chili competition must be prepared on-site — nothing can be pre-made. Competitors are given a three-hour window to create their dishes. Several people under one tent could be challenging each other.
The typical chili recipe is simple: broth, tomato sauce, water, onion powder, cumin, chili powder, garlic and cayenne pepper and quality cubed or ground meat. The most important ingredient is patience, Kevin said.
They Foleys never use the same recipe at competitions.
"We have a million recipes, but about 30 or 40 that we use and we are constantly changing them," Donna said.
They use commercially prepared spices from specialty companies such as Pendery's or Mild Bill's Gunpowder Foods.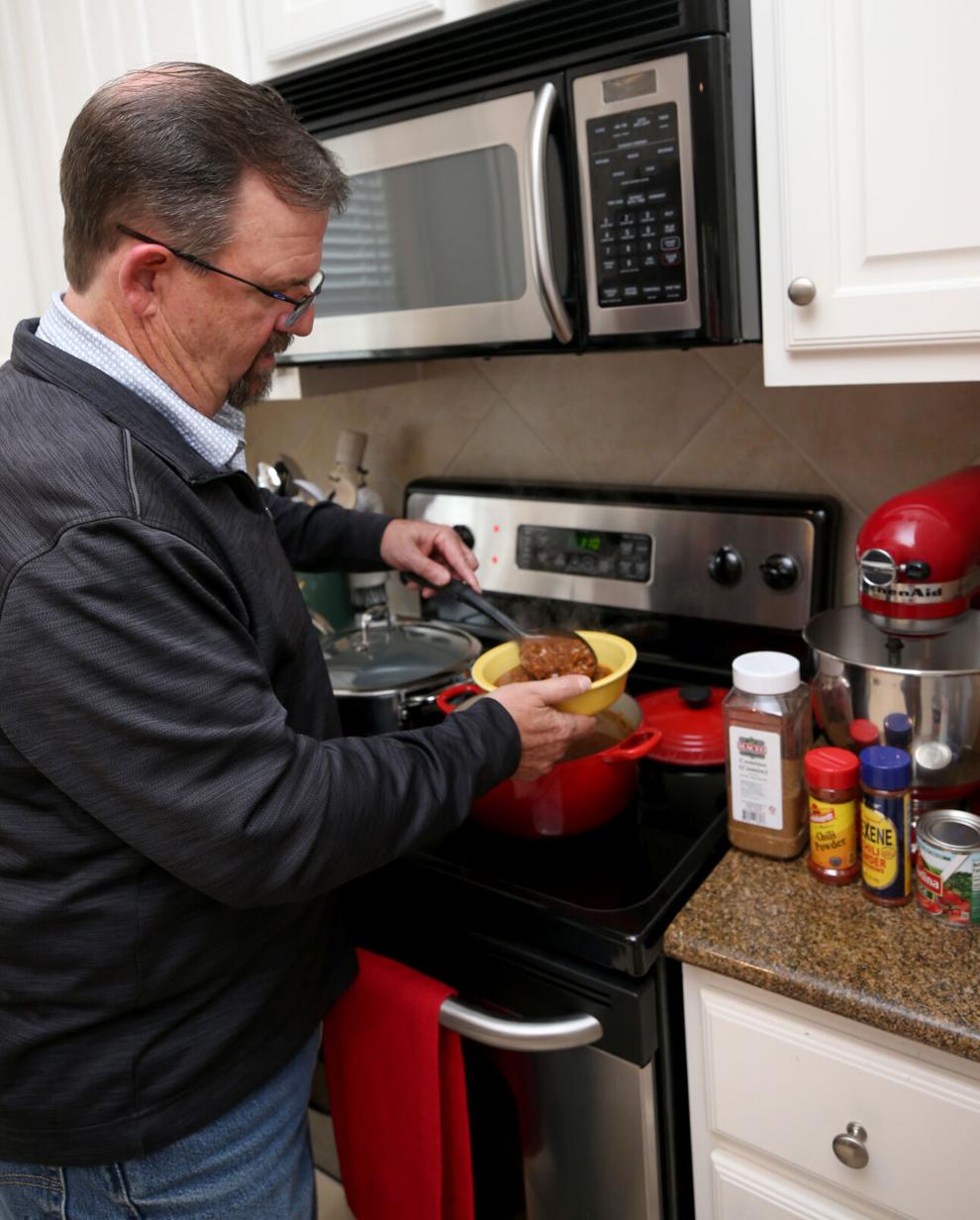 "You want to balance the flavors and not make it too hot or too salty," Kevin said. "We are always learning from each person we meet at the cook-offs."
Judges taste each competitor's entry — but just a spoonful or two. It has to look good, smell good and taste good, Kevin said. Judges also give points for color, consistency, aroma and after-taste.
On occasion, the couple competes against each other.
"We don't share our recipes, but I mix all the spices, so I know what he's using," Donna said. "Usually, we only reveal our secrets with each other."
When at home in their West End home, the Foleys prefer to grill steaks or other foods outside rather than cook in their kitchen. They have lived in the Pirates Beach area for more than 20 years. The couple plans to participate in the June 2-3 chili cook-off at the Jamaica Beach RV Park, benefiting the Jamaica Beach Fire Department.
"I will be serving chili and Frito pies both days if folks would like to sample the chili," Kevin said. "It is a free event. We will also need judges for both days under the pavilion in the park."
In Galveston, they enjoy the company of their neighbors who really like the fact that the Foleys live near them. They get to taste award-winning chili on occasion.
"When we are home, we would prefer to cook anything but chili," Kevin said. "But I could easily eat a bowl any time." 
---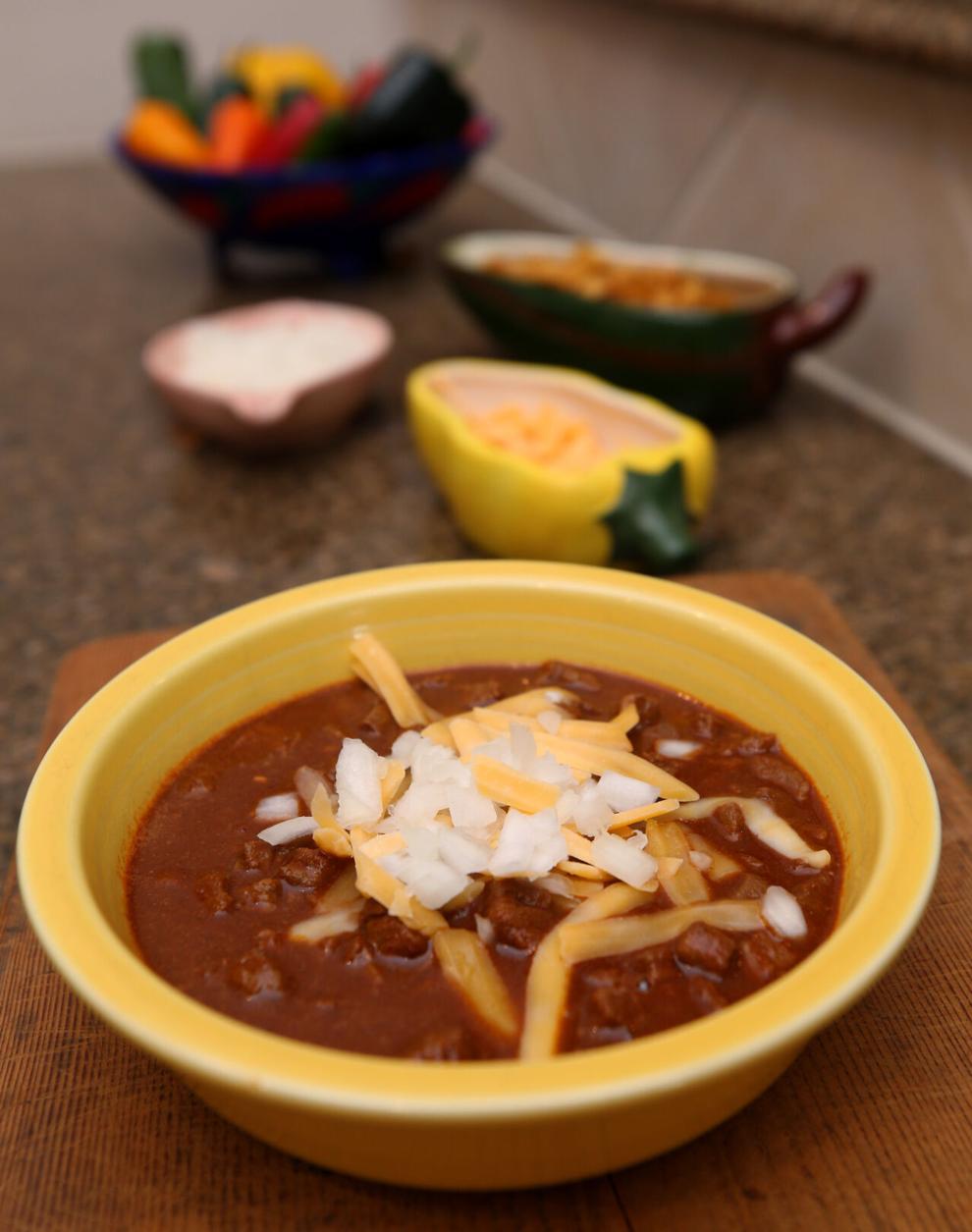 KEVIN FOLEY'S TEXAS RED CHILI
2 pounds cubed tri-tip beef
½ teaspoon salt
½ teaspoon black pepper
2 tablespoons vegetable oil
1 (14.5-ounce) can beef broth
8 ounces spring water
1 (8-ounce) can tomato sauce
1 Serrano pepper
Spice Mix No. 1
2 tablespoons New Mexico chili powders (Mild Bill's Gunpowder Foods, Dixon or Hatch)
1 tablespoon onion powder
1 teaspoon beef granules
¼ teaspoon cayenne powder
Spice Mix No. 2
3 tablespoons Texas-style chili blend (Gephardt's or Pendery's Fort Worth Light)
1 tablespoon ground cumin (Maceo's Spice & Import Co. in Galveston is a reliable source.)
1 tablespoon garlic powder
Spice Mix No. 3
1 tablespoon Texas-style chili blend (Gephardt's or Pendery's Fort Worth Light)
2 teaspoon paprika
½ teaspoon garlic salt
¼ teaspoon jalapeño powder
Brown cubed beef in salt, pepper and vegetable oil and drain.
In a 4-quart pot, combine 1 can beef broth, 1 can tomato sauce, 8 ounces water, Serrano pepper, drained beef, Spice Mix No. 1 and simmer for 1 hour.
Remove pepper. Check consistency and adjust heat/add water as needed. Add Spice Mix No. 2 and simmer for 30 minutes.
Check consistency and adjust heat and add water or broth as needed.
Add Spice Mix No. 3 and simmer for 30 minutes. Salt to taste.