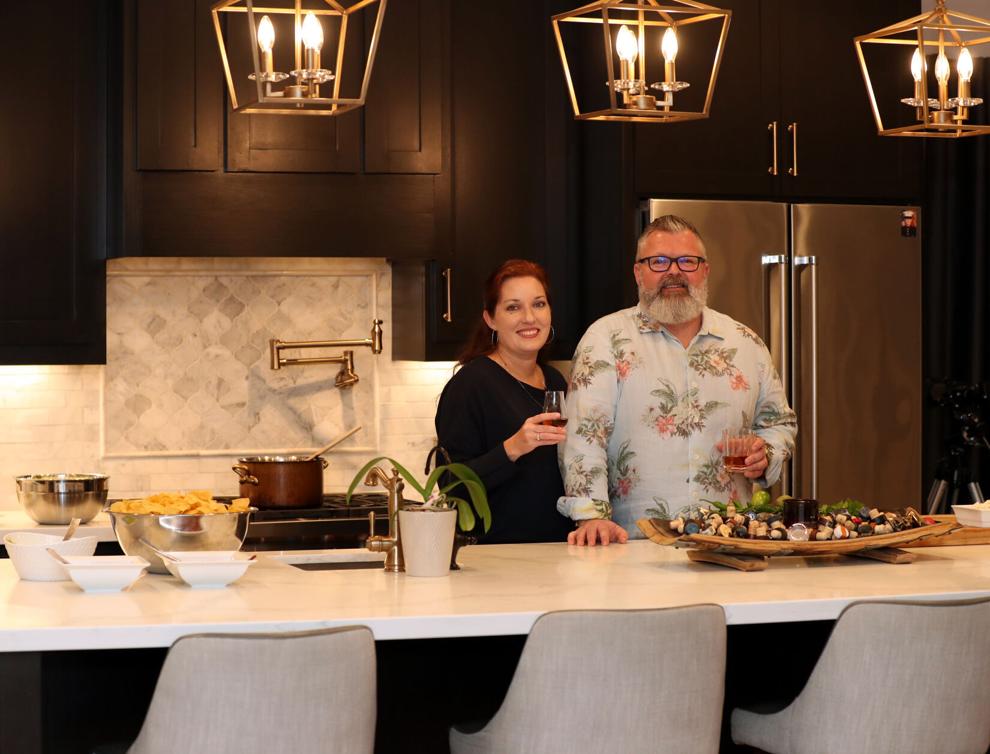 When it came to designing their kitchen, Eric and Sherri Nelson knew what they wanted: lots of counter prep space, clean surfaces and a view of the rest of the first floor of the house so the chef is never alone.
And they got exactly that.
Their League City kitchen is made for a chef and for good reason. Eric, a professionally trained Cordon Bleu chef who now runs his own restaurant and catering business called Good Vibes in Pearland, spent several years at Number 13 Prime Steak and Seafood in Galveston, designing the kitchen and dining area in 2013. He stayed at that restaurant until the pandemic caused upheaval in the restaurant industry and decided to go into business for himself, he said.
And although he can prepare just about anything from classical French recipes to complex elaborate meals, he prefers to prepare comfort foods and spicy Mexican dishes when he's at home, he said. Eric has been cooking since he was 15 and attended a culinary institute in Scottsdale. But it's his wife who cooks at home for him and their three kids, he said.
"I am not a tough critic," he said. "I love her cooking."
The kitchen in their five-bedroom home is spacious. The 10-foot-long Carrara quartz stone island is big enough for four people to sit and features a small sink for washing vegetables and lots of open space for food preparation. Three geometric chandeliers hang over the island and the room is bathed in natural light because of all the windows. Built into the island is a drawer microwave, cabinets galore and a trash bin. Adjacent to the island is another wall of dark espresso-colored cabinets and a large six-burner Wolf stove. All the countertops are clutter-free because the nearby large walk-in pantry holds all the small appliances and kitchen-related trimmings needed for cooking.
"I just wanted it open and as clutter-free as possible," Eric said.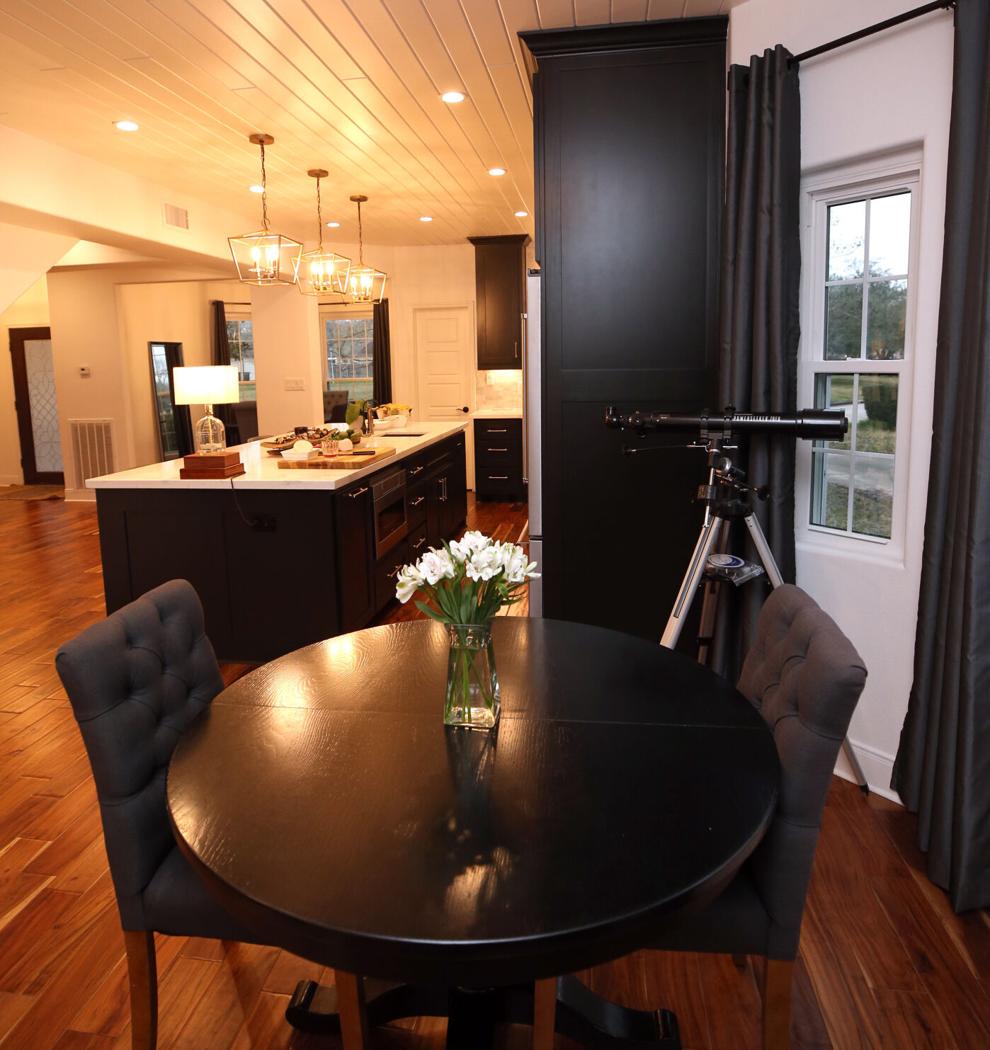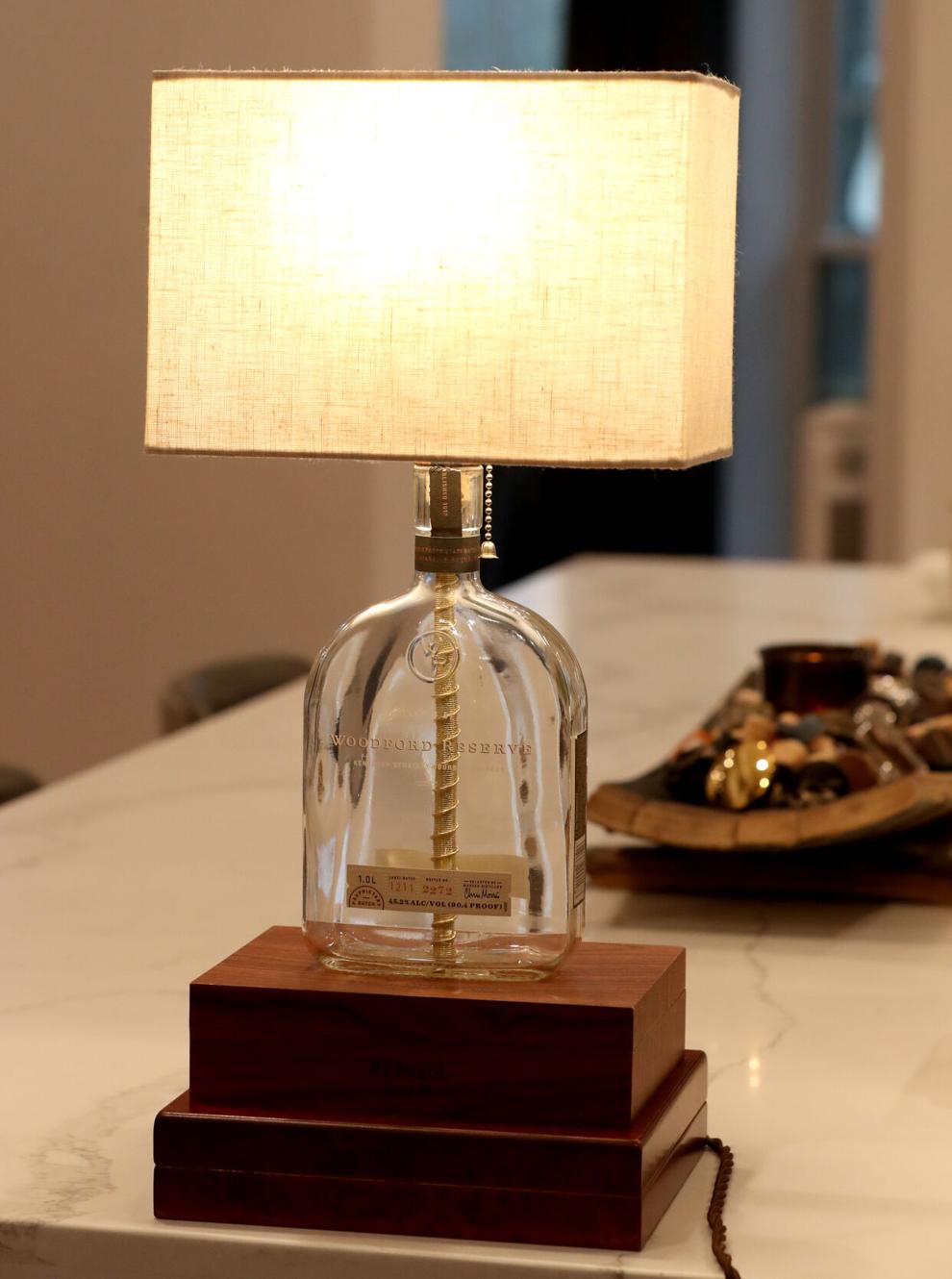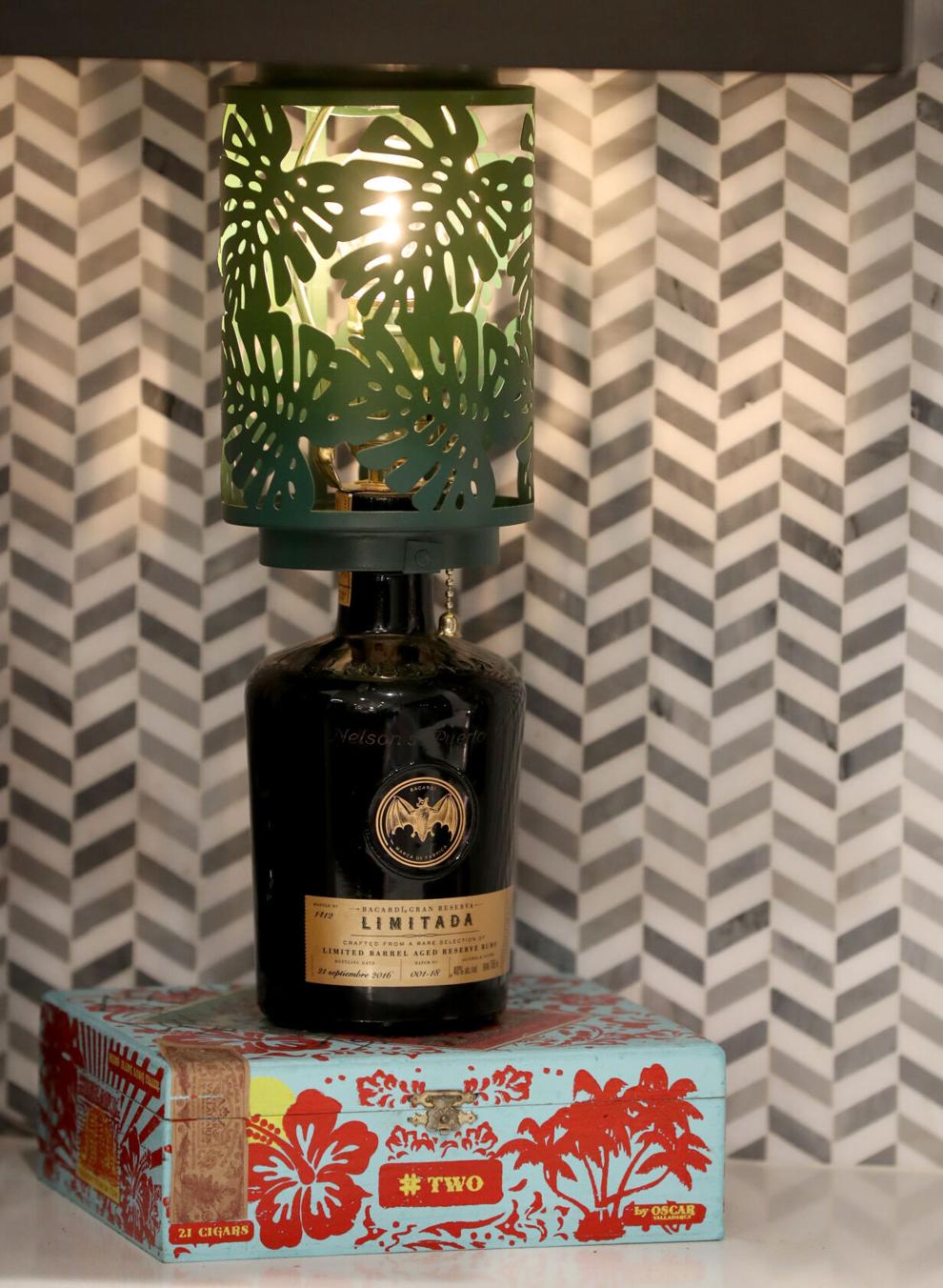 The couple bought the house in 2018 from friends who lived in it when Hurricane Harvey flooded the area the year before. The house needed a lot of work and the Nelsons gutted the downstairs and redesigned it to meet their needs. They created a comfortable dining room in the front of the house and the large kitchen along one side of the first floor. They added a small breakfast area and coffee bar, which doubles as the display case for Eric's collection of fine bourbons.
He keeps the bottles from the bourbons when he finishes them and creates unique lamps, which are placed around the house.
"It's just a hobby of mine," he said. "But I've been collecting the bourbons since 2010. I have a garage full of empty bottles."
The walls of the kitchen are tumbled white marble — the backsplash goes up to the ceiling. The wall surrounding the coffee bar is a chevron or herringbone tile, which gives the area a different feel. The adjacent navy blue living room, with a coastal feel, repeats the herringbone tile design on the fireplace. The Nelsons did most of the work themselves.
They chose a champagne bronze color for the faucets and fixtures, including the wet bar, vegetable sink and over-the-stove pot filler.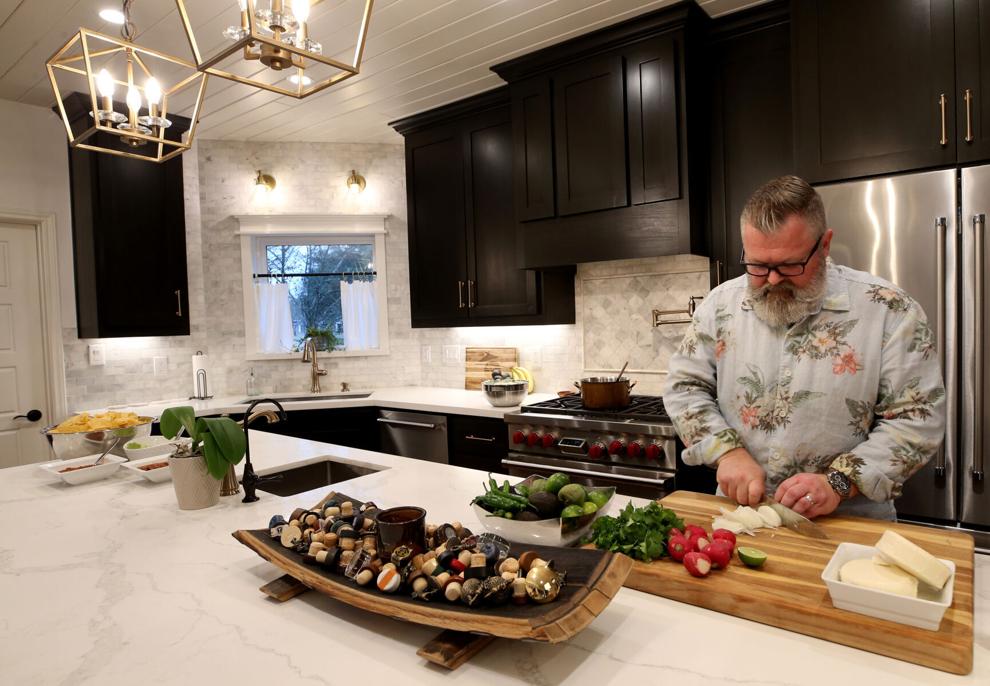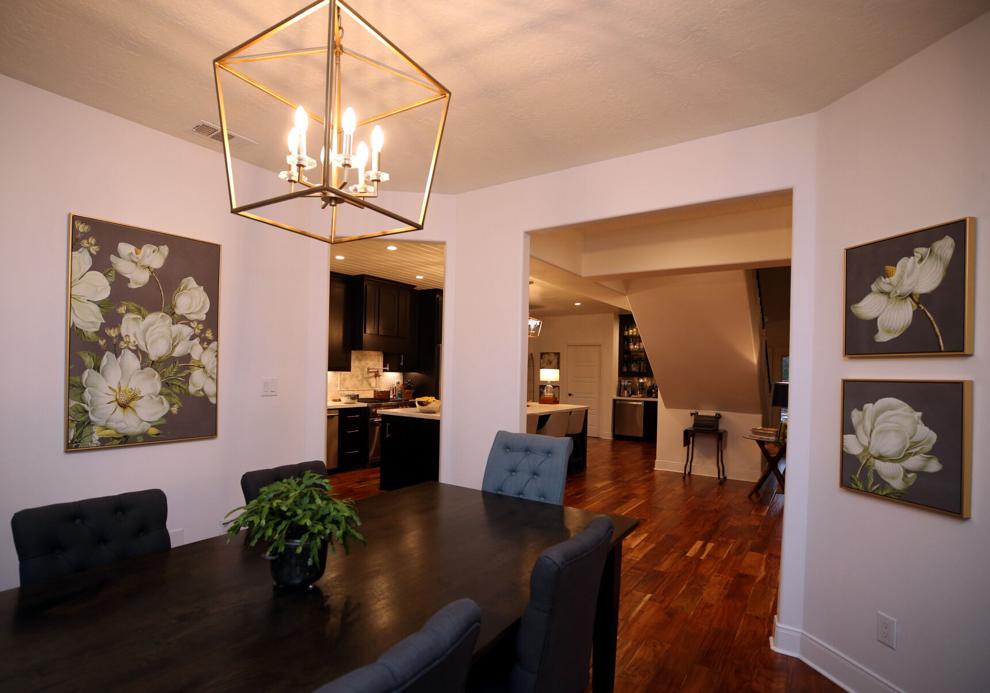 When Eric does cook at home, he likes to prepare tacos with smoked pork or New Mexican-style food, which is hotter, spicier and more colorful than Tex-Mex, he said. If he has time, he likes braised meats and short ribs, or a rich pozole, a brothy soup made with pork, hominy and red chiles. He still uses the techniques for sauces and stocks he learned in school, because those methods are proven, he said. Even though at home he doesn't prepare fancy dishes, he uses those culinary skills every day, he said.
Creative cooking doesn't stop with the parents. Eighteen-year-old Chloe is the family baker, 13-year-old Olivia likes to prepare coffee drinks and waffles, and 21-year-old Cameron, a U.S. Marine who no longer lives at home, is the jerky and venison expert.
"This kitchen is where it is happening and because it is open, and everyone wants to congregate in the kitchen to watch and talk, we can be part of it," he said. 
---
Eric Nelson shares his recipe for avocado salsa. It's great for all tacos or mixed into rice or grilled vegetables, he said.
Avocado Salsa
5 serrano peppers
4 tomatillos
3 large avocados
5 garlic cloves
½ yellow onion
1 bunch cilantro
3 limes juiced
Sea salt to taste
Lightly blanch the serrano peppers and tomatillos until tender.
Add all ingredients into a blender and blend until smooth.