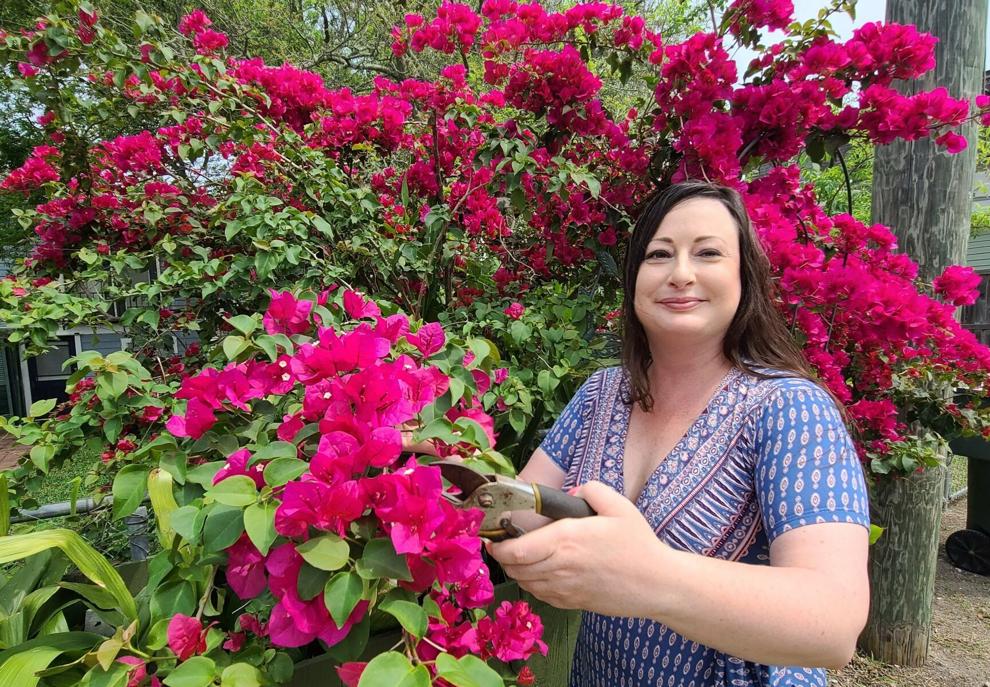 Gulf Coast gardens and those who tend them can be demanding. Plants in these parts need to be drought-resistant, salt-resistant, heat-resistant and even freeze-resistant. Coastal gardeners ask for all that and some color, too. How are all of those requirements answered? One word: bougainvillea.
This vine-like shrub, which easily grows up fences, walls and trellises, or can be confined to pots and planters, is a tropical plant that loves the Texas Gulf Coast weather. Bougainvillea is low-maintenance and dramatically vibrant, with dazzling colors of purple, pink, peach, yellow, red and white.
Interestingly, the flowers on bougainvillea aren't the colorful blooms at all. The flower is a small, trumpet-shaped white bloom with a little yellow center. Those stunning colors are "false flowers" or bracts, the paper-like structures that are a modified leaf. The bracts attract the attention of people and pollinators and stay with the plant all year.
Bougainvillea need just a bit of water on a regular basis and after they bloom, they should be pruned.
But watch out. The stems are loaded with large, pointy thorns that mean business. Wear gloves and long sleeves when tending to bougainvillea. There's at least one thornless variety, known as "Miss Alice," which only grows about 3 feet high. A sister variety has pale pink blooms and is semi-thornless.
There are more than 300 varieties of bougainvillea, and they were first identified in South America by French botanist Philibert Commerçon in the 1700s. Commerçon named the flowering plant after French Navy Admiral Louis-Antoine de Bougainville during his around-the-world voyage in which Commerçon participated.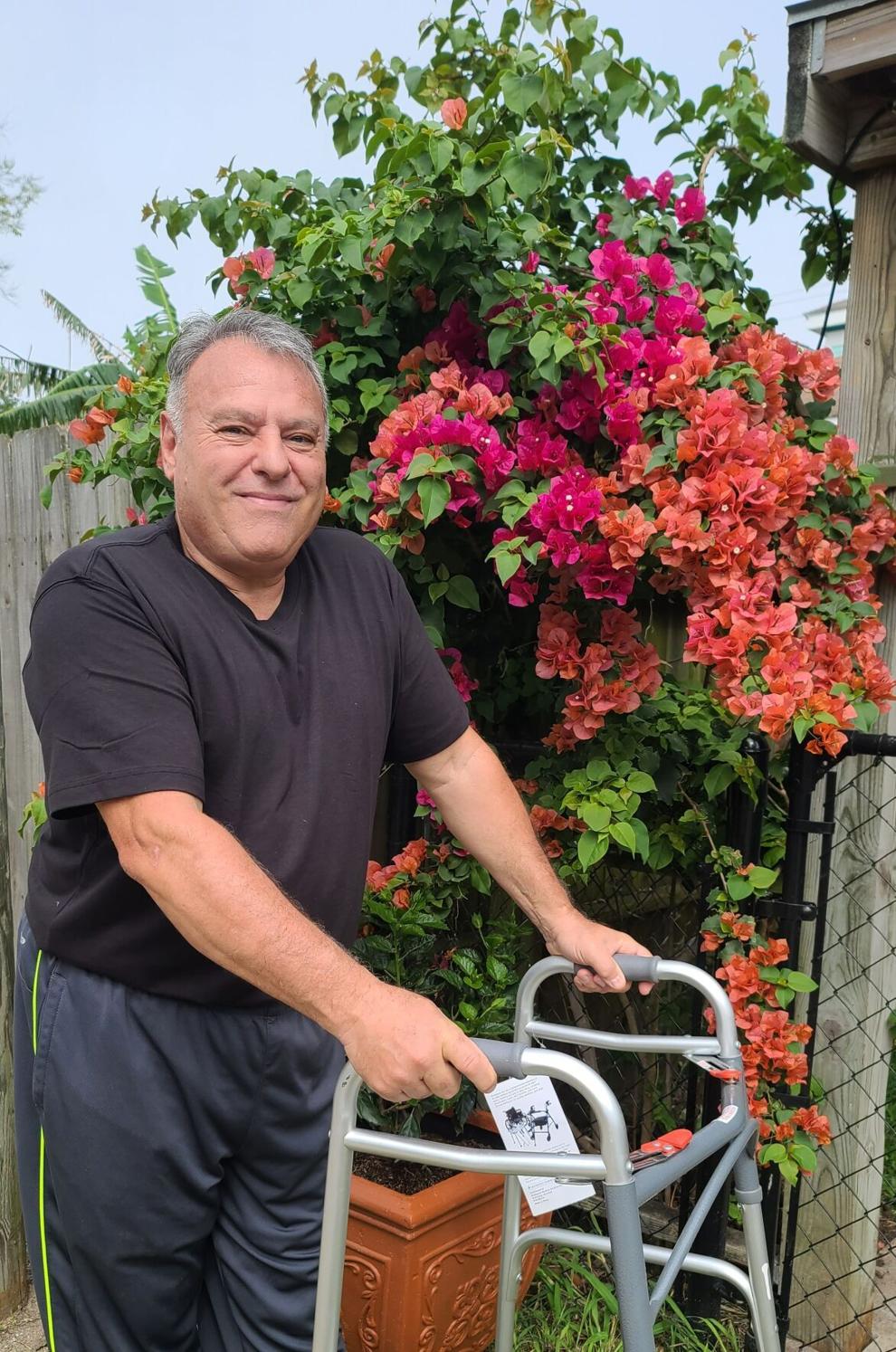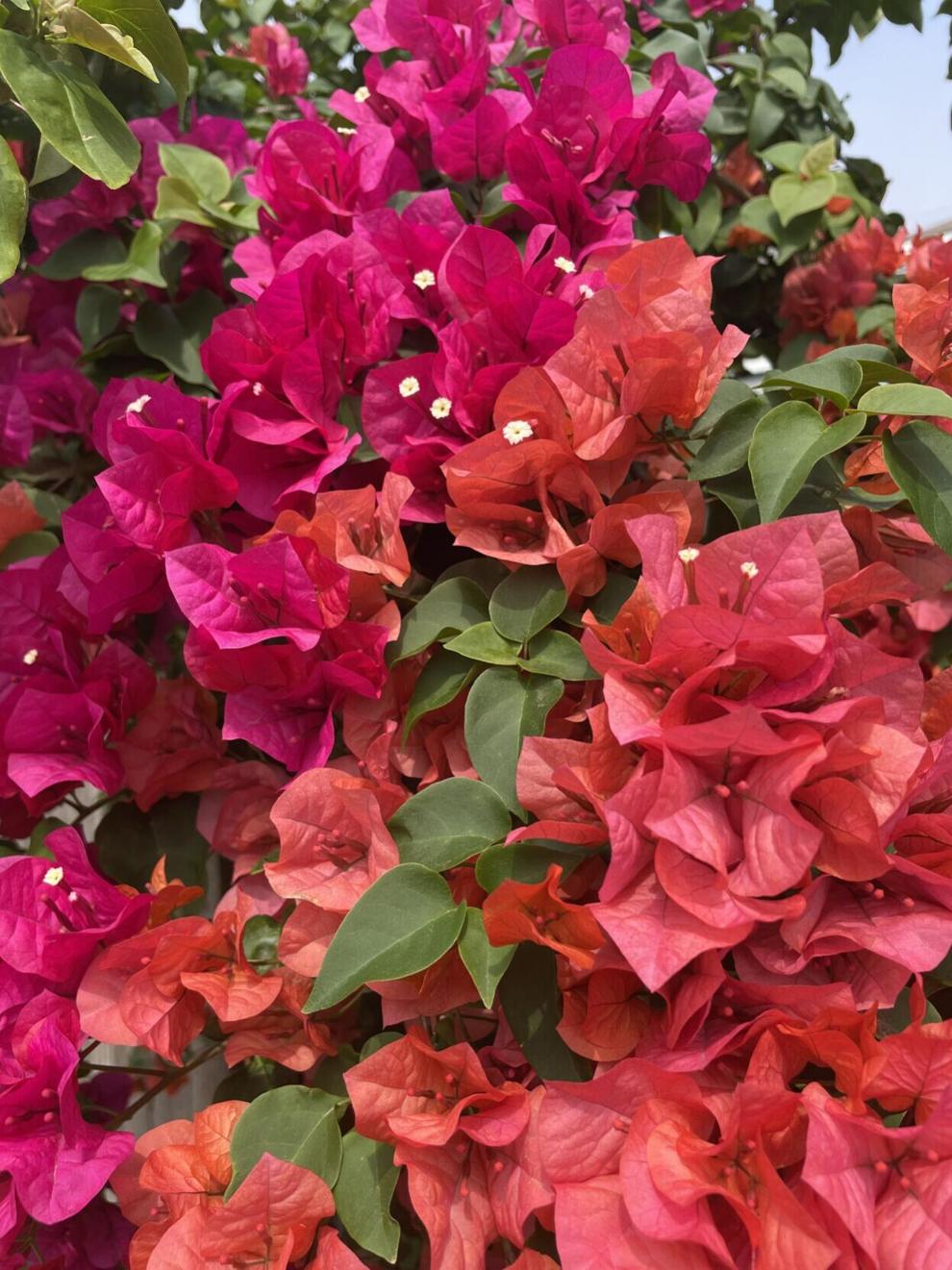 Crystal Turner and Luigi Puddu have two separate plants in their Galveston yard. One is hot pink, the other is a rare combination of salmon and pink — on the same branch. Shortly after the February 2021 freeze, they were advised to cut back their plants in hopes they would return. They didn't take that advice.
Instead, Turner watered and fertilized and in time the blooms reappeared, she said.
"I cut away the dead branches and it just exploded in color," Turner said. "I learned from my grandmother — trim back, pull out the weeds, and a bit of organic mulch makes a great garden. I don't use any chemicals."
It's best to plant bougainvillea where the vine gets lots of sun, but a bit of afternoon shade doesn't hurt. It's the sunshine that helps develop the colorful bracts. Pruning encourages and stimulates more flowering. Or, to nurture fuller growth, pinch the ends of the vines before the blooming begins.
Bougainvillea also does well in hanging baskets around the patio, but in the ground can grow to 30 feet tall and wide with proper support. There also are dwarf varieties available. And because of those thorns, they make great security hedges and can be planted in front of windows. Just make sure there's room for them to grow and expand because once established, they will keep growing.
Bougainvillea are relatively pest-free, although aphids sometimes take a liking to them. But a good squirt from a garden hose should eliminate that problem.