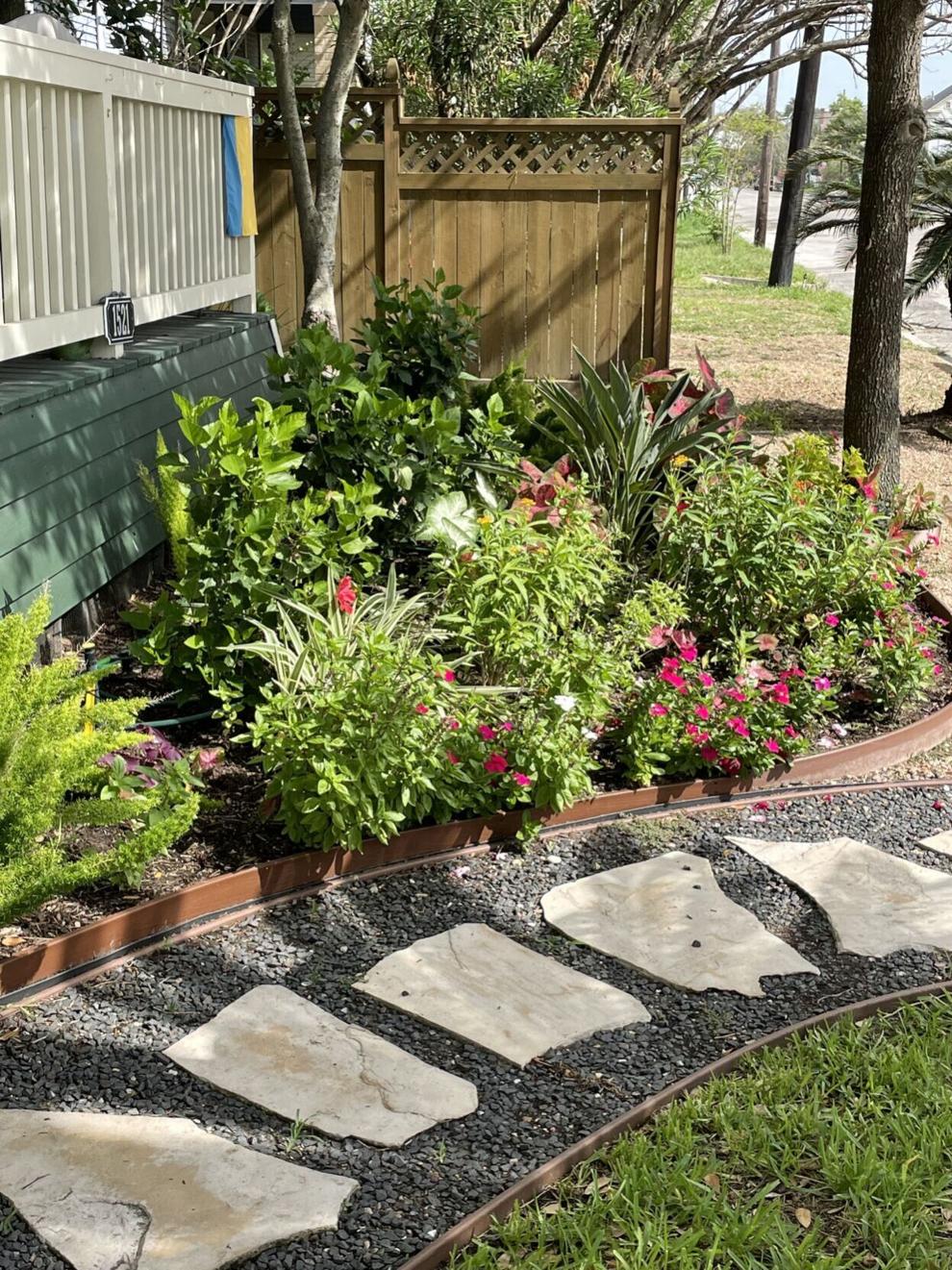 Barbara Eckenfels' Galveston garden gets little sun, but the plants and flowers selected for it are thriving.
The garden is under three big trees and the canopy from them block the sun almost entirely. It required some thinking and planning to get plants that would survive in the shade and would be little or no work for her, Eckenfels said.
"I wanted things that would be self-sufficient," she said. "I wanted an easy garden."
Not many Galveston homes have shade gardens. Hurricane Ike in 2008 wiped out more than 40,000 trees, according to the Galveston Tree Conservancy. Loss of canopy from those trees put most gardens in the sun. But Eckenfels' house is south of Broadway, in an area that didn't sustain as much standing saltwater during Ike as others. Her trees are alive and so is her garden.
Eckenfels, whose ties to Galveston goes back four generations, lives in a cute bungalow with her sister, Liz, and two pugs. Eckenfels takes care of the outside gardens; her sister does the interior upkeep in their 1915 Craftsman bungalow.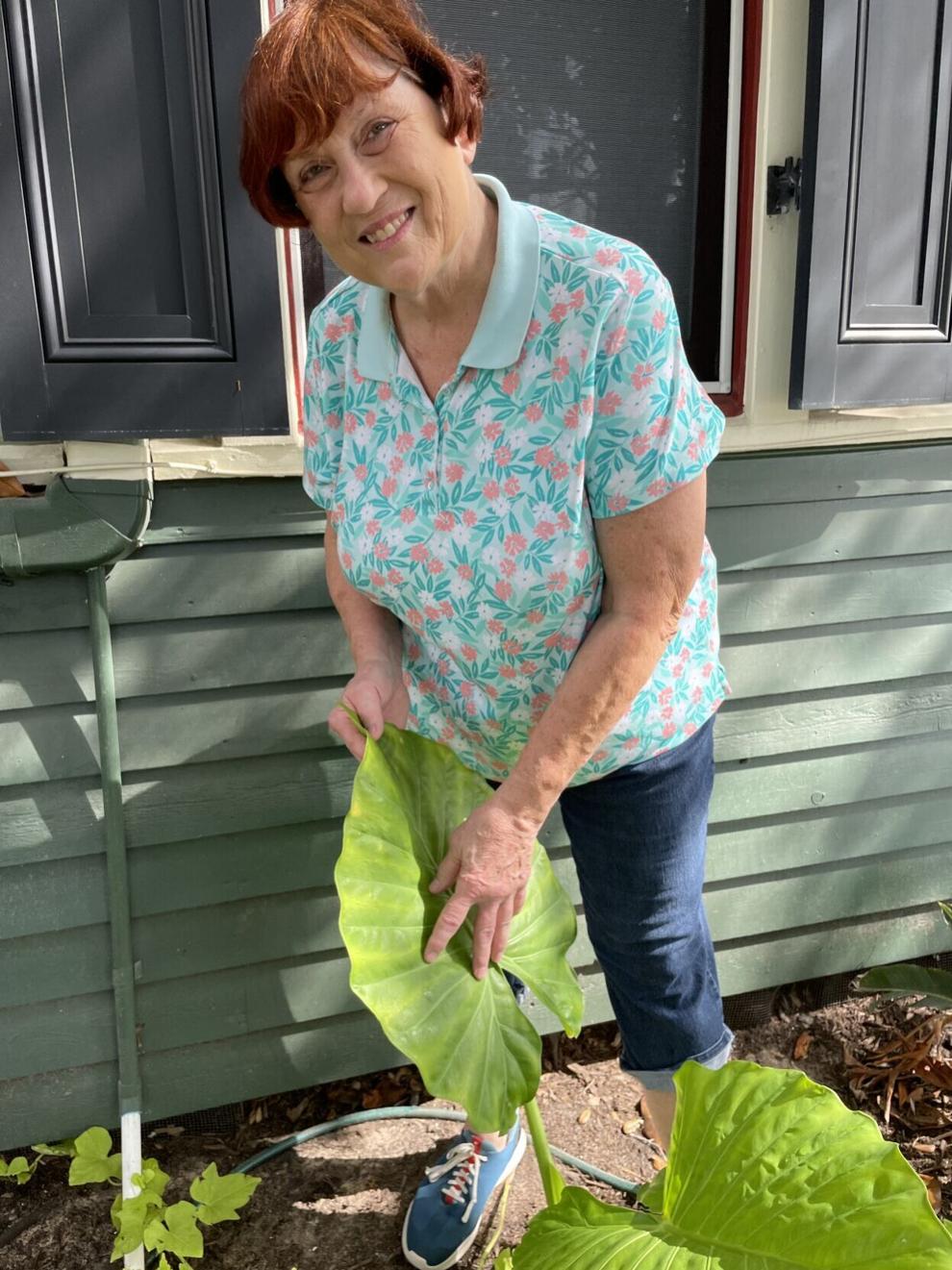 Because of the tree leaf cover, plants don't burn up like those in the sun, she said.
"They do well if they get sufficient water, and I keep the soil healthy with compost and cow manure," she said.
She feeds her gardens with bonemeal and a water-soluble granule fertilizer and fights the perpetual snail infestation with a bait that isn't harmful to other animals.
Her favorite plant in the garden is the caladium. She buys them from an online seller — hundreds of tubers at a time — to plant in her garden in Galveston, as well as her second home in The Woodlands. She chooses caladiums with heart-shaped leaves in green, white, red and pink, and combinations of those colors, to brighten her garden.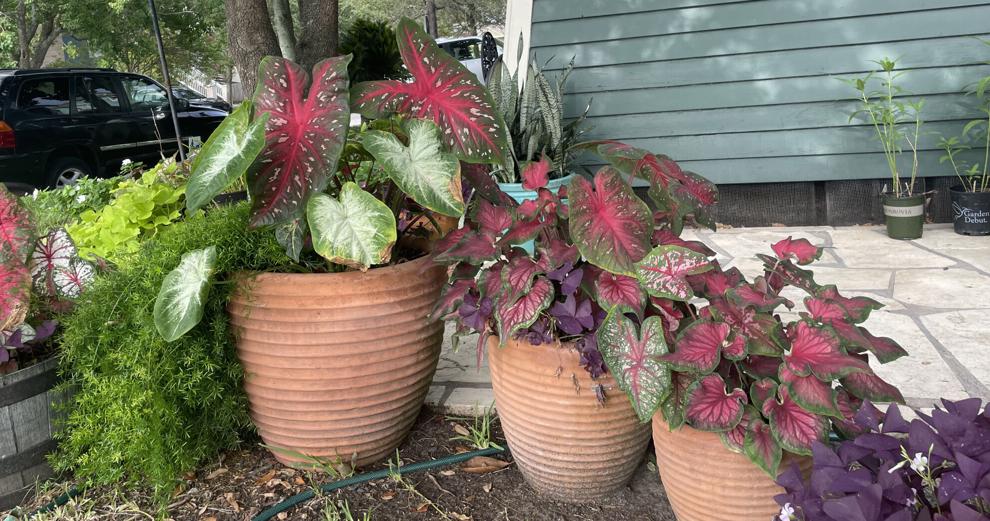 These tropical plants grow between 12 and 18 inches high and crave the heat. In fact, they grow best after temperatures at night reach 60 degrees. Each tuber produces multiple fancy leaves. Because they're somewhat fragile, be sure not to plant them in areas exposed to high winds. If caladiums get thirsty, their leaves turn yellow and fall off. Mulching the ground helps with this.
In the winter, after the foliage dies back, cut off the leaves but leave the tubers in the ground. They'll come back in the spring. And they can be propagated by separating some of the tubers, making sure each new one has an "eye" or knob for new growth.
Eckenfels also plants a variety of coleus, foxtail ferns, along with Vietnamese basil, salvia and bird of paradise in areas that get a bit more sun. Purple oxalis, with tiny lavender flowers, grow easily wherever she puts them. She also has several large varieties of alocasia odora, or elephant ears, mixed in with the smaller plants. And populating the garden in sunny or shady areas are the periwinkles, or vinca, which need no care or attention. She also plants butterfly milkweed to feed the hungry monarch butterflies that pass through Galveston.
"The garden brings me a lot of joy," she said. "Plants just make me happy."