When Skyler and Greg Whitton-Cornelius bought their 60-acre property in Dickinson in 2017, they had a vision.
They were seeking a community environment, a spacious place for their soon-to-be-born son, Pierson, and it had to be suitable to host events for nonprofits and various charities, they said.
"We'd been living in a modest house in Bellaire, and needed more room," Skyler said. "My employer told me about this place on a Thursday, we looked at it on a Friday, and Saturday, we bought it. We drove through the gate, and it was like escaping the world."
Two days after closing, on Aug. 27, Hurricane Harvey flooded the house with 22 inches of water and destroyed some of the outbuildings, but that didn't dissuade the couple from going forward. They moved in on Nov. 20 that year with baby Pierson in tow.
"Elbert Sladek, a long-time Dickinson resident, was the prior owner of the property and called it Dickinson Bayou Farms, but we decided to rename it Dickinson Bayou Ranch because we knew we wanted to do something with horses," Greg said.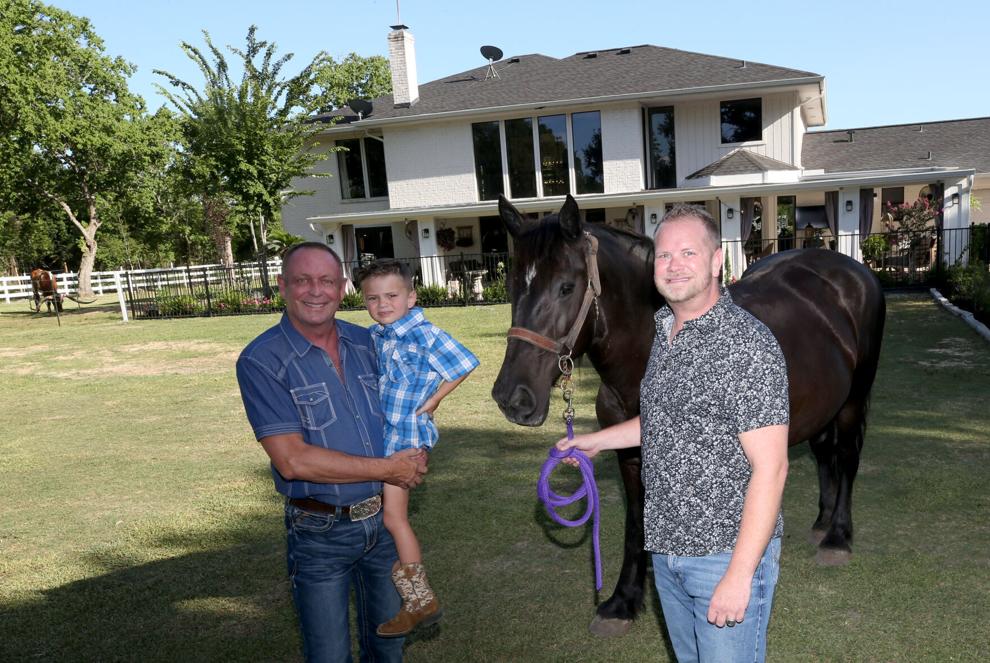 Today, all of that has become a reality at the property, where up to 50 horses roam and graze on 30 acres of pasture, have access to a 21-stall barn, roomy riding arena and a veterinarian at their disposal. Two ranch hands and three part-time helpers, including Skyler's mom, Julianne Cornelius, keep things running smoothly.
The tree-lined entrance with white fencing stretches for a half mile, giving visitors a chance to admire the beauty of the surroundings, horses grazing, and to catch glimpses of the other animals nearby.
"We also have four donkeys, multiple miniature horses, three pigs, a longhorn, four dogs, six geese with babies, and five ducks sitting on eggs," Skyler said. "Many of them are rescues, and they all get along. Most of the horses belong to tenants who lease stalls, but a couple belong to us, including 4-year-old Pierson's horse, Skittles."
As you pass the barn and arena, the house and pond come into view.
The two-story home, originally built in 1975 by Sladek, has been completely remodeled, with extensive landscaping added throughout the entire property.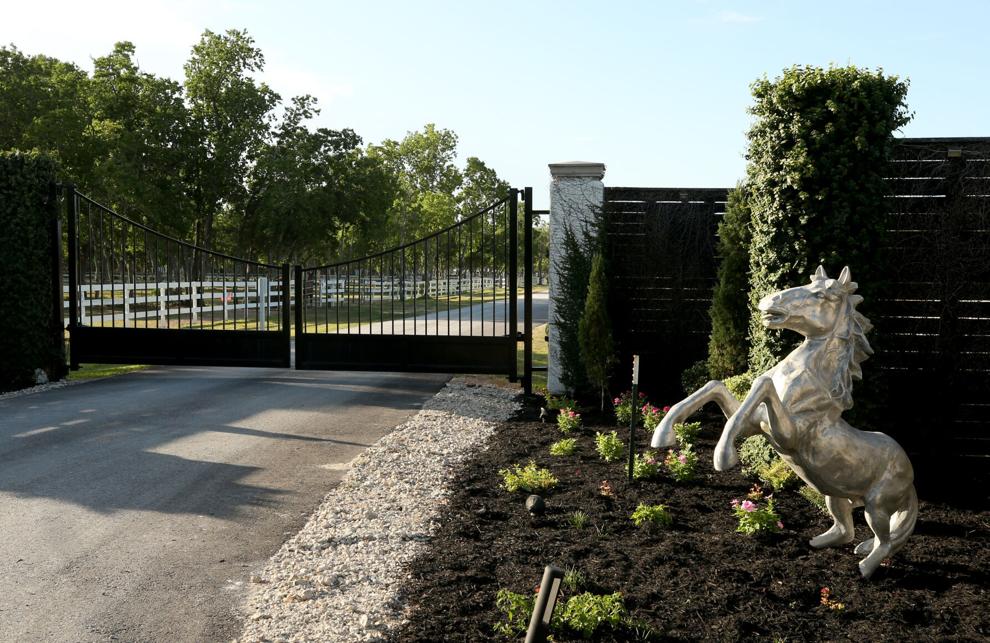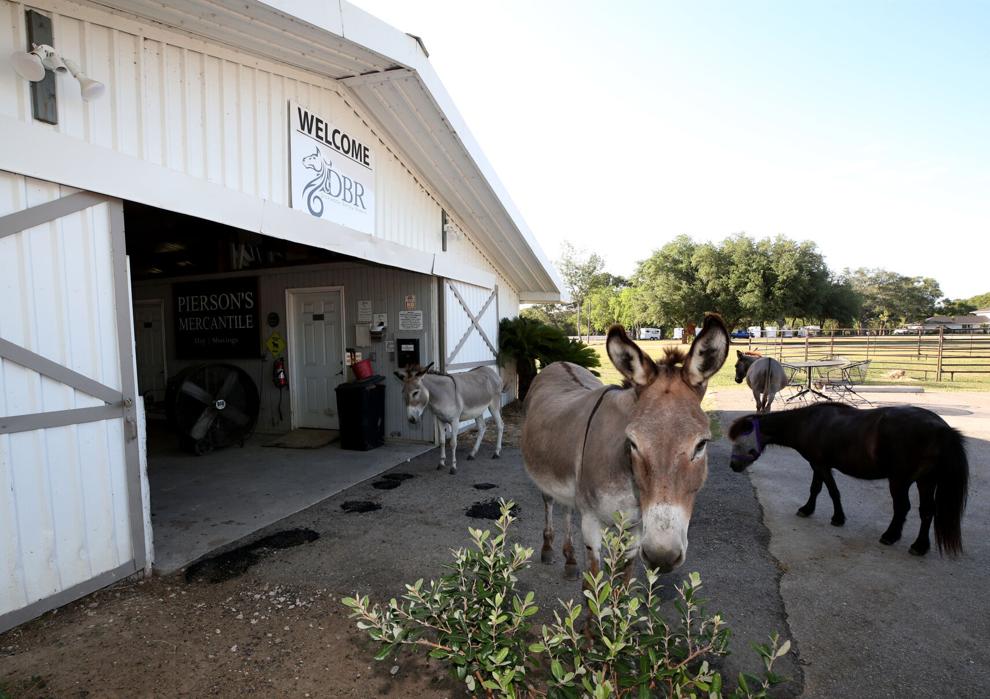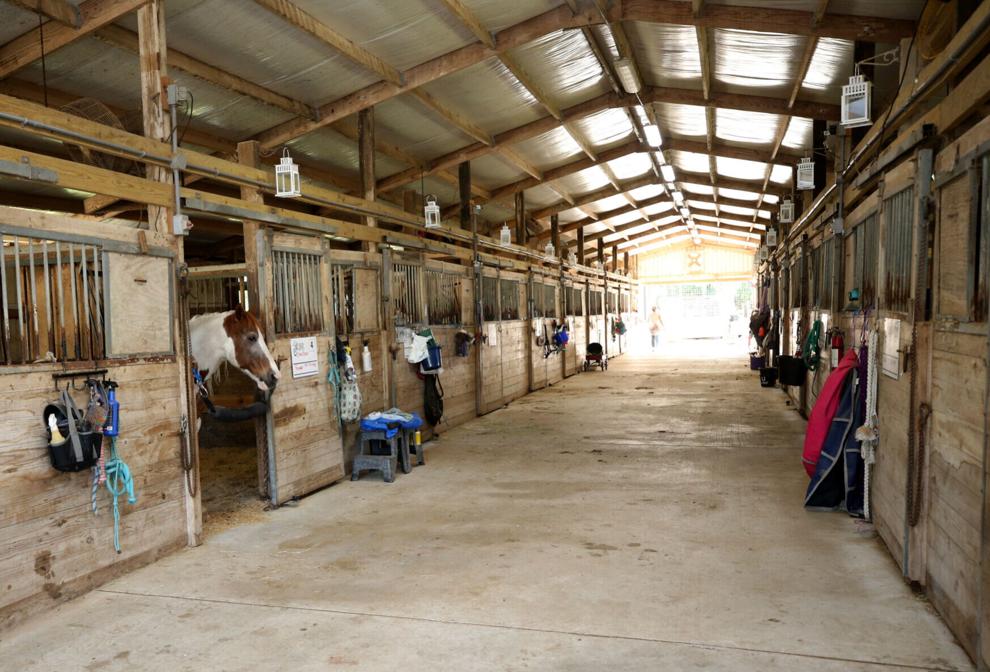 "We revamped from bottom to top," Skyler said. "The exterior of the house was brown, the trim was brown, much of the interior was brown, so I painted everything white."
Encompassing 4,000 square feet, the home has four bedrooms, a media room and three and a half baths.
The spacious interior, complete with sweeping staircase, is a mix of contemporary and eclectic décor, vintage finds, quirky items and antiques acquired from Skyler's and Greg's relatives.
The living room, with 16-foot ceilings, offers a relaxing view of Dickinson Bayou. Several pieces of family collectibles mix with newer furnishings for a stylish, multi-layered environment.
Around the corner is the primary bedroom, which has a bit of a Western theme going on with more heirloom pieces — one in particular that's meaningful to Greg.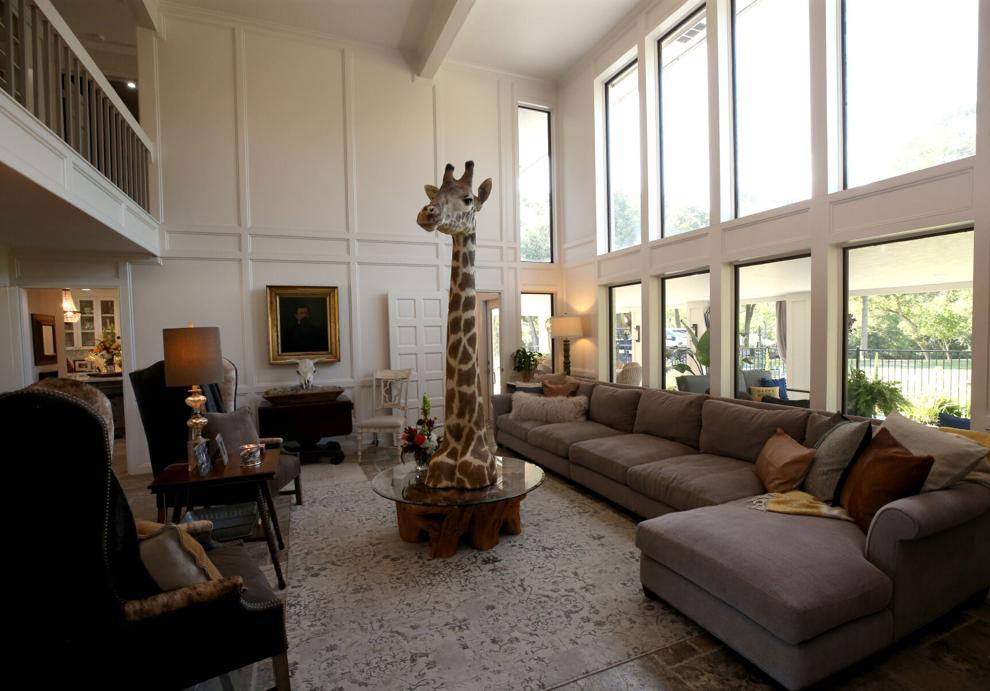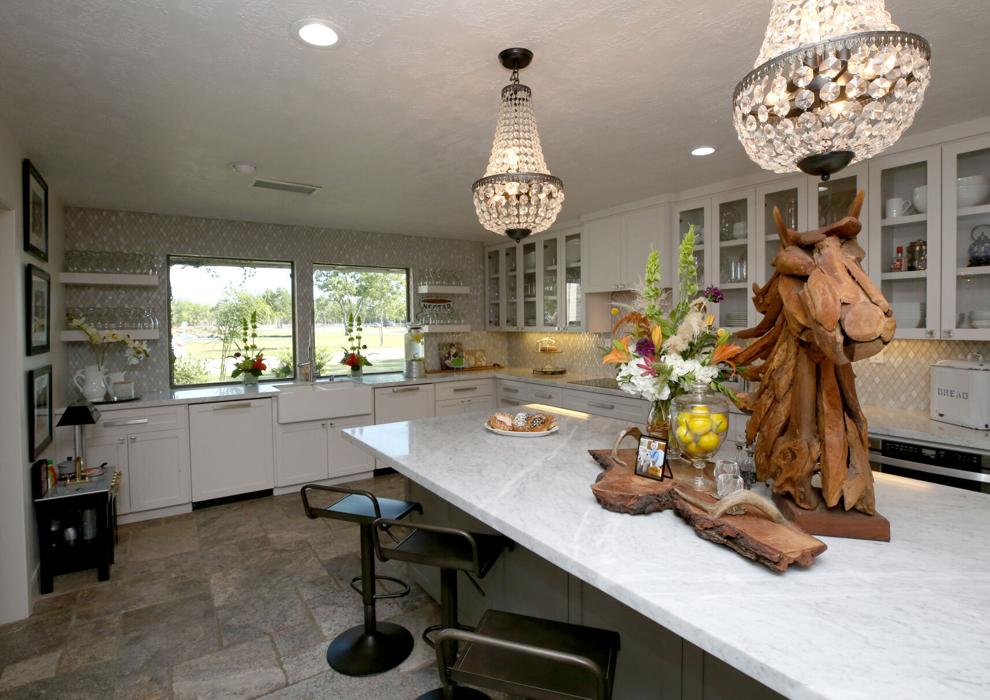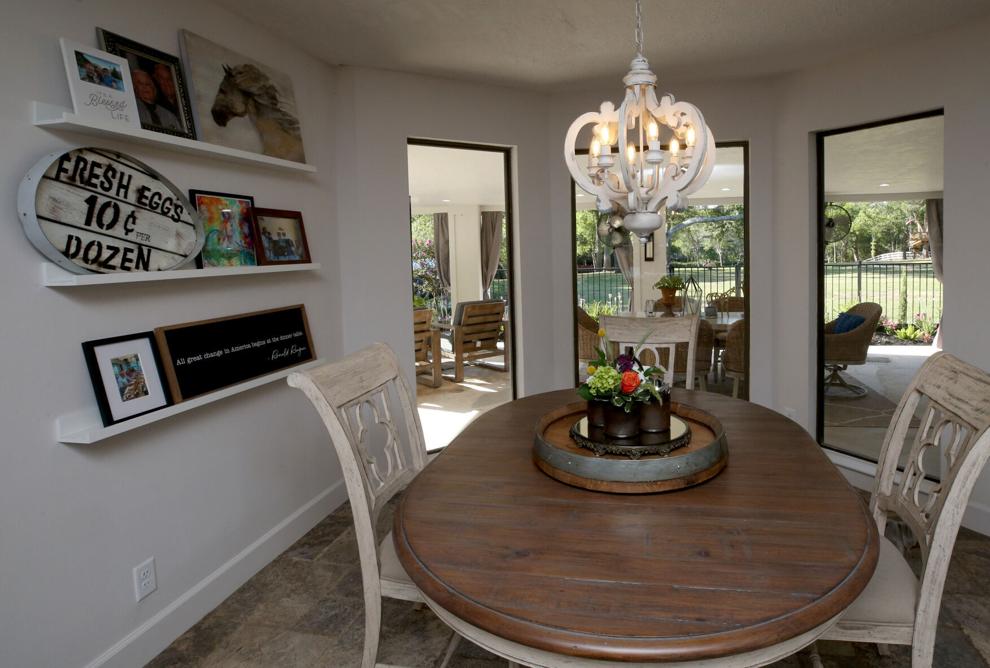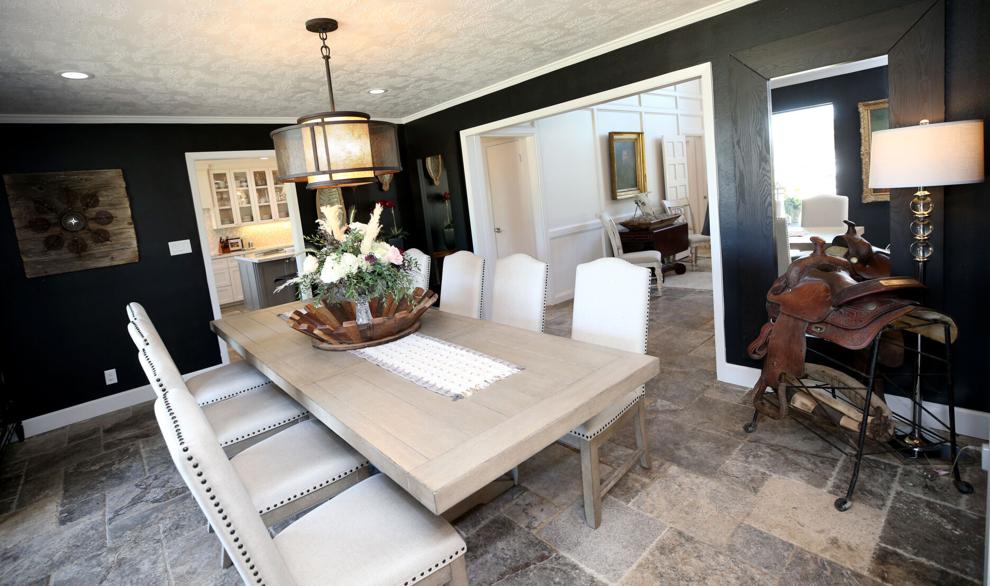 "It's actually an antique cigar cabinet from my family that has been repurposed as a bookshelf and it's filled with memories," he said.
The kitchen, with a 16-by-4-foot island of Carrara marble, a trio of chandelier pendant lights and a backsplash of Carrara glass diamond pattern, mixes nicely with floors of silver travertine.
Floors of white oak cover the upstairs where two guest rooms have access to a front deck offering a spectacular view of the pond and adjoining property. The media room also is on this floor.
Yet, the best room upstairs belongs to Pierson, who has a Disney-themed bedroom, an abundance of Legos, and a trundle bed for sleepovers.
"His bed is actually the same one I slept in when I was a boy," Greg said.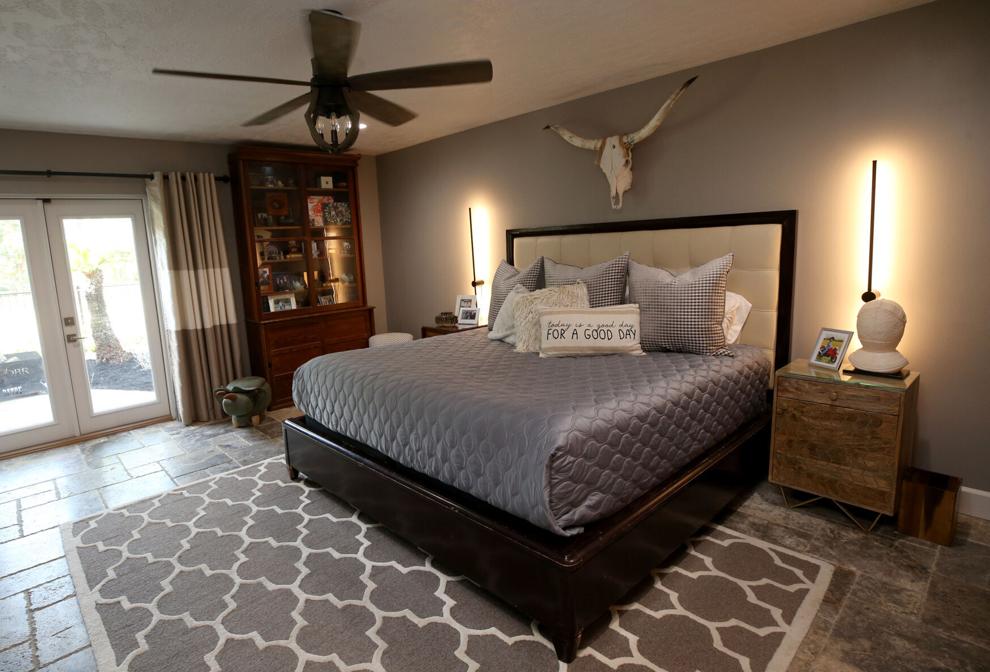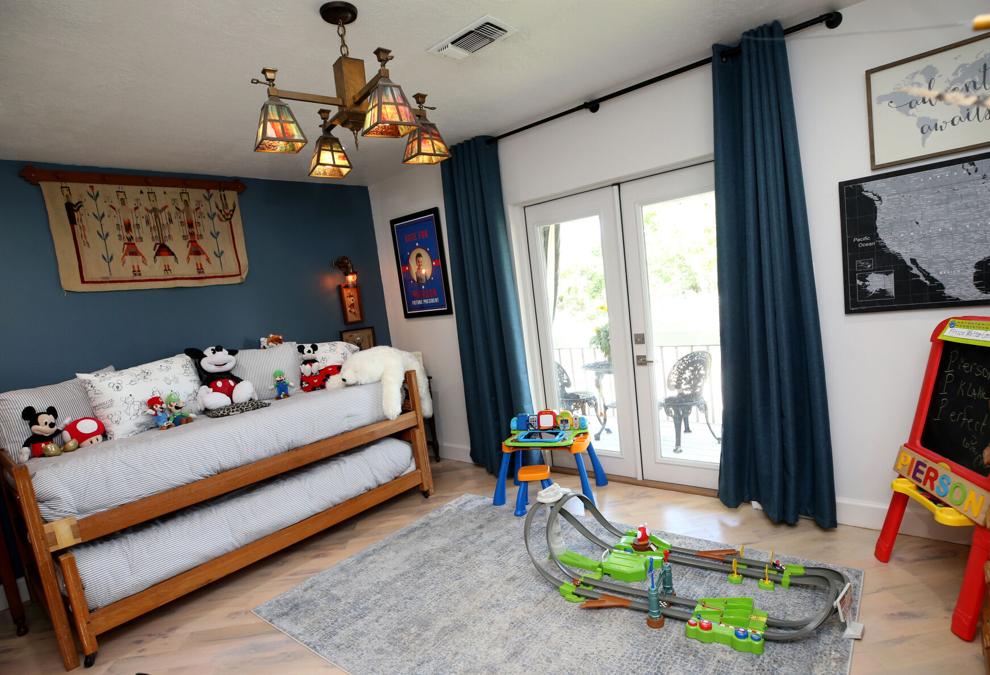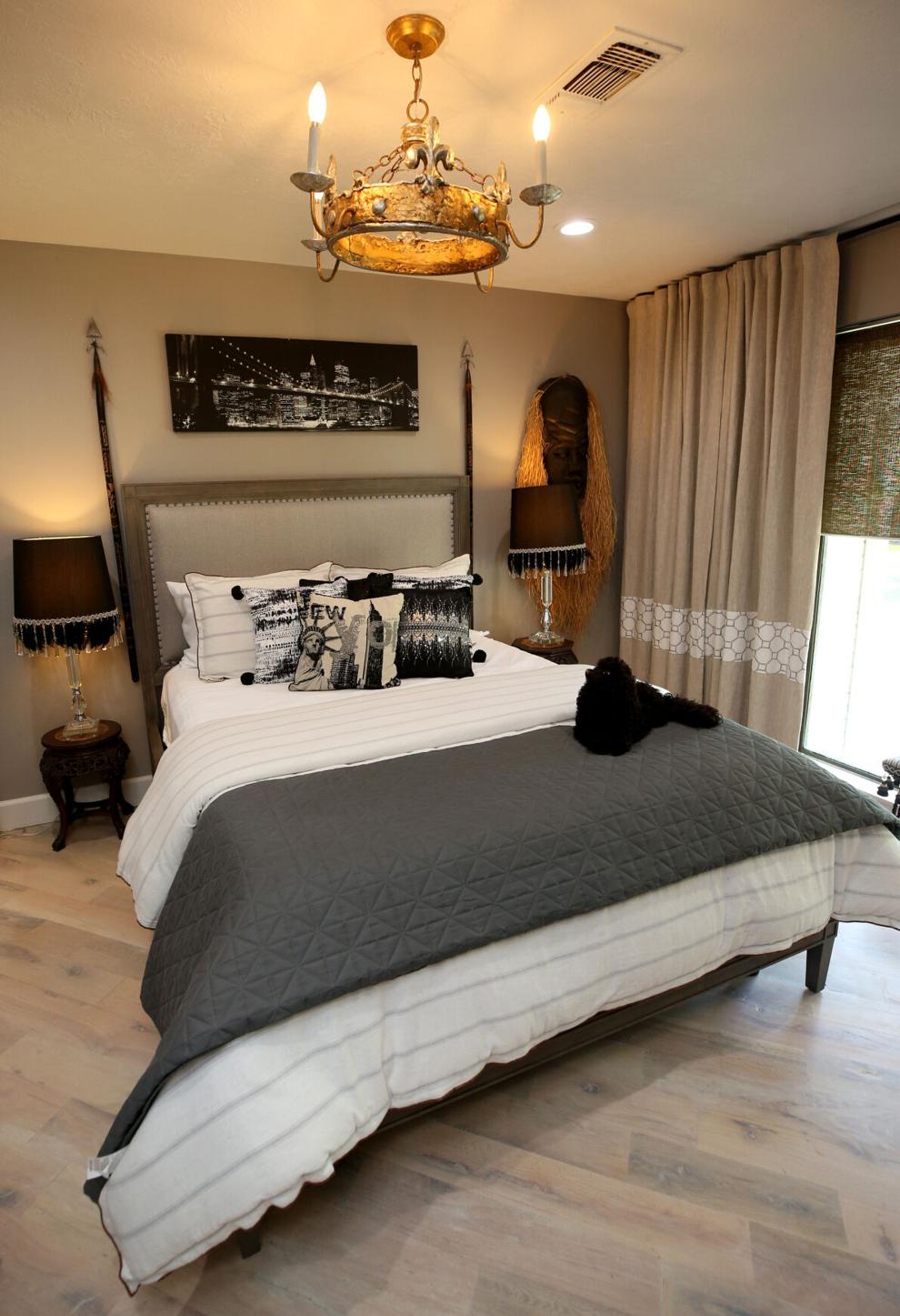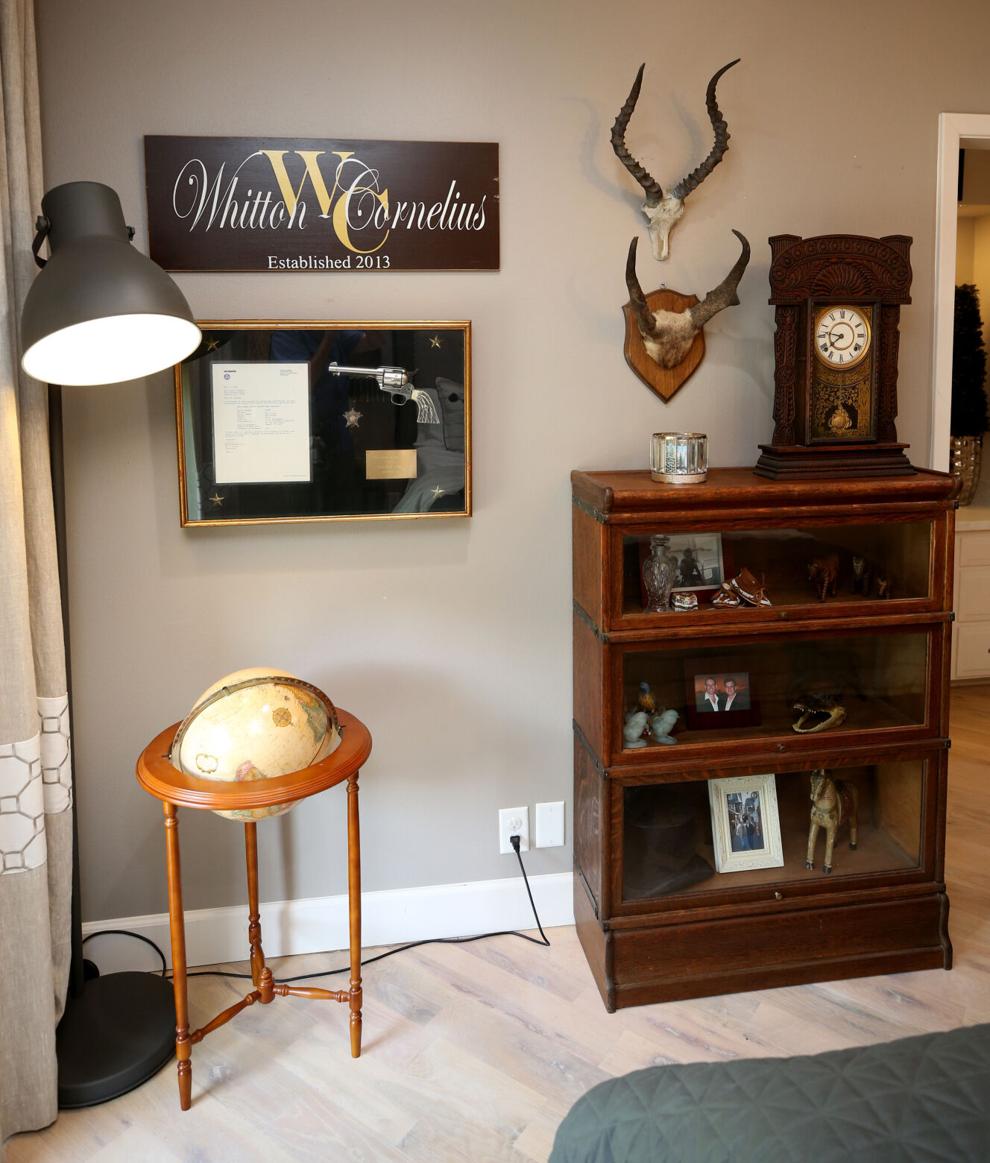 Both Skyler and Greg, who got married in 2013, agreed they didn't want Pierson raised in the city, preferring he have a place to roam.
"He goes to the barn to see the animals, plays in his treehouse, rides his tractor, and has total freedom," they said. "He has friends that come over almost daily as well."
All that aside, Skyler and Greg concede they're happiest when helping others, they said.
"I recently retired and feel lucky and blessed to be able to give back," Greg said. "Even when we lived in Bellaire, we always found a way to help those in need. We encourage people to bring toys to our Christmas parties so we can donate to children in need, or school supplies, even items for animal shelters. Skyler usually does all the work, but I'm behind the scenes."
When not taking care of ranch duties, Skyler is chief operating officer for Market Doctors, an advertising and marketing company nearby.
But when the day nears toward evening, it's time to wind down, pile into the Sea Ray and cruise down the bayou, maybe stop and have some dinner at one of their favorite waterside restaurants.
"Pierson and his friends are usually all sitting in the boat when I get home, wanting to go for a ride," Skyler said. "We love the community here — it's our own little world and we are truly blessed, even though we don't have cable or Wi-Fi, but we like it that way. It's just a little piece of heaven."